Il crepuscolo dei sogni burst out of Palermo's Teatro Massimo last Tuesday thanks to YouTube streaming. The link to the resulting video is below.
It's worth it. Seen through, without technical interruptions, the video holds great charm, fun storytelling, superb singing and cherry-atop-the-cake your chance to see the inside of one of Italy's most magnificent opera houses. As well it's an introduction to one of Italy's most interesting opera theaters.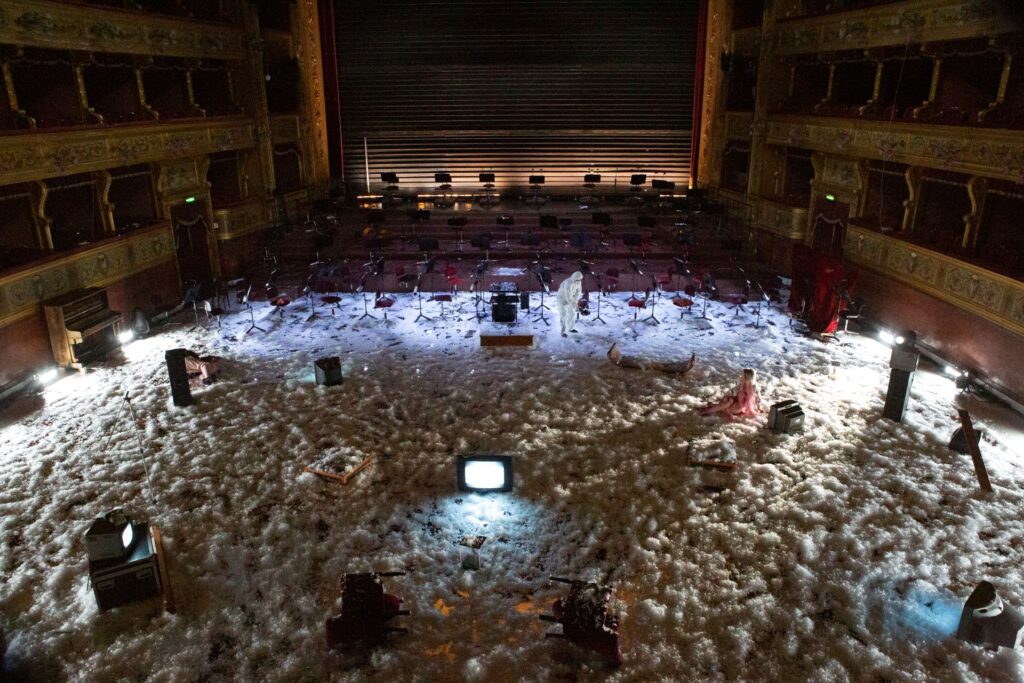 Exactly to this day, last year (January 2020) I sat in this theater for Graham Vick's splendid, off-the-wall Parsifal on the stage. Just now however the floor (platea) of the horseshoe theater has been transformed (chairs removed) into a huge, snow covered expanse (tons of acrylic flakes), the orchestra seated on this snowy plateau in front of the shuttered stage, its platform rising in steps to display a very impressive display of brass, woodwind and percussion batteries.
The Teatro Massimo has a special relationship with Wagner who finished Parsifal during a sojourn in Palermo. The year before last year's Parsifal, Teatro Massimo completed its splendid, off-the-wall Graham Vick Der Ring des Nibelungen, the impressive farewell of its long time music director Stefan Anton Reck. Parsifal marked the propitious debut of the Massimo's new music director, Israeli born, Dresden finished Omer Meir Wellber who has evidently respected, maybe elaborated the Italianate glories of the theater's orchestra.
Please see https://operatoday.com/2020/02/parsifal_in_palermo/.
Mo. Wellber and German stage director Johannes Erath have imagined a frozen operatic world of (metaphorically) freezing arias and choruses within this icy space. Though one of myriad highlights of the one hour fifteen minute evening was Austrian baritone Markus Werba's choking account of Purcell's King Arthur's Act III Frost Scene's shivering "What power art thou" — hardly a metaphor.
The Wellber/Erath constructed pastiche opens with the prelude to Act III of La traviata in eerie, other worldly tones emanating from Mo. Wellber's solo accordion. The instrument then rested on the conductor's podium until the final moments of the evening when the maestro again picked it up to accompany the final duet of L'incoronazione di Poppea, where love itself becomes frozen in space. Italian soprano Carmen Giannattasio, baritone Werba and the maestro made this simple declaration of love, and of opera itself, timeless.
Vocally the evening got off to rocky start when la Giannattasio, obviously a full blown Italian lyric, bravely attempted Dido's famed death lament "When I am laid in earth." She went on to redeem herself magnificently in the fervent positive hope of Richard Strauss' song "Morgan" (Tomorrow), then tore our hearts out with "Amami, Alfredo, amami quant'io ti amo," and ultimately soared effortlessly to the high A pianissimos (or tutto fini) of "Addio del passato."
But not before the maestro tore down the honky-tonk piano keyboard with searing glissandos in Hermann Werner Heymann's "Somewhere in the World," baritone Werba's cold heart demanding, dammit, happiness somewhere, in beautiful, focused voice. Mo. Wellber himself later returned to sing and dance the klezmer hit song "Any Girl who Takes a Boyfriend" in high, video art style.
Young Greek bass Alexandros Stravrakakis opined mightily ("I have attained supreme power") as Boris Godunov in superbly articulated Russian (the operatic highpoint, maybe, of the evening for me), and as well berated mankind as Boito's Mefistofele and roared Basilio's "La calunnia" during which baritone Werba threw soprano Giannattasio onto the snowy floor and beat her up (and maybe more).
Though later soprano and baritone reconciled (after Wagner's "Liebestod,") and found themselves seated, poltronissimo (the best placed and most comfortable chairs in an Italian theater), sipping champagne and smoking to witness the celestial choir that announces Faust's ultimate redemption in Boito's Mefistofele reach colossal sonic volumes, one singer in each of the theater's hundred or so guided boxes, chandeliers (electric) blazing. Oh my.
It was a gut wrenching experience, this 22 piece ode to opera that cannot now not be, but will be when we can again be in a theater.
P.S. A splendid "Deus Irae" from the Verdi Requiem danced by the Teatro Massimo's ballet!
A heads-up: Nothing happens in the first still and silent 5 minutes of the video so skip to the welcome speeches (in Italian). Check out what the very charming maestro has to say even though you may not understand a word, then savor the co-creator Johannes Erath (sets/lights/costumes/staging) who seems to be a deer-caught-in-the-headlights or is merely autistic, and for sure is quite brilliant.
A word to the wise: it's best to pay YouTube something otherwise you'll suffer sudden freezes.
Michael Milenski
Cast and Production
Sopano: Carmen Giannattasio; Baritone: Markus Werba; Bass: Alexandros Stravrakakis. Chorus, Orchestra, Ballet, Children's Chorus of the Teatro Massimo. Conductor: Omer Meir Wellber; Dramaturgy/sets/costumes/lighting: Johannas Erath; Video: Bibi Abel. Teatro Massimo, Palermo, Italy, January 27, 2021.