Robert King has been addressing the music of Henry Purcell for over thirty years, and his ground-breaking anthology of odes and welcome songs begun in 1988 brought fresh insights to a composer whose secular music has been largely neglected. Indeed, in the liner notes for volume 5 (1991) of this eight-volume series, King observed that of these 24 surviving works 'just a handful receive performances today'. Little has changed since then, but at least we can now appreciate these beautiful works for what they are: ostensibly a collection of royal birthday cantatas in celebratory manner and, at a deeper level, a vehicle for politicising national concerns. Purcell's royal odes mirror three decades of political and religious upheaval during which time he served three successive monarchs while occupying positions as organist at the Chapel Royal and Westminster Abbey.
This new disc from the King's Consort presents three representative works written between the years 1685-1691 that collectively reveal the artistry of Purcell the musician and Purcell the astute public relations guru. The triumphant, Why, why are all the Muses mute? asserts a loyalty to James II following the failure of the Protestant-led Monmouth rebellion (explicitly evident at 'the many-headed beast is quelled'), while touching on the reduced royal patronage after James succeeded Charles II in the title music. The second Ode, Now Does the Glorious Day Appear (1689), references 'the trembling Papal world', following a return to Protestantism after the ousting of James II and the newly appointed sovereigns William and Mary. When we reach the 1691 Birthday Ode to Queen Mary, Welcome, welcome, glorious morn, the anonymous poet alludes to turmoil within the then separate kingdoms of England, Ireland and Scotland and trusts that 'Britain at last shall see her peace restor'd'.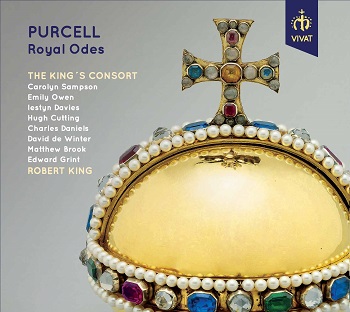 Political awareness aside, we most readily associate Purcell with an uncanny and unrivalled ability to transcend weak and often obsequious texts, and to sheathe them in music of surpassing beauty and imagination. We cannot deny the Rule Britannia-style swagger of these lyric poems, but his genius for elevating words to an uncommon degree even prompted Benjamin Britten to remark, 'I had never realised before I met Purcell's music that words could be set with such ingenuity, with such colour'. And with humour too, if we consider the rollicking closing chorus of Now does the glorious day appear where the thrice repeated 'ring' of 'And make heaven's mighty concave ring' adds a certain swing to Thomas Shadwell's ungrateful text. It's Purcell at his most playful and uplifting.
The King's Consort have the composer in their blood stream and brilliantly outline his 'ingenuity', as well as giving full expression to Purcell's theatrical instincts and talent for word painting. One only has to hear the closing chorus of Why, why are all the Muses mute? with itslengthening of pitches at 'His fame shall endure' and the ensuing chromatic descent for 'till all things decay' which make clear his illustrative gifts. The ten voices of the King's Consort (also doubling as soloists) clearly revel in the sumptuous harmonies, and it goes without saying that everything is beautifully blended.
Amongst a first-rate team of soloists, Iestyn Davies brings a tender purity to 'Britain thou now art great'. So captivating is his flawless delivery, you barely notice the banality of Nahum Tate's verses or that Purcell's lugubrious melody contradicts its jingoistic text. Likewise, in 'By beauteous softness mixed with majesty' (Now does the glorious day appear?) his voice floats over Shadwell's text with a heart-easing gentleness. Hearing his final delicate phrases, caressed with such intimacy and sensitive decoration, one might almost imagine a royal presence in Croydon's Fairfield Halls where this recording was made during a respite from lockdown in 2020.
Charles Daniels (a featured soloist on the earlier recordings) brings a less rounded quality to his high tenor roles, but while occasionally sounding strained, there's no mistaking his intelligent musicianship nor the way he cavorts through 'The mighty Goddess of this wealthy Isle' (Welcome, welcome, glorious morn). Elsewhere, he conveys a breathy excitement to 'When should each soul exalted be' (Why, why are all the Muses mute?) and is at his most persuasive in 'This does our feeble isle with glory crown' (Now does the glorious day appear?)where Purcell underpins the melody with a plain ostinato pattern. How often the simplest devices are the most effective.
Bass-baritone Matthew Brook impresses in the two and half octave span of 'and low a sacred fury swelled' (Welcome, welcome, glorious morn), an exceptional aria that might once have showcased the talents of Purcell's stellar singer John Gostling. Brook and Edward Grint form a bravura partnership in the religious politics of 'Her hero to whose conduct' (Now does the glorious day appear?) and reminders of Mary's warrior husband William III are given plenty of heft in 'He to the field by honour called shall go' (Welcome, welcome, glorious morn).
One should not overlook the contribution of the band where clean string textures, regal trumpets and manicured continuo playing are all stylishly coaxed from King in a well-chosen and superbly crafted selection. Clarity of sound is superb, and a lavish booklet provides an added incentive to explore this excellent release. Rumour has it that Vivat has raised nearly enough of the funding needed to record volume 2. I can't wait.
David Truslove
Henry Purcell: Royal Odes – Why, why are all the Muses mute?, Now does the glorious day appear?, Welcome, welcome, glorious morn
Carolyn Sampson (soprano), Emily Owen (soprano), Iestyn Davies (countertenor), Hugh Cutting (countertenor), Charles Daniels (tenor), David de Winter (tenor), Matthew Brook (bass), Edward Grint (bass), Robert King (director), he King's Consort
VIVAT 121 [81:12]