Issued last September but only recently brushing my radar, Pygmalion's alpha-plus Bach disc is a revelation. Raphaël Pichon, founder of the specialist Baroque ensemble in 2006, has had a rewarding relationship with harmonia mundi for the last half-dozen years or so, and has now built a solid reputation (in and out of the recording studio) mostly for 17th-century music, notably that of Jean-Philippe Rameau. This CD is Pichon's second venture into the works of J.S. Bach (the first was a reconstruction of a lost cantata – Köthener Trauermusik BWV 244a) and he uses the motets to showcase the virtuosity of his ensemble and situates the motets within an historical framework.
Context and contrast are his modus operandi, with four motets by Bach's 16th-century Italian and German predecessors forming distinct counterparts to paradigms of high Baroque vocal writing. Pichon's choice of Vincenzo Bertulosi, Giovanni Gabrieli, Jacobus Handl and Hieronymus Praetorius derives from a collection of motets, the Florilegium Portense, first published in 1603 and familiar to Bach during his tenure at St Thomas's Leipzig. While these a cappella and representative works lack the brilliance of Bach's florid counterpoint and his sectionalised designs, they demonstrate a vivid response to their Latin texts, none more so than Bertulosi's lavish Osculetur me osculo, a setting of erotic words from the Song of Songs and sung by Pygmalion with glowing ardour. The austere Passion motet Ecce quomodo moritur Justus by Handl (named Gallus in the liner notes) unfolds with a shapely poise, as do the expressive harmonies and animated 'alleluias' within Tulerunt Dominum meum byPraetorius of whom the booklet curiously makes no mention. Gabrieli's no less ambitious Jubilate Deo is a masterclass in polyphony and this buoyant if somewhat unadorned account brings the choir's 28 well-blended voices into sharp focus.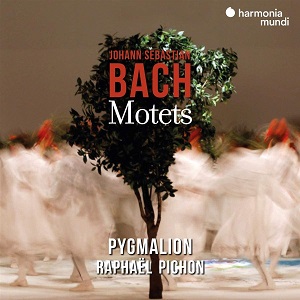 Given the multifarious recordings of Bach's motets, how do these performances stand out from the crowd? Harmonia mundi already has several fine sets in its catalogue, with stylish renditions from René Jacobs, Marcus Creed and Phillipe Herreweghe all jostling for top position. These and other accounts from Koopman and Kuijken and two from Gardiner's Monteverdi Choir never quite bring Bach to the boil in the way Pichon does. First there is the spring-loaded rhythm that sets in motion Der Geist hilft. Nothing leaden here in the way Bach's semiquavers skim across the page, light as a feather, and surely compelling us to believe in a revitalising Spirit to banish our woes. These irrepressible performances have an ink-still-wet quality that goes well beyond mere technical accomplishment.
Flawless intonation and blend come pretty much as standard, with nothing new there, nor in the degree of polish. In their sensitivity to texts, Pygmalion particularly excel, bringing to the initial pleas of Komm Jesu, komm a wonderful sense of longing. Its introductory statement is as dignified as it is grand, rests are augmented for dramatic effect and the closing pianissimo of the opening paragraph artfully illustrates the weariness of the penitent. With the onset of the fugue's melodic angularities, suggestive of the thorny path to the afterlife ('der saure Weg wird mir zu schwer'), Pichon encourages bass lute and theorbo to underpin the polyphony with more depth of tone, in one bar creating an extraordinary dissonance that brings an agonising poignancy to man's travails. Purists may frown at this harmonic misdemeanour, but its impact on the word-painting is exquisite.
Abrupt dynamic changes might also have you complaining to the authenticity police, but those brief and seemingly spontaneous moments which colour Lobet den Herrn add to the very lifeblood of this performance. Does such a change need justifying if it indicates the transfer from one section to another? In this instance the fugue is neatly presented, and Pygmalion's diction is second to none with crisply articulated consonants at 'und preiset ihn'. I listened to the closing 'alleluia' with consternation, not quite believing the breakneck tempo. Similar hair-raising tempi occur on other recordings, but the freshness captured here is unequivocal.
So too are the earnest entreaties that launch Fürchte dich nicht. Any uncertainty of faith hinted at in its initial overlapping phrases is nullified by declamatory solo voices and the redemptive fugue, decorated here by a tinkling lute. One of the particular joys of this disc is the variety of colour in the continuo department where bowed and plucked strings, harpsichord and organ all make their tactful entrances and exits, tutti forces generously combining for the last few bars of this motet.
If I've failed to mention Jesu meine Freude or Singet dem Herrn it's because these accounts possess equally transparent textures, fresh interpretations and variously dazzle the ear in their immediacy and precision-engineered delivery. In short, Pygmalion is a thoroughbred amongst ensembles; harmonia mundi and their technical team have done them proud.
David Truslove
Pygmalion, Raphaël Pichon (director)
J.S. Bach – Six Motets, BWV 225-230 (Lobet den Herrn, Komm Jesu, komm, Der Geist hilft, Fürchte dich nicht, Jesu meine Freude, Singet dem Herrn), Bertulosi – Osculetur me osculo, Gabrieli – Jubilate Deo, Handl – Ecce quomodo moritur Justus, Praetorius – Tulerunt Dominum meum.
harmonia mundi HMM902657 [78:00]