Grange Park Opera's latest online production is a horophile's fantasy fulfilled. For one hour, Toledo is transported to Kensington Church Street where, amid the grandfather, cuckoo, mantel, hook-and-spike and lantern timepieces that furnish real-life and long-established Howard Walwyn Fine Antique Clocks, the complications, movements and oscillations of Ravel's L'heure espagnole run their course with the elegant precision of the finest pendulum.
There's not anything inherently very funny about the one-act farce by Maurice-Etienne Legrand upon which Ravel based his comédie musicale, which was premiered in Paris at the Opéra-Comique in May 1911 to a mixed critical reception. But, director Stephen Medcalf recognises that, although there's a spirit of Italian opera buffa in the commedia-like stereotypes and their gallivanting game of horological hide-and-seek, Ravel's music balances the crude and absurd with charming Gallic grace spiced with sensuous Spanish lilts. Medcalf doesn't overdo the ludicrous and lets the lyrical speak for itself.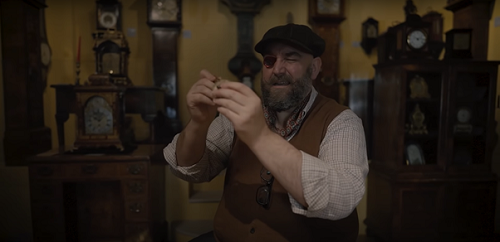 And, in his hands, the cinematic medium becomes a virtue, opening up a magnified view of the mechanical wonders of chronometrical art, as if espied through a horologist's monocle. The viewer is lured into the warm embrace of Torquemada's clock-shop by the panoply of decorative riches that line its narrow walls, while remaining aware that beyond this secret treasure trove lies a bustling city – as tradesmen pop into Sally Clarke's bakery for a choice patisserie, would-be literati hunt down poetic inspiration in the local bookshop, and wealthy financiers leave their smart Georgian townhouses for business lunches in the neighbourhood's fine-dining establishments. Indeed, Medcalf comments, "I find myself with a setting infinitely more beautiful than anything that could be created on stage with the added extra of the vibrant life of Kensington Church Street. When we film towards the street, there is a moving backdrop of buses, lorries, dog-walkers, cyclists, joggers, toddlers: all of human life."
Medcalf also recognises that beyond the stereotypes – the pompous banker, the solipsistic poet, the cuckolded husband, the gullible dullard – there are characters whose affections and affectations are both foolish and tender. As Concepción manoeuvres her multiple lovers around the mantel-clocks while her husband is out on municipal business, tending to the town's timepieces, we both laugh at their haplessness and smile at their self-deceiving sincerity. Watching all is the muscular 'muleteer', Ramiro, charged with bearing the lover-hiding grandfather clocks from show-room to bed-room and back again; he is both sweetly naïve and, his twitching smile and sparkling eyes make clear, mischievously knowing.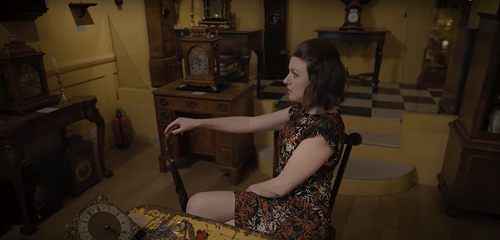 The cast of five are superb, gliding naturally through Ravel's récitatif quasi parlando, and enunciating the French text with beautiful clarity. The soundtrack for was recorded at London's Wigmore Hall, and played back during filming, with the singers miming to their own recording. The musical conversations run like clockwork.
As Concepción, mezzo-soprano Catherine Backhouse drives the comic action with a feisty restlessness tempered by vocal charm, issuing orders and pleas with a sensuous gleam and vivacious richness. Though she wields an umbrella with threatening wildness, when driven to distraction by her obtuse wooers, this Concepción is more playful than petulant; her understated hint of romantic interest in Ramiro, her muscular removal-man – "San horloge," she winks, inviting him to her room – is delicious. Equally, she enjoys the lyrical expanse of her 'aria-moment', 'Oh! La pitoyable aventure!'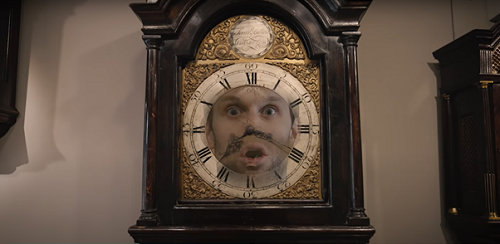 Ashley Riches' city banker, Don Inigo, is a dreary and deluded would-be Don Giovanni, but the smooth suavity of Riches' bass-baritone summons some sympathy for the inept, clock-stuck Inigo with his futile dreams of youth and love. Elgan Llŷr Thomas is a vibrant poet manqué, pirouetting round a lamppost with a grace lacking in his literary perambulations. More seduced by the inner mechanisms of a clock than the secret workings of a woman's heart, this Gonzalve enters the grandfather clock in a state of almost unhinged ecstasy: "to enter the inner sanctum of a coffin!" There's a tingling tremor of hyperbolic sensibility in Thomas's dulcet tenor line, and his Spanish airs have a dreamy fluency.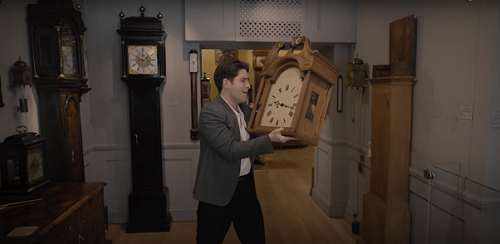 Casting aside Owen Wingrave's tormented soul-searching for Ramiro's heart-on-sleeve openness, Ross Ramgobin is an engaging ingenue, all brawn, brightness and boyishness. Ramgobin brings forth Ramiro's sincerity, kindness and gentleness: 'Voilà ce que j'appelle une femme charmante' is lovely in its guileless directness. His baritone is appealingly warm and firm, but he reveals, too, a delicately floating head-voice suggesting that there are rivers within his soul than run deeper than we might imagine. Jeffrey Lloyd Roberts conveys the passion for his profession and public duty that seems to take Torquemada's eye off the domestic ball, but he never becomes an object of ridicule; his integrity, genuine affection for his flighty wife, and mercantile sharpness are winning.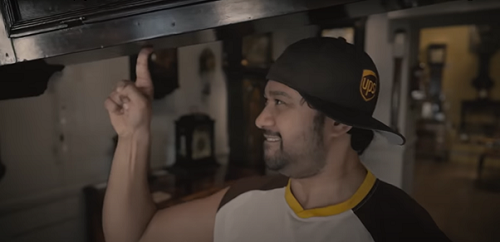 Though something is inevitably lost in the reduction of Ravel's ravishing orchestral score – which bears the melodic weight – to a small ensemble of piano, brass and percussion, the musicians capture the flow and flexibility of Ravel's kaleidoscope of dancing colours. 
At the close, the reconciled characters give up their declamatory parlando and join together in a moralistic quartet, negotiating the virtuosities of its unison coloratura with ease: "Such is the moral of Boccaccio: The most able lover beats them all. In the game of love sooner or later it will be the muleteer's turn." One can't help thinking that Torquemada's own conclusion might instead draw upon Shakespeare: "Let every man be master of his time."
L'heure espagnole is available to view, free of charge, at https://grangeparkopera.co.uk/whats-on/lheure-espagnole/
Claire Seymour
Grange Park Opera: Ravel – L'heure espagnole
Torquemada, a clockmaker – Jeffrey Lloyd Roberts, Concepción, his wife – Catherine Backhouse, Gonzalve, a young poet – Elgan Llŷr Thomas, Ramiro, a delivery man – Ross Ramgobin, Don Iñigo Gomez, a banker – Ashley Riches; Director – Stephen Medcalf, Music Director and Piano – Chris Hopkins, Cinematographer – Daniel Zafer, Editor – Ben Willis, Sound – Tom Marshall.