At the start of The Metropolitan Opera's most recent Met Stars Live in Concert broadcast, our genial host, Christine Goerke, introduced us to the Baroque Library of the Schussenried Cloister in Baden-Württemberg, southwest Germany, where Bulgarian soprano Sonya Yoncheva was to perform an eclectic series of opera arias from Italy, France and England, partnered by the French-born pianist Julien Quentin. The Library is certainly a feast for the eyes, with its ceiling adorned by Franz Georg Hermann's magnificent eighteenth-century frescos, and its walls bearing evidence of the playfulness of the abbey's former monastic inhabitants who decorated them with trompe-l'œil book-bindings. It was a fittingly theatrical venue for Yoncheva's recital, in which she demonstrated an extraordinary expressive and dramatic range, and confirmed herself as a singing actor of impressive stature.
Every spectrum of that expressive range was apparent in Yoncheva's first aria, 'Ritorna vincitor!' from Verdi's Aida. One might have questioned the wisdom of opening with such a demanding aria, but Yoncheva's singing was as controlled and accomplished as it was fearless. She quickly established a sense of situation and character, despite the aria having been rent from its context, and took us on a journey from Aida's shock at having announced her hope for Radames' victory, through her pain at having betrayed her father, to her unresolved recognition that she is torn asunder by her devotion to her family and her passion for Radames. Moving fluently between the rapidly alternating recitative and melodic phrases, Yoncheva captured Aida's inner turmoil. Disbelief propelled her regretful admonishment, "L'insana parola o Numi sperdete!" (The insane word, o gods, forget!); conflict both fuelled her anguish and drained her spirit, as a long-held top Ab descended and diminished: "Ah! non fu interra mai da più crudely/ Angoscie un core affranto!" (never on earth, by more cruelty was a heart torn!) The closing line, "Numi, pietà del mio soffrir!" (Gods, have pity on my suffering!') was imbued with a stillness suggesting transcendence and sung with beautiful evenness and focus. Yoncheva is due, pandemic permitting, to make her debut as Verdi's conflicted Queen this coming June, and one envies the Veronese opera-goers before whom she will perform. My only quibble about the performance here concerned Julien Quentin's rather clamorous accompaniment, tremolando strings reinterpreted as jangling, often jerky, repetitions – hardly a 'hold-one's-breath' shimmer – and whose melodic covering was not always synchronous with the voice.
More Verdi followed: Leonora's Act I aria and cabaletta, 'Tacea la notte placida … Di tale amor' from Il Trovatore.  The Library was flooded with blue light as Leonora sang of her love for the mysterious troubadour who has entered her life and for whom she is waiting, with Ines, in the garden.  Yoncheva extended the long melodic phrases easefully, memories of the doleful song and sweet lute of the troubadour sending heart and voice soaring with rapture and joy.  What a pity that the closing ecstasy – "Al core, al guardo estatico/ La terra un ciel sembrò." (To my heart, my ecstatic eyes, the earth seemed like heaven!) was accompanied by a clangourous outburst from Quentin. The cabaletta, slightly abbreviated, combined elegance and emotional energy: there was power but also lightness.  Scales and leaps were focused and true, trills delicate and the climax rapturous.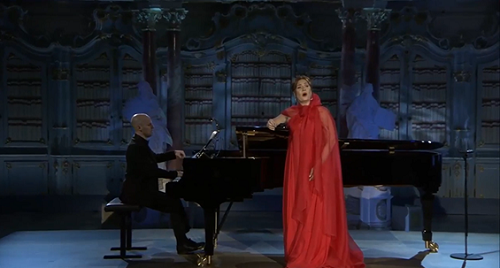 Yoncheva stayed on Italian territory, with two arias by Puccini. In 'Donde lieta uscì' from La bohème the simplicity of line and use of subtle nuances to colour the words – "torna sola Mimì" – conveyed the pathos of Mimì's deluding professions of 'no hard feelings', and here there was greater transparency in the piano. Yoncheva's legato soprano and judicious use of portamento conveyed the sweep of the melodies, but there was also a flexible give-and-take within individual phrases. The emotional shift towards the close, "Bada, sotto il guanciale/ c'è la cuffietta rosa." (Pay attention, on the pillow there is a pink bonnet.), was magical, the final "addio" deeply poignant in its candour.
A delicate pink glow bathed 'Se come voi piccina io fossi' from Puccini's Le Villi, in which Anna places her bouquet from her engagement celebration in Roberto's luggage and hopes that when is far away, in Mainz where he has been left a fortune, the flowers will remind him of her. Strewing roses across the platform, Yoncheva revealed her thoughtful musicianship and dramatic insight as she brought both strength and brightness to the lyrical vocal line. The final repetitions of "non ti scordar di me" were exquisitely coloured, each "no, no, no" carefully placed and graded, and highlighted with artless grace notes. Later in the programme she gave us a foretaste of a forthcoming Met role debut, with an incredibly power performance of 'Un bel dì' in which Butterfly's enduring faith in Pinkerton's return was so persuasively conveyed that one truly longed for her to be right, even while pitying the frailty of her fantasies.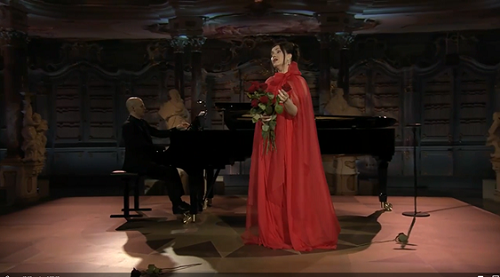 There was more Verdi and Puccini during two short Interval breaks, when we had an opportunity to enjoy Yoncheva's recent performances at the Met in Othello and Tosca, but she departed from Italy for the rest of her programme, travelling first to Bohemia for the 'Song to the Moon' from Dvořák's Rusalka – an aria we have heard several times during this Met Stars Live series, but one which was no less welcome here. Yoncheva's emotional focus and vocal assuredness were stunning: she sang with a radiant simplicity allied with expressive intensity, and her projection of the climax was effortless, her soprano swelling with a lovely warmth and shine.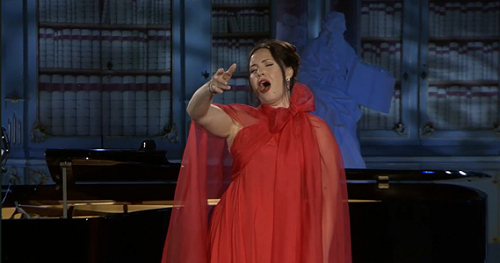 She dipped into the French repertory too, contrasting introspection and flamboyance. In 'Ah! je suis seule … Dis-moi que je suis belle' from Massenet's Thaïs, Yoncheva built the tension skilfully through the recitative, floating a beautiful pianissimo for Thaïs's despairing admission, 'J'ai l'âme vide (my soul is empty) the blanched phrase followed by heated anguish that she would never find peace. "Dis-moi que je suis belle," she implored, soaring in a swift outburst, as if transported. "Vénus, invisible et présente!/ Vénus, enchantement de l'ombre!" she murmured, with sombre piety.
Manon bid her home a poignant farewell in Massenet's 'Adieu, notre petite table'. This was apensive and wistful interpretation, welling up with concentrated expressivity, like the incipient tear that pricked Yoncheva's lashes at the close. But, after the tears came laughter, in an exuberant performance of Carmen's 'L'amour est un oiseau rebelle', in which sensuousness – Yoncheva's soprano shone with lustre and dark glints – was balanced by playfulness, as she teased Quentin, who deputising as Don José, could not keep a smile from his face.
Perhaps most striking of all were Yoncheva's performances of two Baroque arias, in which the Bulgarian soprano's poise and restraint were deeply impressive. Dido's lament from Purcell's Dido and Aeneas was dignified and controlled: her soprano, complex and highly coloured, was full and firm when the vocal line dipped down, and the ornamentation – especially some lovely rising appoggiaturas – was finely judged and moving. With each repetition, "Remember me", Dido's feelings seemed to evolve, and Yoncheva's phrasing made sure that we noted the telling instruction, "but ah, forget my fate". At the melodic peaks she withheld her voice just a fraction, creating deeper pathos. In 'Lascia ch'io pianga' from Handel's Rinaldo she brightened her voice a little but sustained the nobility of line. I'm not sure why Quentin felt that the continuo part required arpeggiation, fiddly decoration in the inner voices and subsequently an astonishing outburst and cascade before the B section of the da capo form. It was at total odds with the simple dignity of Yoncheva's singing – a dignity which was confirmed by a deliciously sustained 'slipping' into the da capo repeat and the soprano's own tasteful ornamentation. These two arias certainly whet the appetite for the release of Yoncheva's latest album, Rebirth, later this month, which will feature works by Monteverdi, Cavalli, Strozzi, Dowland, Tomás de Torrejón y Velasco Sánchez, and Stradella, among others.
In a short closing address to the listeners at home, Yoncheva explained that her programme was "inspired by love … [for] love can unite us". And, with a smile, a wave and a hopeful "See you soon," Yoncheva said goodbye with Marguerite Monnot and Édith Piaf's 'Hymne à l'amour', the closing line of which bloomed, then faded with quiet wistfulness: "God reunites those who love each other!"
This concert is available on demand ($) until Saturday 13th March.
Claire Seymour
Sonya Yoncheva (soprano), Julien Quentin (piano)
Verdi, 'Ritorna vincitor!' (Aida), 'Tacea la notte placida … Di tale amor' (Il Trovatore); Puccini, 'Donde lieta uscì' (La bohème); Dvořák, 'Song to the Moon' (Rusalka); Puccini, 'Se come voi piccina io fossi' (Le Villi); Purcell, 'Thy hand, Belinda … When I am laid in earth' (Dido and Aeneas); Handel, 'Lascia ch'io pianga' (Rinaldo); Puccini, 'Un bel dì' (Madama Butterfly); Massenet, 'Ah! je suis seule … Dis-moi que je suis belle' (Thaïs), 'Adieu, notre petite table' (Manon); Bizet, 'L'amour est un oiseau rebelle' (Carmen); Marguerite Monnot and Édith Piaf, 'Hymne à l'amour'.
Baroque Library of the Schussenried Cloister in Baden-Württemberg, southwest Germany; live stream, Saturday 27th February 2021.