Compiled by nine former choral scholars of King's College, Cambridge and recorded just before the worldwide pandemic transformed our lives, this anthology is a marvellous century-plus traversal of familiar and lesser-known English song. Life may have changed, but the themes of love and loss and the transience of existence embedded into these settings from Vaughan Williams to Iain Bell resonate more than ever in our still-troubled times. The link is largely serendipitous since the singers, according to producer Benjamin Sheen, 'chose music that they wanted to record'. That said, there's an unmistakable air of 'hearthside' melancholy about the CD, with nothing quite so poignant as the fifth line of Jonathan Dove's 'All you who sleep tonight': 'Know that you aren't alone'.
Those words by Vikram Seth form the central arc of the disc's emotional trajectory that peers into the human condition, embracing the abandoned, sighing lover, through to the serenity of sleep; poetry and song magnificently served by the King's alumni. These Proud Songsters – its title derived from the final song in Gerald Finzi's cycle Earth and Air and Rain – are also well served by Simon Lepper, another King's graduate, who fulfils accompanying duties with an acute ear for detail and unfailing sensitivity. Recorded in All Saints Church, East Finchley, the disc's sound quality is excellent, and the arrangement of alternating voice types and timbres across its twenty-one tracks is especially pleasing.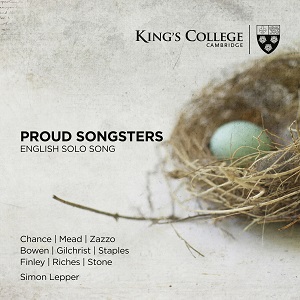 There is much to admire from the group of countertenors, including the plangent tones of Michael Chance in Celia Harper's folk-inspired 'My love gave me an apple'; words and music conveyed with warmth of feeling albeit slight sense of strain. Benjamin Britten's arrangement of 'The Salley Gardens' is one of dozens of folk songs he elevated to the status of art song. Tim Mead brings to its flowing lines a melting soulfulness, arresting the ear for each of the twice-sung words 'young and foolish'. His expressive tones equally suit Herbert Howells' sorrowful 'King David', a song the composer once claimed he was 'prouder to have written than almost anything else'. I'm not sure if I've heard a finer rendition of this lament, Mead's smooth-as-silk legato wonderfully conveying the nightingale's capacity to console. Like Mead, Lawrence Zazzo has considerable operatic experience and brings his theatrical talents to bear on three Aids-related songs by Jonathan Dove. Vikram Seth's epigrammatic verses unfold emphatically in the satirical 'God's love' and with melodrama in 'Soon', a terrifying evocation of dying alone. Lastly, there's tenderness in the title song, 'All you who sleep tonight', its bell-like accompaniment consoling and ethereal in equal measure. There's despair again in 'Feste' (Shakespeare's Twelfth Night) from Iain Bell's cycle These Motley Fools, where Zazzo's petitions are intensely wrought.
There's plenty of passion too from the King's tenors, none more obvious than Andrew Staples whose clarion tones roam across Britten's 'Since whom I loved' drawn from The Holy Sonnets of John Donne. It's a voice that soothes and bites, well-matched for a text which simultaneously loves and rails against God; composer and poet deftly conveying grief, anger and reconciliation. No less persuasive is Staples in the reminiscing of Finzi's 'The Sigh'; vocal intimacy and yearning complementing its tale of ambiguous love. Ruairi Bowen inhabits a more youthful sound in Eric Thiman's drawing room ballad 'I wandered lonely as a cloud',where hisvoice floats with ease over Wordsworth's 'vales and hills'. Roger Quilter did much to raise this Victorian domestic genre into a more sophisticated musical form and his Shakespeare settings developed into a lifelong preoccupation. Amongst these is 'Fear no more the heat o' the sun' in which James Gilchrist's faultless artistry and diction neatly overlay the playwright's musings on the transience of life, his voice disembodied for Man's final 'Quiet consummation'. He finds a similar grainy tone for Rebecca Clark's impressionistic song 'The Seal Man', his story-telling evoking all the charm and nostalgia of a weathered seafarer.
Amongst the baritones, Mark Stone's oak-aged tones seep into the 'hopeless longing' of Frank Bridge's 'Come to me in my dreams'. Its setting of Matthew Arnold's text may be schmaltzy, but I can live with that when his voice glows so warmly. That quality and a certain world-weariness suffuses Peter Warlock's 'Sleep', andhe delivers affection in spades for Quilter's 'Go, lovely Rose', its climax sufficient to melt the hardest of hearts. The plush-toned Ashley Riches is likely to moisten the eyes too with William Denis Brown's 'To Gratiana Dancing and Singing', his sombre colouring perfect for the poem's broken hearts. One of the earliest songs in the collection is the well-known 'Linden Lea' (1901), its vision of arcadia made popular by Vaughan Williams's lilting tune is sung with gratifying ease, Riches also endowing the rural idyll of Ivor Gurney's 'I will go with my father a-ploughing' with a swinging nostalgia, withholding triumph until 'joys for the harvest done'. Gerald Finley clearly has an affinity for Finzi's 'Proud Songsters', where quiet rumination on the value of time is underlined by a voice of surpassing beauty. His ample baritone seems tailor-made for Vaughan Williams's 'Silent Noon'. The song's languor is fully realised, as is a time-suspended hour amid 'golden kingcup-fields', his last phrase floated with exquisite care.
As a bonus track (CD only), Finley and Christopher Keyte (another King's graduate) form a tear-jerking partnership for Sir Landon Ronald's charming slice of Edwardiana that is 'O lovely night!' This closes a disc of infinite delights which I cannot recommend highly enough. Combine it with a twelve-year-old Glenlivet and you'll be in heaven.
David Truslove
Proud Songsters: English Solo Song
Michael Chance, Tim Mead, Lawrence Zazzo (countertenors); Ruairi Bowen, James Gilchrist, Andrew Staples (tenors); Gerald Finley, Ashley Riches, Mark Stone (bass-baritones)
Bonus track, CD only: Sir Landon Ronald – 'O lovely Night' (Gerald Finley and Christopher Keyte)
CD – KGS0052 | 0822231705222 [65.59]