Tenor Ian Bostridge's award-winning idiosyncratic guide to, and all-embracing musing upon, Schubert's Winterreise is subtitled 'Anatomy of an Obsession'. The obsession is Schubert's, the wanderer's, Bostridge's and our own. And, as mezzo-soprano Fleur Barron explained, in conversation with Julius Drake before their performance of Schubert's cycle as part of Chamber Music Northwest's 2020-21 season, of late it has become her obsession, too.
Previously, Barron had found that the cycle's "melancholy mood didn't appeal … but something shifted, I don't know what exactly – my head-space must have been in the right place at the right time – and I became completely obsessed". She listened to many recordings of a work she had not heard performed live before last year, and was determined to learn it, even though it is a mighty thing to learn.
Barron seems to have been inspired, too, by other mezzo-sopranos who have ventured into what is conventionally baritone and tenor territory. Julius Drake has performed Schubert's cycle with both Alice Coote and Angelika Kirchschlager; interestingly, when I interviewed the latter before her performance of the cycle at Temple Church in 2018, she told me that she had never heard Winterreise performed live before. Perhaps there is something to be said for approaching such iconic works with fresh eyes and an open mind. And, when I had asked Kirchschlager how she had been preparing for her own first performance of the cycle, she explained that she had been listening to recordings of single songs – "thinking about how creative I could be" – and then exploring the texts, looking for connections between Schubert's harmonies and the texts: "You don't have to do anything, just find out what Schubert wants to tell us," was the advice she would give her students. If you just sing what you feel, it will be your music but not the composer's.
One aspect of interpretation that Kirchschlager and I discussed was the choice of keys, but as Drake observed this is not such a contentious issue with Schubert that it might be with other composers. And, in any case, as Barron remarked, it's not just a case of changing keys to suit you: "You are evoking a state of being and it may sound a bit more uncomfortable but fit well with what the character is going through in the song. It's not always about finding your optimal comfort zone but aligning the key with the expression."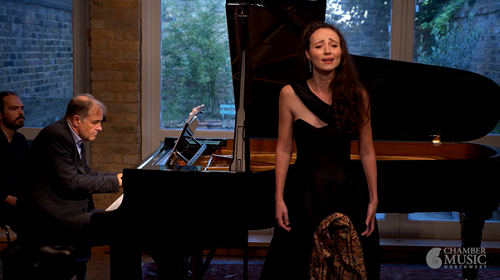 And so, to the performance itself. Some wanderers seem fugitives from sanity from the very opening steps of 'Gute Nacht', when the protagonist departs the village: a stranger, just as he had arrived, seeking his own way in the darkness. Others descend more gradually into melancholy and black despair. Some veer wildly through a bipolar wilderness. But, Kirchschlager herself seems to have summed up for me the experience that Barron and Drake dramatized: "a journey to the inside of a human being", a spiral ever deeper into loneliness as the persona becomes increasing cut off from the world, unable to find their place, ever more lost. For this performance began with the wanderer raging at the world. An explosive ferocity marked the opening songs which exposed a bitter and frustrated soul. As the journey progressed, outer and inner flames of suffering cohered, intensified, distilling pain, both physical and mental. Then the flames begun to sputter and succumb to incipient weariness and yearning for withdrawal. The inner schisms of the heart and soul were gradually exposed; eventually they would suck in and consume the wanderer's 'self'. Resistance was followed by resignation. All that remained was the music of the hurdy-gurdy man.
Barron's mezzo-soprano is multi-layered and vibrant: imagine a voice that seems to have the blood in one's veins and the life forces of nature running through it. Wonderfully even, both all encompassing and crystal clear, Barron's mezzo draws one into the emotional journeys it charts. I've lost count of the performances of Winterreise that I've heard with Drake serving as an assured partner, guide and follower, but on this occasion his playing seemed to explore new paths and visceral peaks. Time and again I was surprised by unpredictable changes and extremes. Always they were persuasive. The performance was recorded at the Razumovsky Academy Recital Hall in London and perhaps the intimacy of the venue magnified the dramatic impact of the musical moment and the emotional trajectory.
In 'Gute Nacht' the colour and grain of Barron's low register created an immediacy and intensity, and also an inner dynamism that, with Drake's stark accents and weightings, propelled the wanderer on their journey. The step was fairly swift, born forward on the vocal fire, which only made the unexpected rallentando before the turning of the corner into the major tonality for the final verse all the more thought-provoking. Subsequent phrases barely kept hesitancy at bay, until a rush swept towards the ending.
In 'Die Wetterfahne' the wind blew the vane in dry, staccato gusts and surges.  In 'Gefrorne Tränen', the piano stabbed home the pain of Barron's sinking tears, "Ei Tränen, meine Tränen", before welling up in a rushing torrent of burning heat: "Als wolltet ihr zerschmelzen/ Des ganzen Winters Eis." (As if you would melt all the ice of winter.)  A terrible urgency ripped through the fearful questions posed in a turbulent 'Erstarrung': "Wo find' ich eine Blüte, Wo find' ich grünes Gras?" (Where shall I find a flower? Where shall I find green grass?).  Only four songs into the journey and it seemed impossible that this wanderer would not be consumed by their inner torments before reaching their destination.  "Schmilzt je das Herz mir wieder,/ Fliesst auch ihr Bild dahin," (if my heart ever melts again her image, too, will flow away) the wandered confessed, as Drake's fingers, seeming spent, let the playout slip away.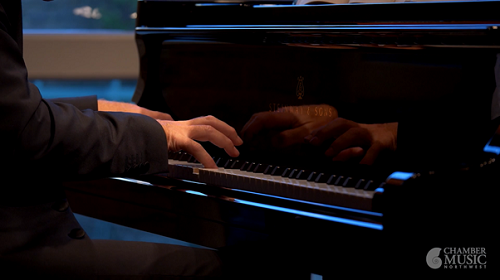 But, there was a regathering in 'Der Lindenbaum'. Dreams released lyricism, but did not diffuse the inner dynamism, and Barron used the textual and musical details superbly. The shift to the minor mode released the tension and suffering that sleep had momentarily quelled, with a heart on the sleeve naivety – "Und seine Zweige rauschten,/ Als riefen sie mir zu" (And its branches rustled as if they were calling to me) – which was cruelly dispelled by the piano's fierceness: "Die kalten Winde bliesen/ Mir grad' in's Angesicht" (The cold wind blew straight into my face). Yet if there seemed more hope than promise, Drake's final rustling offered some consoling sweetness.
Quite simply 'Wasserflut' burned, the flames a spiky, ceaseless torture, and the flood of pain rushed on segue into 'Auf dem Flusse', in which Barron relished the consonants as if they were palpable matter, the burrs and rumbles of the earth. The teasing cynicism of a broken ring – "Um Nam' und Zahlen windet/ Sich ein zerbrochner Ring" (Around name and figures a broken ring is entwined.) –prompted fragmented gasps from the piano which exploded, unstoppable, into 'Ruckbluck'.
Perhaps the anger had already begun to burn itself out, for 'Irrlicht' was a quirky retreat into a mercurial hinterland. Weariness infused into Barron's mezzo in 'Rast', countered by a determination to push on which was aided by the piano's relentless. At the close, release seemed to come, as Barron's voice softened beautifully, "In eines Köhlers engem Haus/ Hab' Obdach ich gefunden (In a charcoal-burner's cramped cottage I found shelter)", though the piano's dynamic contrasts undermined any relief and it was no surprise when the 'Frühlingstraum' was brutally shattered by the crowing cockerels ("Und als die Hähne krähten) and a cavernous expanse opened up in the piano postlude. Something heavy seemed to drag at the voice in 'Einsamkeit' and as the vocal phrases faded there was a terrible irony in the fury of the piano's responses, denying rest.
A pause preceded 'Die Post' but the new direction was illusory and a change of vocal tone, compressing so much emotion into a milli-second, destroyed the joys of a leaping heart. A similar compression and synthesis of vocal colour characterised 'Der greise Kopf', broadening for just one rare moment of exposure, "Wie weit noch bis zur Bahre!" (How far it is still to the grave!). On, on, into 'Die Krähe', in which the piano's circling seemed to inject a note of terror into Barron's mezzo. And, in 'Letzte Hoffnung' the fragmentation of thepsyche began, symbolised by a falling leaf, and articulated by Barron's powerful expressive emphasis: "Fall' ich selber mit zu Boden,/ Wein' auf meiner Hoffnung Grab." (I, too, fall to the ground and weep on the grave of my hopes.)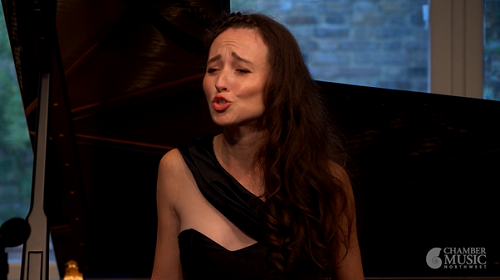 And though, once again, the wanderer seemed convinced by their own soft consoling in 'Im Dorfe', the piano's contrasts brusquely revealed a delusion irredeemable. And, so, 'Der stürmische Morgen' ran on, once more, into 'Täuschung'. But, then a pause. And in a truly wonderful and insightful 'Der Wegweiser' the fires were banished, and though there was still suffering there was an acceptance of the foolish yearning that drives the wanderer into the wilderness. The piano's accented twists and turns seemed more prominent than usual, reminding us that the signposts are pointing in the wrong direction, and the repeating note in the piano's inner voices taunted. There was a slow, halting finality about the closing lines of this song – "Eine Strasse muss ich gehen, Die noch Keiner ging zurück." (I must travel a road from which no man has ever returned.) – and the tremendous focus of Barron's voice suggested both inevitability and acceptance.
The slow tempo of 'Das Wirtshaus' created a peaceful, sweet contrast with the ferocity of the opening songs, but accruing strength sent the wanderer tumbling into a declaration of courage, 'Mut!', though not too fast, so as to allow the words to acquire a brief semblance of rationality. The segue into 'Die Nebensonnen' was, for this listener, a rare misjudgement. This song seemed too emphatic and heavy to capture the strange rapture of the lofty mystery. But, with 'Der Leierman' there was a stepping back. Even the hurdy-gurdy's flickering grace-note registered only quietly. It was as if the protagonist had disappeared by this point, into the equivocal darkness of their own mind.
Claire Seymour
Fleur Barron and Julius Drake's performance of Winterreise is available on demand until Saturday 6th March EST.