'Dreams, Homeland and Childhood' was an apt title for Fleur Barron's Leeds Lieder Festival recital with pianist Joseph Middleton. Born in Northern Ireland, to a British father and Singaporean mother, Barron grew up in the Far East and this programme was in some sense a 'homage' to her Asian heritage, interweaving songs by contemporary Asian composers with those of Brahms, Mussorgsky and Borodin.
'Home' was both longed for and musically embodied in the beautiful opening sequence. The three poems by Klaus Groth which Brahms chose for the final songs in his Op.63 sequence take the adult poet-singer on a journey from remembered childhood pleasures and pastimes, to the more painful present which nostalgic reminiscence can only partially salve, and on to an imagined future from which vantage point the idealised past can be but scarcely glimpsed, the desire to revive former comforts revealed as a futile fantasy. Yet, Brahms' late 19th-century expression of Romantic Heimweh offers a more consoling vision.
The piano's relaxed rocking motion created a child-like ease at the start of 'Heimweh I: Wie traulich war das Fleckchen', and Barron's generous, warm mezzo-soprano charmed with its sweet simplicity, the sense of 'oneness' with the blossoming natural world touched only occasionally by hints of chromatic shadow. Careful enunciation of the text at the elongated strophe-ends – "Das nicht, das nicht voll Träume hing" (there was nothing that was not hung with dreams), "mir zu bei jedem, jedem Schritt" (everything glowed for me with every step I took) – emphasised the distance of the past, a feeling enhanced by the repetition of the final line, "Mein Sehnen, mein Verlangen, / Hier ruht's in Wald und Feld". The singer's longings and desires live 'in the forest and field' accessible only through the imagination; Middleton's quiet, brief postlude captured the nostalgic air perfectly.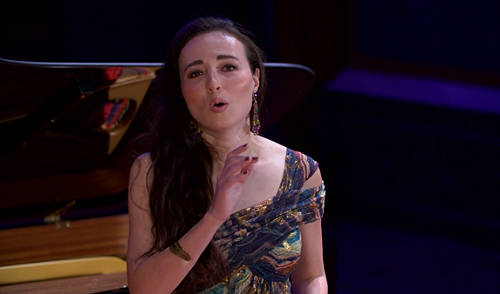 'Oh, if only I knew the way back,' begins 'Heimweh II: O wüßt ich doch den Weg zurück', and Middleton's searching rises and falls across shifting chromatic ground established a mood of troubled seeking and wandering in the piano introduction. The ebb and flow of the slow meter further enhanced the sense of yearning, as Barron's melodic phrases, rhythmically regular but harmonically disorientating, captured the quiet sorrow of the poet-speaker who despairs that the cherished world of childhood has been lost, and longs to close his weary eyes.
The intensity which quivered within the lyrical line, came to the surface in the third stanza, which quickened with fresh vigour and hope, "Zum zweiten Mal ein Kind!" (to be a child a second time!), but anxiety clouded the final strophe, tugging back the tempo, fracturing the piano's flowing patterns. Barron's final admission of failure and futility subsided with a terrible weariness and despair – "Vergebens such ich nach dem Glück,/ Ringsum ist öder Strand!" (I have searched in vain for happiness, I am surrounded by a barren land.) – the repetition, "öder Strand!", seeming to imprint defeat on the poet-speaker's own soul. Brahms denies the phrase harmonic resolution, too, further intensifying the anguish, though the clarity of Middleton's postlude and the warm spread of the final, major chord offered some consolation.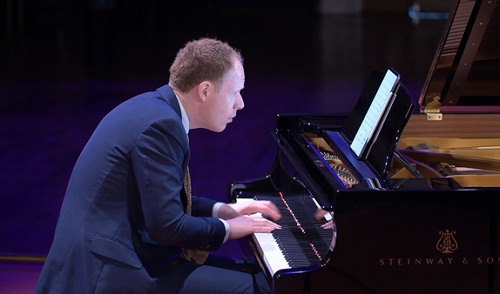 'Heimweh III: Ich sah als Knabe' swayed with a springy lilt that seemed to take us back to the hopefulness of the first song, but the simplicity of the folk-like melody is deceptive, and Barron conveyed the poet-speaker's confusion, rising impassionedly when the flowers and its fragrance prove irrecoverable: "Wo mag er blieben sein?" (Where can they be now?) Middleton's clear crafting of the ever-changing piano motifs gave the song a sureness of direction which the poet-speaker himself lacks, guiding the song towards its peak and the promise of recovered youth, "Er war so frisch, so licht, so lieb/ Es war der Jugendglanz" (It was so fresh, so light, so sweet – It was the gleam of youth). Barron's repetition of the final line finely balanced uncertainty and reassurance.
Contrasting thoughts of home were interleaved between Brahms' songs. Chen Yi's Bright Moonlight, which was commissioned in 2000 by the New York Festival of Song, borrows its structure, the composer informs us, 'from a fixed form of Chinese ancient poems called "Picking Mulberry with Added Characters".' This form 'is simple, straight but abstract – from outside to inside, from describing landscape to expressing thinking, from close by to distance, from the past to the future.' Chen Yi has suggested that the song is 'about contemporary human beings and our yearning' but, in fact, Middleton and Barrow brought forth its timelessness. The piano's evocative tremolos, flickers and staccatos which sweep with, by turns, delicacy and strength, through kaleidoscopic shifts of colour, evoked the bright moonlight – "[o]utside my window", "kissing the grassland" – and propelled Barron's vocal line through yearning melismas and textual repetitions. The mezzo-soprano's flexibility and secure intonation were impressive as she shaped a lyrical line of beguiling fluidity, singing softly but with powerful presence, sustaining the high melodic peak with evenness and precision, and impressing upon the listener the poet-speaker's desire, and need, for "the world of consonance".
Charles Ives' setting of Eduard Lassen's translation of Heine's 'My Native Land' is simple, direct and emotionally intense. Barron wrapped her rich mezzo lovingly around Ives' lazily unfolding phrases, the rich hues and chromatic curls conveying the paradoxical vividness and unreality of the vision of the native land that "now meets my eye,/ The old oaks raise their boughs on high,/ Violets greeting seem". But, if "'tis a dream", then it is one which the heart can hold and preserve, and Barron plummeted deep to confirm the poet-speaker's passionate belief: "While these visions while these fancies teem,/ Still let me dream."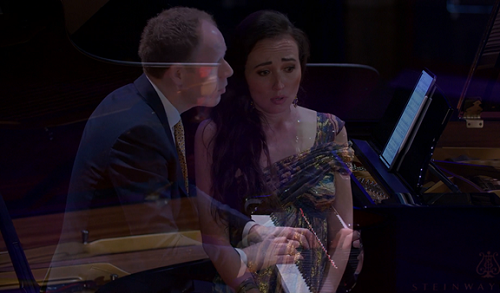 Barron and Middleton turned to Russia for the latter part of their programme. We went back to kindergarten with five songs from Mussorgsky's 'The Nursery' in which Barron discerningly probed into the mind of children delightful, disingenuous and disobedient. Begging and demanding Nanny for stories of wicked wolves and Tsars in lovely palaces, in 'With Nanny' Barron captured the fickleness of the childish mind, delivering the declamatory vocal line and Russian text with an engaging naturalness and light touch. Sent to the corner for upturning his nurse's knitting basket, 'Mishenka' insisted with angelic sweetness that he'd been 'as good as gold', as Barron persuasively differentiated the scolding nurse and sulky child, aided by Middleton's expertly delivered scene and mood painting.
Dolly was chided firmly was she was put to bed ('With Dolly'), but Barron beautifully enriched and warmed her mezzo as the young girl imagined the next morning when her doll would tell her "all the dreams you've had:/ Of wonderful islands where in magic gardens/ Bloom lovely flowers, grow sweet pears,/ Night and day sings golden birds!" Her final bidding, "Come now, go to sleep, to sleep, Dolly", was soft and tender. What began as a gentle prayer, 'At bedtime', for God to watch over parents and grandparents, worked itself into a lather as it rollicked through an endless roster of aunts and uncles also in need of protection, until Barron's stern nurse provided the forgotten final plea. Middleton trotted with tossing mane and galloped furiously in 'On the hobby-horse', as Barron captured the carefree insouciance and wonder of the child.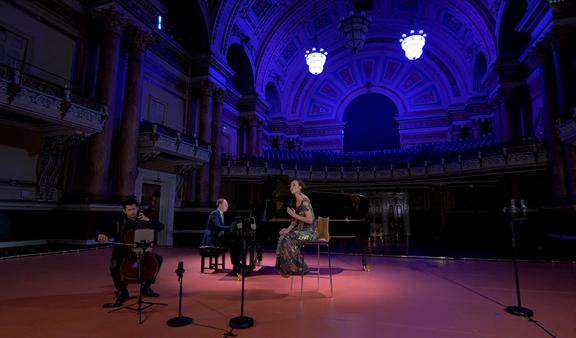 In two songs by Borodin, Barron and Middleton were joined by cellist Ashok Klouda. 'She no longer loves me' and 'Listen, dear friend, to my song' were composed during the 1850s shortly after Borodin had taught himself to play the cello, and in both songs it is the cellist who introduces the melody. Klouda has a light tone, and his soft, flexible line off-set the vividness of Barron's mezzo, Middleton complementing both with customary sensitively and alertness. 'She no longer loves me' pulsed with feeling; Klouda's eloquence added a note of pathos to 'Listen, my friend'. Barron's confident Russian and expressive clarity made these brief songs compelling. Completing the set, the third song, 'The Lovely Fisherwoman' made for a light-hearted, characterful encore.
Between the Russian songs, Barron and Middleton placed four non-Western songs. Chen Yi's 'Monologue', one of the two settings of Chinese poems from the Tang dynasty which form the composer's Meditation, communicates the poet-speaker's sense of displacement and alienation: 'I do not see my ancestors in front/ I see no one coming from behind.' Chen Zi-ang's poem is written in both Chinese and English and Barron was fearless in her articulation of the striking tonal nuances and glissandi effects. Piano and vocal parts both touch extremes – from explosiveness to deep introspection – and the emotiveness and concentration of the performance was enthralling.
Indian American composer Kamala Sankaram's The Far Shore sets a poem by the mystical poet Meera Bai (b. 1498), using Hindustani ragas. At the start, the piano's repetitive oscillations were splashed with slithers and ripples, creating a disorientating spaciousness, as Barron's voice, firm and sure, but always expressive, intoned, glided and soared: "This life waxes and wanes. It does not last long." Sudden impetus came with cry, "Oh, Pilot of my soul,/ Swiftly guide my ship to the far shore", the taut rhythmic motifs, syncopations and asymmetries initiating a driving motion. Ultimately, though, it was quietened, the brief return of the opening vocal lament reminding us, sombrely, of life's transience.
Barron recalled singing the Chinese Folksong Northeast Lullaby with her family as a child. Here affection and familiarity, complemented by Middleton's dreamy, gentle accompaniment, established an ambience of peace and assurance. In contrast, 'Fengyang Drums', which tells of the suffering of refugees following the flooding of the Yellow River, was dramatic and exuberant, as Middleton whipped up a storm of drums and gongs, and Barron relished the poem's feisty personae.
Barron's rich, vivid mezzo seems tailor-made for Brahms, and it was a real treat to hear the composer's 'Gestillte Sehnsucht'. Written for alto, viola and piano, the song doesn't venture very low or for long, and the darkness and weight of Barron's lower register were perfect for conveying the autumnal shadows which suffuse the song, while Klouda's cello climbed tenderly to the top and wound itself sensuously around the vocal line.
Romantic Heimweh was both a longing to escape from present disorder and corruption by returning to an idealised past and a quest for the infinite: to return home would bring about a spiritual transcendence. The past, the Romantics believed, could be retrieved, transformed, and transcendence achieved, through the creative power of human memory and the imagination, a power celebrated in Percy Bysshe Shelley's poetic fragment, 'Music, when soft voices die'. Two settings of this poem – which, through the lyricism of its own form and sounds, reminds us that music is atemporal and lives on in our memories after it has ceased to be played – framed the recital. Libby Larson's setting is one of a group of songs for voice, cello, and piano entitled Beloved, Thou Hast Brought Me Many Flowers. The singer begins alone and Barron relished the assonant openness of the vocal sounds, inviting Klouda and Middleton to make the sensory memories of the poem tangible.
Music's purity and expressive power were perhaps most wonderfully conveyed by Barron in the opening song, Bun-Ching Lam's setting of Shelley for unaccompanied voice. Silky, smoky, sumptuous, her mezzo-soprano sank low with intensity and made the melismatic meanderings shine; melody and word glowed vividly. This was mesmerising singing, as if Barron were conjuring the music from the very air around her, air which seemed to embrace the listener – far away, at home – too. This was a magical merging of Occident and Orient.
Claire Seymour
Dreams, Homeland and Childhood: Fleur Barron (soprano), Ashok Klouda (cello) and Joseph Middleton (piano)
Bun-Ching Lam (b.1954) – Music When Soft Voices Die; Brahms – 'Heimweh I: Wie traulich war das Fleckchen' Op.63; Chen Yi (b. 1953) – Bright Moonlight; Brahms – 'Heimweh II: O Wüsst ich doch den Weg zurück' Op.63; Ives – 'My Native Land'; Brahms – 'Heimweh III: Ich sah als Knabe Op.63; Mussorgsky, from The Nursery – 'With Nanny', 'In the Corner', 'With Dolly', 'At Bedtime', 'On the Hobby-Horse'; Chen Yi – 'Monologue' from Meditation; Chinese Folksong – 'Northeast Lullaby'; Kamala Sankaram (b.1978) – The Far Shore; Chinese Folksong – 'Fengyang Drums'; Borodin –'She No Longer Loves Me'; 'Listen, Dear Friend, to my Song'; Brahms – 'Gestillte Sehnsucht' from Op.91; Libby Larsen (b.1950) – 'Music When Soft Voices Die'
Leeds Town Hall, Leeds (live stream); Saturday 24th April 2021.