More often associated with the French Baroque, Ensemble Correspondances shifts its gaze to 17th-century German music to focus on contrasting Passion settings by Dietrich Buxtehude and Heinrich Schütz. Through its discography (harmonia mundi from 2013), this Lyon-based group under founder/director Sébastien Daucé has built a solid reputation on the music of Marc-Antoine Charpentier and lesser-known compatriots including Antoine Boësset and Henry Du Mont. This may be Lent-related music, but Membra Jesu nostri is a less darkly brooding cantata than one might suspect, its sound world more sumptuous than shadowy.
Taking up the first of two discs is Buxtehude's seven-part cantata cycle Membra Jesu nostri (the limbs of our Jesus), a non-liturgical work unique to the composer's output and comprising a series of mediations on the crucified body of Jesus. Its Latin texts, drawn from the medieval poem Salve mundi salutare and the Old Testament, form a sequence of reflectionsfrom Christ's pierced feet ('Ad pedes') rising to his face ('Ad faciem'). Written in 1680, when Buxtehude was organist at the Marienkirche in Lübeck where J.S. Bach had famously walked from Arnstadt, the work is believed to have been commissioned for performance at the Swedish court in Stockholm, for whose musical director, Gustav Düben, it is dedicated . But there is no uncertainty regarding the work's imaginative construction and resourceful use of five voices and a string ensemble mostly comprising two violins, cello and organ.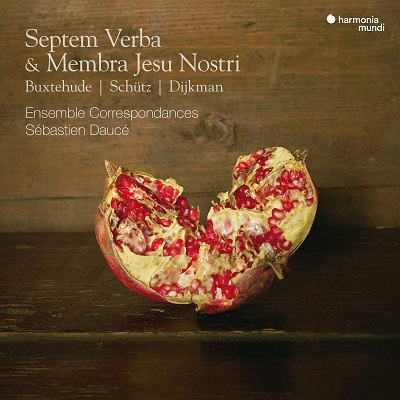 Despite the sensuous choral writing and spirited string passages, it's a work that still only attracts infrequent concert performances in the UK – my only encounter with it was 40 years ago in a parish church in Essex. But recordings are plentiful, with no fewer than three accounts issued in 2019. In respect of balance, tempi and weight, these versions offer both 'choral society' and period performance options. Ensemble Correspondances go for the latter, mounting a team of ten solo voices (also serving as the SSATB chorus) and some nine instrumentalists, collectively producing well defined performances and plenty of heft when needed. Strings and continuo are deliciously buoyant; take for example the dancing rhythms of 'Ad latus' (To the side) – Italian sunshine rather than German formality – and discreetly sensitive when giving support to the choral passages. Solo voices are mostly light and flexible, two sopranos beautifully consoling at the start of 'Ad manus' (To the hands) where the wounds of Christ are etched with aching tenderness, each voice embedded into a blended texture where any temptation for over expression is mercifully avoided. This restraint pays dividends, notably in the 'stillness' of the richly sonorous 'Ad cor' (To the heart) where two sopranos and a bass generate an intimacy that catches the breath. An involving ATB trio 'Ad pectus' (To the breast) gives further demonstration of the versatility of these voices, all gloriously combining for the cycle's roistering 'Amen'. Just a pity the bass continuo is too lightweight to project more sharply its wonderful cross rhythms.
Of the three other Buxtehude works the chorale-based cantata Herzlich lieb hab ich dich, o Herr makes a favourable impression; singers and instrumentalists clearly enjoying the composer's absorption of Italian and North German styles. Of less interest is the Klag-Lied (elegy); a work conceived following the death of the composer's father in 1674 and setting a poem of his own. The unnamed soprano is musically sensitive and possesses a beguiling piano, yet its seven verses and twelve minutes felt overly long despite the varied instrumentation for each successive verse. No less devotional is a second chorale-based work Mit Fried und Freud ('In peace and joy I now depart') setting words by Martin Luther and alternating unison soprano and bass voices.
Equally dignified but more compelling is Schütz's Da Jesus an dem Kreuze stund. Admirably blended voices communicate the text with expressive warmth, a quality helped in no small measure by the ample acoustic of Abbaye aux Dames, Caens. In the Crucifixion's recitative passages characterisation is variable, but its narrative is well paced. Those of you who like their Schütz with trombones may prefer the Ars Nova recording under Paul Hillier (Dacapo/2010).
One rarely associates Baroque music with Sweden, so the inclusion of the Lamentum eller en Sorge-Music by organist and composer Lüdert Dijkman (1645-1717) is an interesting bonus. Written to commemorate the deaths of two Swedish princes who died in 1685, its opening lament on the transience of life is sung (by another unnamed soprano) with suitable plangency of expression. Two succeeding movements are choral intercessions on behalf of the monarchy. If the music is merely functional, then its presence here neatly points up the cultural links in the Baltic during the late 17th century.
For all that, this double CD is well worth exploring for Buxtehude's meditative and sensuous beauty in handsome performances faithfully captured in transparent sound.
David Truslove
Ensemble Correspondances & Sébastien Daucé (director)
Dietrich Buxtehude – Membra Jesu nostri; Klag-Lied; Muß der Tod denn auch entbinden; Mit Fried und Freud; Herzlich lieb hab ich dich, o Herr; Heinrich Schütz – Da Jesus an dem Kreuze stund; Erbarme dich mein, o Herre Gott; Lüdert Dijkman – Lamentum eller En Sorge-Music
harmonia mundi HMM 902350.51 2 CD [2 hours]