Coinciding with Cecilia McDowall's 70th year, this recent Hyperion disc crowns an already impressive series of recordings from Dutton Epoch that, with her keen sensitivity to text and grateful melodic lines, showcase her special affinity for writing for choirs both amateur and professional. Indeed, music for voice occupies a central position in her oeuvre, encompassing not just anthems and motets, but carols, song cycles, dramatic scenas, cantatas and even opera, some of which have already found their way on to disc. On the basis of this extensive catalogue, spanning some twenty years, it is no surprise that she is one of the most widely commissioned and performed choral composers in the UK.
I first came across her work some fifteen years ago when Ave maris stella was given at the Presteigne Festival, where her music has been regularly promoted by George Vass, one of her most stalwart advocates. His Canterbury Chamber Choir had commissioned her Three Latin Motets (2004) and Love incorruptible was first heard at the Festival in 2017. That same year I recall hearing her cantata Some corner of a foreign field, a worknotable for its lyrically conceived counterpoint, richly textured layers and gently astringent harmonies – much of which defines her compositional language, which sits somewhere between James MacMillan and Eric Whitacre. In addition, her work is often motivated by extra-musical influences that have prompted a considerable breadth of sacred and secular texts. Here those texts have found personal expression in a range of short pieces suitable for both church and concert performance.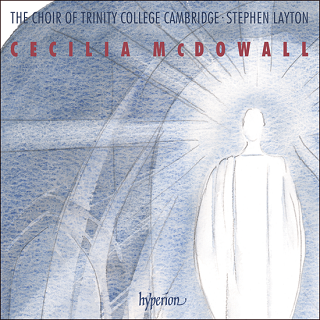 Their broad appeal is well represented by the 30-plus voices of Stephen Layton's Trinity College Choir. There is a remarkable continuity in the choir's sound, considering the disc was put together over three different sessions from 2018 to 2020, with inevitable changes in personnel, and recorded in two different locations – Trinity College Chapel, Cambridge and St George's Chapel, Windsor. With any student choir each year's intake is likely to be marginally dissimilar from another. Here, there appears to be no discernible difference in quality, sounding disciplined and polished throughout, just as we've come to expect from Layton. Of course, when a composer writes choral music by the yard as McDowall does, inevitably there will be a handful of pieces that drop off the radar, others leaving a more lasting impression.
Of these latter works I would single out the powerfully expressed tribute Standing as I do before God for choir and soprano solo.It's a settingof words bySeán Street, who reimagines the last hours of British nurse Edith Cavell as she awaits her execution (supposedly for treason) in a German military prison in 1915. Anita Montserrat's gleaming soprano finds just the right solemnity and expressive intensity to create a poignant memorial of a woman celebrated for sheltering wounded men during the First World War and for helping some two hundred allied soldiers escape from German-occupied Belgium. In the work's flowing lines and bitter-sweet harmonies, McDowall's music breathes an exquisite compassion and tenderness, its central Christian message, 'Patriotism is not enough: I must have no hatred or bitterness towards anyone', movingly conveyed.
No less inspired is McDowall's Adore te devote, composed with a dedication to the victims of the Nepalese earthquake in 2015 and setting words from a Eucharistic hymn by the medieval Italian friar Thomas Aquinas. Its chant-like recitation, soaring lines and use of a solo quartet all point to Allegri's famous Miserere. Once again, the Trinity voices bring to bear their customary refinement and flawless intonation, beautifully evoking ancient cloisters and vaulted ceilings. The past is evoked again in the quasi-medieval manner of the Advent motet Alma redemptoris materwhere a consoling Mother of God is suggested in itslilting rhythms and elegant linear movement between upper and lower voices. Alternating voice groups andradiantsonorities provide much of the framework for the atmospheric O Oriens, built on a rich confection of ear tickling chords to convey the awed wonder of Jesus' imminent birth.
By contrast, The Lord is good is more penitent, in keeping with its Lamentations text that mourns the destruction of Jerusalem and the plight of its Jewish exiles. Restless pleas are strikingly rendered by two mellifluous solo sopranos (Anita Montserrat and Madeleine Todd) over slow chords ingeniously conveying a mixture of desolation and hope. Elsewhere, McDowall's technique of piling up expressive chords can be heard to delicious effect in Deus, portus pacis and in 'Ave Regina' from her Three Latin Motets. Trinity's upper voices impress with their blend and warmth in 'Ave Maria' and the closing 'Regina caeli' is sung with tremendous élan.
Seven of the eighteen tracks are assigned to McDowall's 2018 O Antiphon sequence, an organ work inspired by the Magnificat antiphons used at Vespers during the last days of Advent. Played here with much distinction by Alexander Hamilton on the organ at St George's Chapel Windsor, these fine pieces, contemplative and extrovert in character, make ideal service music, or can be performed in recital as originally conceived. They might have been more effectively programmed between the choral items, if only to avoid a certain uniformity of expression that allows one piece to segues into another virtually seamlessly and without any significant change of mood. Nevertheless, Layton coaxes first class singing from his Trinity forces, generating well-paced accounts that highlight much of this composer's undoubted craftsmanship.
David Truslove
McDowall: Sacred choral music – Alma redemptoris mater, O Oriens, Standing as I do before God, Adore te devote, Deus portus pacis, God is light, Love incorruptible, Three Latin motets [Ave Regina, Ave Maria, Regina caeli], The Lord is Good and O Antiphon Sequence for organ
The Choir of Trinity College, Cambridge, Stephen Layton (conductor) Alexander Hamilton (organ scholar)
Hyperion CDA68251 [69.46]