This new disc is the second volume of Evening Canticles from the Choir of St John's College, Cambridge under Andrew Nethsingha. It presents nine settings of the Magnificat and Nunc dimittis drawn from nearly a century of composition, variously honouring organist-composers (Howells, Jackson, Watson and Sumsion) and non-church musicians (Berkeley, Pärt, Swayne and Walton), and offering one contemporary contribution from Julian Anderson (born 1967), whose St John's Service was commissioned for the Chapel's 150th anniversary. In the comprehensive booklet notes, Nethsingha suggests his aim was 'to compare the varied ways in which composers have created musical form out of these timeless texts'. These diverse responses include regularly sung settings and those seldom performed. The range of textures is fascinating – chordal, linear and rhythmic – and the modes of expression are variously elegant, extrovert, meditative and noble.
Nethsingha and Signum have thrown up some startling juxtapositions. Take, for example, the percussive rhythms of Swayne's daringly unconventional Magnificat sandwiched between the candle-lit intimacy and declamatory gestures of Howell's 'Collegium Regale' and the polished charm of Watson in E. Swayne's Magnificat, commissioned by Francis Grier for the Choir of Christ Church, Oxford, must have raised eyebrows amongst the College staff, chiefly for its integration of a Sengalese ploughing song ('O Lulum') within the ancient Latin text; an idea inspired by a field trip to Africa in 1981. One might almost image the Virgin Mary in a grass skirt swaying to the ingeniously layered polyrhythms based on Congolese pygmy songs. Written for double choir, it's one of the more challenging canticle settings in the repertoire demanding absolute focus, especially if sung after a generous Sunday lunch. The voices of St John's respond with customary certainty, trebles perfectly clean in their exposed high note at the end.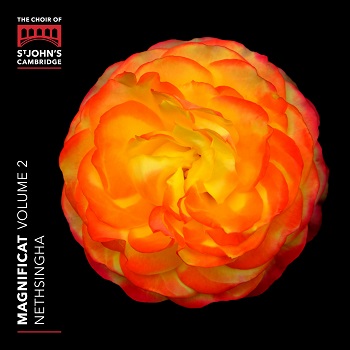 Howells' popular evening service (one of the first named after a specific institution) is no less assured, the boys impressing from the outset in the Magnificat's opening phrases, each tenderly sung but with subtle differences of weight and tone. Likewise, treble tone is finely calibrated in the Watson service; 'he hath put down the mighty from their seat'is sungwith demonstrable authority and a gentle luminosity surrounds the 'Gloria' of the Nunc dimittis.Following Watson's exquisitely crafted gem, Walton's agitated Chichester Service (1974) sounds almost brash, arresting the ear with its dancing vitality. Mary's ecstatic joy or, perhaps, her nervous excitement, is conveyed by the frequent changes of metre and use of forte, subito piano, crescendo directions. There's plenty of variety in the choral textures, including several superbly rendered solos. Passages reminiscent of Belshazzar's Feast and the Coronation Te Deum provide additional interest; so, too, the Sarabande-like organ part to the Nunc dimittis.
Elsewhere, the soaring lyricism of Sumsion's flowing setting in G seems almost nimble in its gracefulness when positioned between the searching harmonies and episodic design of the Berkeley canticles and the alternately smooth and sinewy lines of the Jackson. It's interesting to hear the faint influence of Howells in Jackson's opening paragraph for boys' voices: Jackson himself comments in his autobiography that he had hoped his Evening Canticles might be another 'Coll-Reg' in the Wood-Howells line. But the imitative vocal entries follow a different path from Howells, as does the somewhat apocalyptic manner in which 'world without end' is set. How different from Berkeley's spacious setting where the 'Gloria' verges on the mystical; its opening for unison men's voices surely evokes an image of monks offering daily plainsong.
If that suggests a certain asceticism, then it's there in spades with the spare gestures inherent in Arvo Pärt's introspective Magnificat of 1989. Like much of Pärt's choral output from the last forty years, the apparent simplicity belies a rigorous compositional design, and its emotional power is almost inconceivable to anyone who looks merely at the unpromising notes on the page. But St John's respond to Pärt's demands for flawless intonation with complete assurance, bring admirable legato to the unceasing syllabic writing and provide rapt expression to the work's outward austerity. There's an element of severity in Anderson's setting of the Nunc dimittis, but his Magnificat is anything but plain, not least in its use of polymetres and free rhythm when everyone at the start performs a passage at their own speed. It's an eventful setting, conspicuously attempting (and succeeding) to contribute something freshly imaginative within a centuries-old tradition.
The disc's booklet includes a forward by Dr. Rowan Williams, former Archbishop of Canterbury, and reflections from Andrew Nethsingha, complete with images of handwritten manuscripts providing invaluable glimpses into the compositional process. There is also a programme note from Julian Anderson, and fine contributions from organists Glen Dempsey and James Anderson-Besant. In short, these are inspirational performances, music wonderfully shaped and words unfailingly invested with meaning.
David Truslove
Howells – 'Collegium Regale', Swayne – Magnificat 1, Watson – Evenings Canticles in E, Walton – 'Chichester Service', Berkeley – 'Chichester Service', Sumsion – Evening Canticles in G, Jackson – Evening Canticles in G, Pärt – Magnificat, Anderson – 'St John's Service'
The Choir of St John's College, Cambridge, Andrew Nethsingha (conductor), Glen Dempsey and James Anderson-Besant (organ)
SIGNUM SIGCDD667 [74:22]