To note its tenth anniversary season, the enterprising Pacific Opera Project has quite winningly kicked off the celebration by revisiting the first opera it ever produced, Leonard Bernstein's one act bonbon, Trouble in Tahiti.
It was cause for great cheer (and sustained cheering), not only for the overall musical excellence, but also for having marked an auspicious return to in-person opera viewing in Los Angeles, no small feat. Bernstein's compact, eclectic 45-minute score is informed by a 50's jazz sensibility, a nod or three to Broadway show tunes, and some hauntingly lovely evocations of classical art song.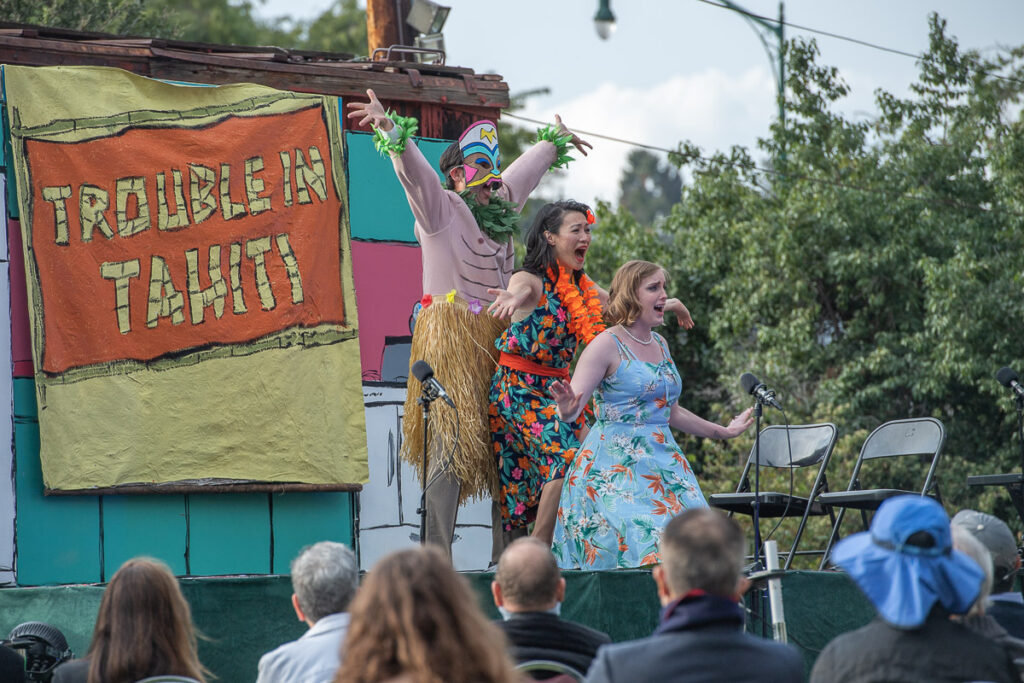 Music Director Kyle Naig presided from the keyboard with precision and stylistic acumen, abetted by Geoff Mann's characterful percussion effects, and Jon Keenan's tasteful licks on bass. Mr. Keenan also served as the excellent sound designer, achieving a satisfying balance between band and singers, all the while giving the voices good presence, in spite of the acoustic challenges of an outdoor setting.
Yes, you read that right. Trouble in Tahiti was performed on a small stage placed on the lawn of the atmospheric grounds of the Heritage Square Museum, a little gem of a performance environment, flanked by handsome historic period homes. The stage was high enough, and the lawn seating so well distanced, that the sightlines were excellent. And because the viewing area was relatively shallow, there was even a sense of intimacy, which served the opera's story well.
The title of the piece refers literally to an over-the-top Hollywood epic movie that gets its due in one of the opera's wittiest and most extended numbers. But Trouble in Tahiti also stands as a metaphor for the malaise that is simmering beneath the surface of Sam and Dinah's picture book marriage that is the core of the story. As the pair tries to sustain all the trappings of an idyllic suburbia, the reality is that they are unhappy and estranged.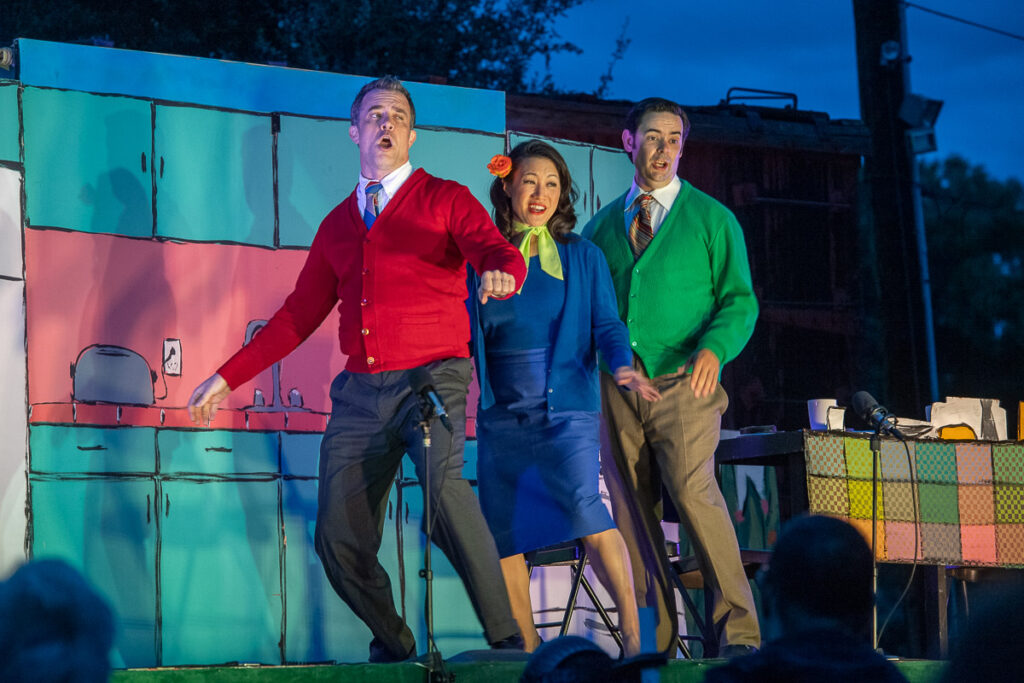 Real life husband and wife, Megan and Andrew Potter are both highly assured performers, and they bring a knowing rapport and superb musicality to bear as they embody Dinah and Sam, successfully making them appealingly complex characters. Ms. Potter is possessed of a rich, evenly produced mezzo that fairly glows throughout the range. Her diction is excellent, and she breaks out of Dinah's doldrums to deliver a memorably unbridled take on the opera's most well-known piece, What a Movie, which sends up the excesses of film musicals. As a character, Bernstein has made Dinah a bit hangdog and melancholic, but Megan has found just the right undercurrent of whimsy and resolve to make her sympathetic.
Mr. Potter's beefy, lanky presence is matched by his burnished, buzzy bass, which he beautifully controls for maximum effect. His swaggering paean to all things masculine is a perfectly calculated set piece, and his limpid vocalizing in the high baritonal passages was excellently realized. Andrew manages to make us cringe one moment as we discover his womanizing, then forgive him the next as he mellifluously atones.
Rounding out the chamber opera's cast is a trio of singers who are tasked with not only singing tight jazz harmonies, but are also expected to communicate tongue-twisting commentary on suburban life in general, and Sam and Dinah's foibles in particular. Mezzo-soprano Eleen Hsu-Wentlandt, tenor Robert Norman, and baritone Ryan Reithmeier are all distinctly accomplished singers and engaging performers.
More often than not, they blend beautifully and succeed in getting the text across as an ensemble. But, no doubt owing to outdoor acoustics, there were a few stretches when balance (although not synchronization) became momentarily uneven. Small matter, since the three of them were amusing dervishes of activity, and untiring in their theatrical engagement. Ms. Hsu-Wentlandt alone could light up a ballpark with her winning smile.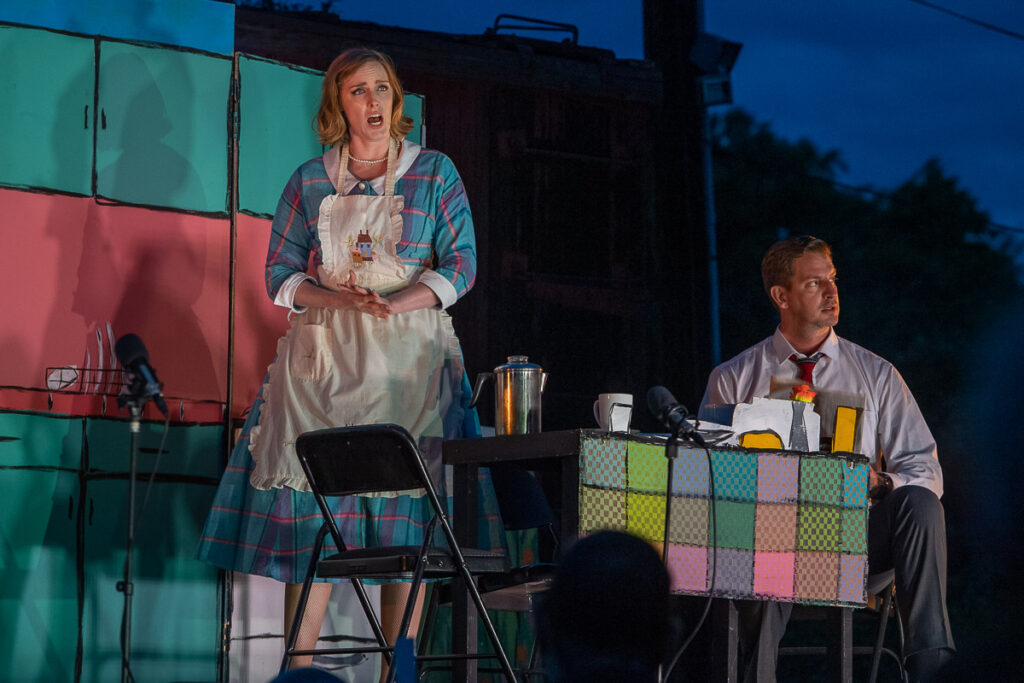 Director Josh Shaw was inspired by the strained intermarital text and the score's jaunty phrases to create a good deal of inventive staging. He was at his customary best with the funny beats, and elicited performances from his cast that were always 120% committed. Conversely, perhaps because of the need to sing front as much as possible to favor the microphones, the more intimate exchanges were not as touching as they can be. Having Sam and Dinah sing their deepest feelings to the audience rather than each other lessened the impact to a degree.
Set Designer Josh Shaw had somewhat less of a good night. Not because his "busy" take on the multiple scenes wasn't cheekily stylized. Although we forgave the disruptive effects caused by a rather insistent breeze, there were hinged flats that just wouldn't stay open (or closed), and indeed were on the verge of becoming a running gag. One of those unruly scenic elements caused the malfunction of a backdrop's unrolling, which we presume would have plussed up the Hollywood extravaganza parody late in the piece.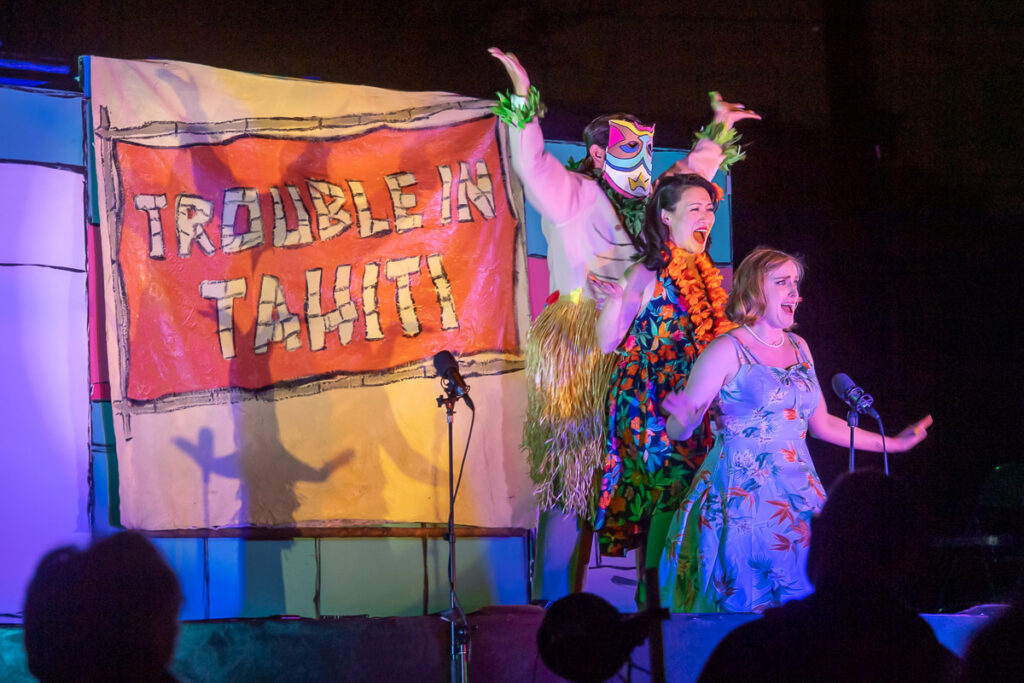 Still, the primitive, caricatured scene locations were clever ideas, if perhaps a bit more than was required. Maggie Green's spot-on costumes were period delights, but with the 1950's design concept otherwise solidly consistent, the contemporary folding chairs were a jarring visual.
Since POP has proudly marketed Trouble in Tahiti as an al fresco "experience," I think it fair to point out that the plusses of being able to gather safely in person, watch a very accomplished presentation, and enjoy a unique surrounding, were unintentionally dampened by a very problematic traffic and parking situation. I urge the company to address this shortcoming before its promised return to Heritage Square.
All that said, the sold-out audience could hardly have been more delighted as they shouted approval and offered sustained applause for the daring and satisfying return to live opera with Trouble in Tahiti, an audacious and improbable achievement that maintains POP's very best tradition. Here's to (at least) ten more years of Pacific Opera Project bringing fresh takes on old classics to the Southwest.
James Sohre
Leonard Bernstein: Trouble in Tahiti
Dinah: Megan Potter; Sam: Andrew Potter; Trio: Eleen Hsu-Wentlandt, Robert Norman, Ryan Reithmeier; Music Director and Pianist: Kyle Naig; Drums: Geoff Mann; Director, Set and Lighting Designer: Josh Shaw; Costume Designer: Maggie Green; Sound Designer and Bass: Jon Keenan
All photos © Martha Benedict