Over fifteen months since I had last set foot in an opera house—for Carmen at the Staatsoper Unter den Linden—it felt extraordinary to be back. All else would be secondary. Constant frustrations and persistent fears of the new 'Johnson variant' shutting down everything again made for a background of great uncertainty. Comparisons with the crisis of the social order sweeping Europe during the 1780s and 1790s will shed little light, yet all of us this side of Dido Harding and her fellow profiteers crave a degree of certainty some way beyond that our world affords us. Like the Prague Estates commissioning La clemenza di Tito to celebrate Leopold II's coronation as king of Bohemia, we clamour for something we knew and loved well, whilst knowing that it can never be the same again—and that it almost certainly never was.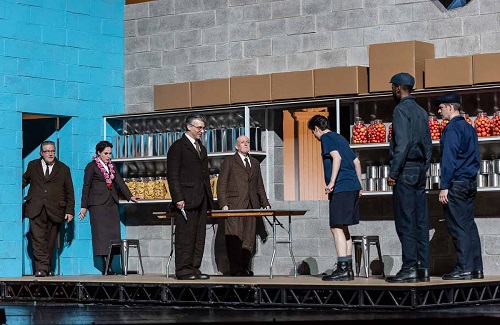 That something might be Imperial Rome, Habsburg clementia austriaca, or both, as recreated by the Caeasarian poet Pietro Metastasio for Charles VI's name-day. It might be Metastasio as set by forty composers prior to Mozart, among them Caldara, Hasse, Gluck, and Mysliveček. It might be Metastasio as galvanised by Mozart's revisionary librettist, Caterino Mazzolà, transforming blank verse into ensembles and, crucially, three acts into two, rendering the moment of revolt the choral climax of the first, as opposed to an offstage event mentioned in recitative. It might be Metastasio-Mazzolà transformed by Mozart; it might the lives of artists and audience, traumatised beyond measure not only by the dread virus, but by the fundamental, immeasurably deadlier disease of neoliberalism. At all times many, barely daring hope for the endgame and, more to the point, having no idea what it will be, find themselves craving reversion and restoration. Revolution, taken literally, invokes turning of the wheel; it was only events in France that turned its meaning to rupture—and even then, only partially. To see Mozart once more on the Covent Garden stage came close to many such impossible dreams.
Or rather in this case, hearing Mozart from the pit and onstage came close. Anyone could point to occasional flaws in ensemble, but to experience ensemble at all, whether from orchestra, chorus, soloists, or tutti, was more than enough for now. The last time I had seen this opera on this stage, it had been conducted by that emperor among Mozartians, Sir Colin Davis. Now was not, however, a time to look back, whatever the splendours and delights of those performances. For this was 17 May: if not quite le grand retour, then the beginning, we can only desperately hope, of the end. Secco recitatives were cut, but anyone can live with that, given Mozart's lack of involvement in them; what remained was performed convincingly indeed. (I should certainly credit the harpsichordist, if I knew who it had been.)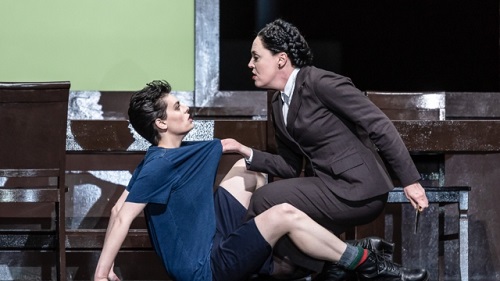 This was not a Tito of immense grandeur, but looking at, listening to the world around us, there may have been good reason for that. Moreover, distancing within the pit, musicians one to a pit, necessitated a smaller number of musicians than 'ideal', whatever that may mean—or which may simply have been an aesthetic preference. Wigglesworth conveyed an inner, more domestic drama to the score that was not identical to Davis's, Böhm's, Muti's, nor anyone else's—how could it be?—but which spoke from ruins on and off stage. It kept going in the face of adversity, and did much more than that. Swifter than we may be accustomed to, it was yet never harried and found time to relax: to savour many moments of woodwind—not only clarinet—beauty; to express pulsating life in Mozart's inner strings; to urge us on to a close uncertain yet necessary.
Edgaras Montvidas's youthful, mellifluous Tito enhanced that sense of present urgency, of a need to resist turning back. Politically Orphic, if you like. Nicole Chevalier occasionally struggled with her lower notes: how long must it be since many of these singers have appeared regularly, or at all, on stage? Hers was nevertheless a spirited, multi-dimensional Vitellia, more likeable than often, which seemed to be a choice. Emily D'Angelo's Sesto captivated in a moral struggle framed by allure and weakness whose twin masculinity was only highlighted by the trouser role's—originally castrato's—blurring of boundaries. There was no doubting, moreover, her/his cleanness of line and general stylishness; likewise for typically fine performances from Angela Brower (Annio) and Christina Gansch (Servilia). Even Joshua Bloom as Publio, a thankless role, found space to shine. The Royal Opera Chorus, offstage throughout, made a welcome return too: doubtless equally true for its members.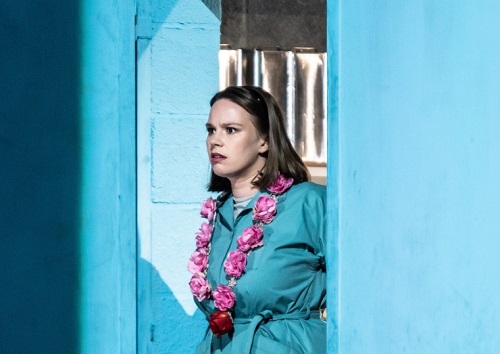 Richard Jones's production, however, was a bit of a mess. The vague neoclassicism, interior as well as exterior, of set designer Ultz's Capitol worked well enough, so far as it went. Like the spareness of much of Mozart's score—so different from that heard in the more-or-less contemporaneous Magic Flute—there was potential not only to frame, but also to propel, the drama before our eyes. Except it did not. Jones seemed on auto-pilot, offering little beyond a vague 'look' of fascism and football: a combination that might have been productive yet was not. Was the architectural model a Speer reference, imperial counsellors' tailoring suggestive more of Berchtesgaden than south of the Alps? Perhaps, yet if so, it again went for little. Italian graffiti seemed not so much evocative of emptiness as merely empty. Why did a silent Berenice traipse around the set early on? Vitellia's piece-by-piece destruction of her garland in 'Non più di fiori' could have been a model for careful attention to text not as artefact but as living drama. Much else, however, looked haphazard or even absent.
Shop-soiled 'postmodernism', laziness, or hasty quasi-improvisation? Probably all of the above, for this was 'school of Richard Jones' enough to suggest deliberate choices, however difficult the circumstances. A closing image of Tito running around the stage as if having scored a goal proved one of the most half-hearted attempts at Verfremdung I have seen since—well, Jones's Covent Garden Bohème, which could not be excused by pandemic exigencies. Brecht is not to be reduced to a look, even by late capitalism; nor is opera. More in the way of Personenregie would have done this all the world of good. Perhaps the singers will develop a stronger dramatic focus themselves as the short run progresses, responding to the mise-en-scène in ways beyond the director on this occasion. It is, in so many respects, early days. Maybe the present, however haunted by the past, always feels like that. Amidst all the uncertainty, it remained quite something to be back.
Mark Berry
Wolfgang Amadeus Mozart: La clemenza di Tito KV 621
Tito – Edgaras Montvidas, Vitellia – Nicole Chevalier, Sesto – Emily D'Angelo, Annio – Angela Brower, Servilia – Christina Gansch, Publio – Joshua Bloom, Senators – Jeremy White, George Freeburn, Berenice – Fumi Kaneko, Conspirators – Amanda Baldwin, Tim Parker-Langston, Nicholas Sharratt, Guards – Andrew Carter, Davy Quistin; Director – Richard Jones, Conductor – Mark Wigglesworth, Designs – Ultz, Lighting – Adam Silverman, Movement – Sarah Fahie, Royal Opera Chorus (director – William Spaulding), Orchestra of the Royal Opera House
Royal Opera House, Covent Garden, London; Monday 17th May 2021.
ABOVE: Emily D'Angelo (Sesto) and Nicole Chevalier (Vitellia) (c) ROH/Clive Barda