This is the sixth volume in the "Prix de Rome" series of CD sets produced by the admirable Center for French Romantic Music, a research organization located in the Palazzetto Bru Zane, in Venice. Previous volumes were devoted to such composers as Debussy, Dukas, and Saint-Saëns. Each volume allows us to hear, often for the first time ever, the various cantatas that the composer wrote, while or soon after studying at the Paris Conservatoire, for France's renowned annual composition competition. The winner would get to spend two years in Rome and a year in Germany or Austria, and it would support him for a fourth and fifth year back in Paris. (I say "him" because there wouldn't be a female winner until 1913: Lili Boulanger.) Gounod wrote three such cantatas, in 1837, 1838, and 1839. The last of these won him the prize and thus the three-year-trip abroad.
All three of Gounod's competition cantatas are on the first CD. The second CD lets us hear four sacred works (three in Latin, one in French) that he wrote during those long stays in Italy and Austria. All seven works are essentially unknown to modern performers and music lovers.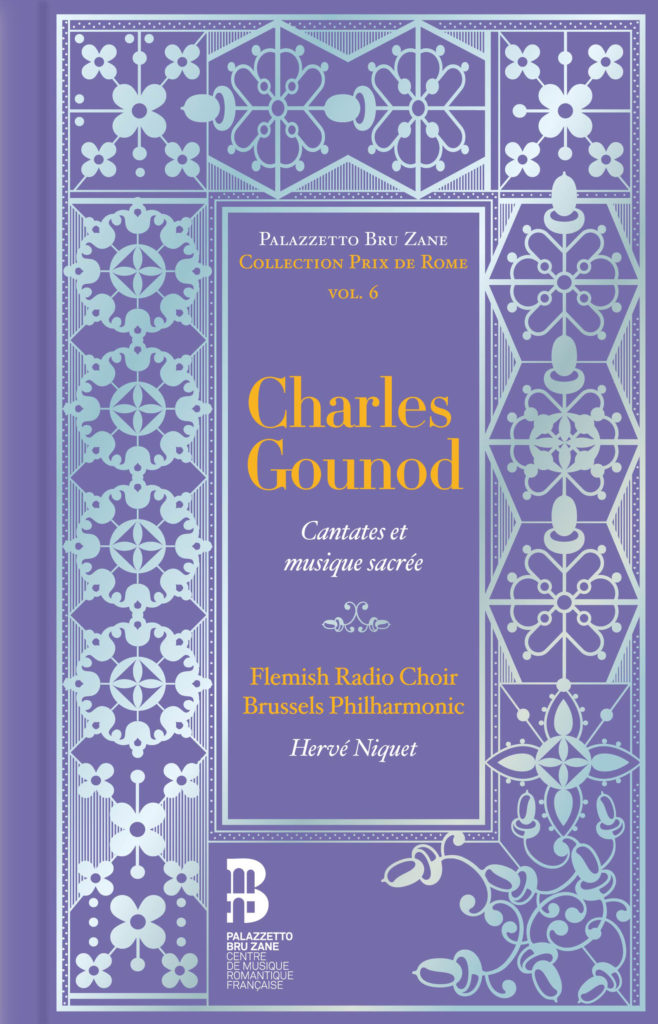 Nowadays, the word "cantata" may suggest a work with a religious text. But a Prix de Rome competition cantata was more like an operatic scene, usually drawing its characters and situations from a prestigious literary work or from an anecdote (true or not) about some major historical or mythological figure. Detailed essays in the accompanying hardcover book by noted scholars explain the background of the Rome Prize competition. For example, in a given year the librettist might be assigned to write a text that includes only a single character; in another year, two or three characters. The point was to test a young composer's ability (perhaps over the course of several competitions) to handle the diverse challenges of writing operas.
Gounod certainly shows immense talent in all three of the cantatas here. In the first two cantatas, Marie Stuart et Rizzio (about Mary, Queen of Scots, and her Italian-born minister, who was possibly her lover) and La Vendetta (about the determination of a son, in Corsica, to avenge his father's murder), the vocal parts are mainly lyrical, with occasional dramatic outbursts. I found it astonishing to encounter Gounod, a largely lyrical, even-tempered composer, grappling with a libretto that seems more like the kind of thing that Mascagni and Leoncavallo would sink their teeth into half a century later. The third cantata/opera scene, Fernand (about Arabs and Christians in Granada in 1492), includes much florid vocalizing.
In each of the three, one can see many features that look forward to Gounod's Faust or his other operas. The singers here bring great vitality and specificity to their tasks, thereby breathing life into works that have lain unperformed for some 180 years.
Gounod's orchestrations are remarkably accomplished and atmospheric. Niquet conducts the three cantatas with more dramatic zest than I recall noticing in his otherwise capable recording of Félicien David's fascinating opera Herculanum (review here).
The sacred works (Disc 2) are all impressive, demonstrating, as they were intended to do, the young composer's skill at handling such techniques as fugal writing or, in several impressive passages, a slow-note cantus firmus set against other contrapuntal voices that move more quickly.
The big find, I'd say, is the Messe vocale (i.e., a cappella mass), which Gounod composed during the third of his prize years, namely in Vienna. The writing is sonorous, and the shifting moods of the text well captured. This "Vocal Mass" surely deserves to find its way into use by church choirs and concert choirs alike.
The remaining sacred pieces are a short "Christus factus est" for soprano and orchestra; a Sacred Hymn (in French) for SATB soloists, chorus, organ, and orchestra; and a 26-minute-long Messe de Saint-Louis-des Français, for mezzo, tenor, chorus, and orchestra. The performances, again, are sure and communicative. I particularly enjoyed (as in two previous Palazzetto recordings) tenor Artavazd Sargsyan, who never forces his beautiful voice into blaring or sobbing.
A 3-minute YouTube video allows us to see and hear brief excerpts from the recording sessions. All the tracks are available for free on YouTube, and the complete album can be heard on Spotify and other streaming services. Subscribers to Naxos Music Library can download the entire accompanying book, which otherwise can only be obtained by purchasing the CD set. The beginning of each track can be heard here.
The scores and parts for the sacred works and the first cantata were prepared by the scholars at the Center; for the second cantata, by a group of intrepid high-school students in Germany, under the guidance of their teacher (and noted Berlioz scholar) Gunther Braam; and, for the third cantata, by unnamed hands under the direction of the noted baritone Bruno Laplante.
The book provides the texts of all the French-language works and translates them (and the scholarly essays) into capable English. We could also have used texts and translations for the three Latin works, especially because the St. Louis Mass includes additional lines that are relatively unfamiliar and that all praise or address the Virgin Mary. The first inserted text, for example, means: "Mother of God, intercede on our behalf."
But setting aside that one small gripe, a loud Bravo to the Palazzetto team!
Ralph P. Locke[*]
Charles Gounod: Cantatas and sacred music
Gabrielle Philiponet, Chantal Santon-Jeffery, Judith Van Wanroij, soprano; Caroline Meng, mezzo; Sébastien Droy, Artavazd Sargsyan, Yu Shao, tenor; Alexandre Duhamel, baritone; Nicolas Courjal, bass
Brussels Philharmonic, Flemish Radio Choir/ Hervé Niquet
Ediciones Singulares (Bru Zane) 1030 [2 CDs] 129 minutes
Above: Hervé Niquet [Photo © Eric Manas]
[*]Ralph P. Locke is emeritus professor of musicology at the University of Rochester's Eastman School of Music. Six of his articles have won the ASCAP-Deems Taylor Award for excellence in writing about music. His most recent two books are Musical Exoticism: Images and Reflections and Music and the Exotic from the Renaissance to Mozart (both Cambridge University Press). Both are now available in paperback, and the second is also available as an e-book. The present review is a lightly revised version of one that first appeared in American Record Guide and is used here by kind permission. Ralph Locke contributes to the online arts-magazines NewYorkArts.net, OperaToday.com, ArtsFuse.org, and The Boston Musical Intelligencer, and Musicology Now, the blog of the American Musicological Society.