According to Oscar Wilde's 1891 essay The Decay of Lying, 'Life imitates Art far more than Art imitates Life'. While this is not the occasion to argue with that proposition, it was curious to read, a week after the release of this new recording, of a love affair during the 1930s between novelist Barbara Pym and a Nazi SS officer. Over the course of several visits to Germany, so Paula Byrne's new biography informs us, Pym dyed her hair, sported a swastika and taught herself the language. She ignored 'the sinister politics', and only realised her appalling error of judgement when war began. Byrne suggests Pym 'just wouldn't believe her lover … could ever be cruel'. Clearly mesmerised to the point of blindness, Pym did at least recognise her emotional blunder.
Not so Judith in the two-hander that is Béla Bartók's Bluebeard's Castle, where she has abandoned her family and fiancée and fallen for a psychopath, who sings to his new wife, 'If you love me, ask no questions'. Chronically naïve she may be, no one can accuse Judith of any lack of curiosity as she fearlessly demands to know what lies behind the seven sealed doors of her husband's windowless castle. Turning a blind eye to the hidden secrets of torture chamber and armoury, she discovers a no less blood-stained garden, treasure trove and his expansive domains. Beyond a lake of tears, she joins the ghosts of Bluebeard's three former wives in the seventh room, finally understanding she's married a serial killer from whom she cannot escape. If the doors to each room are portals into Bluebeard's disturbed, interior world, she has walked through them with a self-destructive determination that begs the question who is in control? However wilful the young wife may be, or how brutal Bluebeard is, interpretative differences will influence our sympathies. Bartók allows us to judge for ourselves.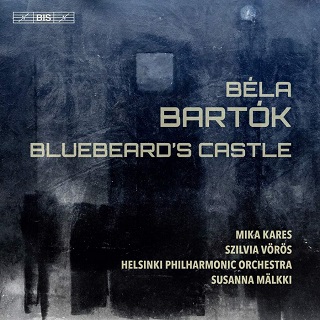 But what was the composer thinking when he dedicated this 1911 one-act opera to his new wife? Based on Charles Perrault's fairy tale and Maeterlinck's play Ariane et Barbe-Bleue, Bluebeard's Castle is not the most endearing of wedding presents. Was this gothic horror intended as an explicit message to his bride to protect his privacy or a tacit command to relinquish any attempt at reform? That curiosity will be punished is a blunt marital contract. And how much of the composer is reflected in Bluebeard himself? His wife Márta noted he rarely laughed. Whether Bartók's sense of isolation was a quirk of personality or the outcome of his genius is impossible to say, but there's little doubt it made him the ideal composer for the psychological drama intrinsic to Béla Balázs's libretto.
Questions such as these point to the work's inner tragedy, its mental turmoil a perfect vehicle for the theatre of the mind. This notion is adumbrated from the outset in Balázs's prologue with the words 'Where did this happen? Outside, or within?', a question that raises the issue of whether the opera is located 'within' someone's psyche – and if so, whose? If the prologue unsettles then so does the score which inhabits some of Bartók's most graphic music where you can almost feel the walls of the castle closing in on you. Its music feeds our imaginations, its claustrophobia arouses our own private fantasies. No wonder it's been said Bluebeard is the perfect opera to hear on disc.
So, do we need another recording to add to an already crowded discography? Judging by the sumptuous detail Susanna Mälkki coaxes from the Helsinki Philharmonic Orchestra, this recent version (sung in the original Hungarian) is very welcome, but I have to admit to some reservations. There's no doubt Mälkki has proved herself to be a persuasive Bartók interpreter on CD with two ballet scores for BIS in 2019, but in this live (and then patched) recording from 2020, there's an unevenness with the soloists. The richly upholstered Finnish bass Mika Kares fits the vocal blueprint of Bluebeard well, but the Hungarian mezzo Szilvia Vörös is an underpowered Judith with a distressing vibrato above the stave. Everything is scrupulously balanced, but one senses both her voice and expressive potential are works in progress. She traverses mild-mannered acquiescence (with little sense of alarm on discovering the armoury) to passionate determination, but the voice fails to find another gear when expressing outrage as she realises the grim truth of her situation. Her high C is not without impact, but she's at her best in the cantabile passages within the lighter scored treasury and garden scenes, and convincing too at the lake of tears where her tone combines beauty and tenderness.
Kares generally fares better with his brooding, if never quite malevolent, voice, producing a sustained world weariness in a tone that's occasionally too covered, as in the lyrical exchanges with French horn and cor anglais in the armoury. But that suits the mood of resignation he brings to Judith's requests to see beyond the seven doors. At the fifth door his sullen tone expands to match the grandeur of the scene and the subsequent waltz episode brings yet another vocal dimension to this fine singer.
Throughout, the orchestra respond magnificently to Mälkki's direction and adroit pacing, her alert ear enabling a well-matched relationship between players and singers. Whether climatic or chilling, the orchestra is a wonderfully atmospheric and a vividly detailed 'third party'. This alone makes for a favourable comparison to recordings with better known soloists, and includes a confidingly spoken prologue, and the comprehensive booklet (with notes by Arnold Whittall) contains the Hungarian text and an English translation.
David Truslove
Béla Bartók – Bluebeard's Castle
Mika Kares – bass, Szilvia Vörös – mezzo-soprano, Géza Szilvay – narrator, Susanna Mälkki – conductor, Helsinki Philharmonic Orchestra
BIS BIS2388 SACD [60:30]