So, after months of serving as the immensely professional, amiable and modest host of the Metropolitan Opera's Met Stars Live in Concert series, soprano Christine Goerke finally got her own recital.  Or, rather, she got to share a recital with three other singers – soprano Elza van den Heever, tenor Andreas Schager, and baritone Michael Volle.  Performing in the Hessisches Staatstheater Wiesbaden, the quartet were accompanied by pianist Craig Terry in what was billed as an 'unbeatable summit of leading Wagnerian voices'.  This superlative quartet came together to replace the Met Stars Live concert by Angel Blue which had originally been scheduled for December 2020.  They presented a programme of vocal peaks by Richard Wagner and Richard Strauss comprising excerpts from operas including Tannhäuser, Parsifal, Die Walküre and Die Frau ohne Schatten, and songs by both composers, including Wagner's Wesendonck Lieder.
Back in the New York studio, the evening's host, American countertenor Anthony Roth Costanzo, declared the illustrious quartet to be "a Ring cycle cast even Wagner would be proud of", with hearts are large as their voices. But, this concert was much more than a sequence of bleeding chunks of Wagner. Intelligent programming, immaculate production techniques, imaginative presentation, and singing of utterly compelling craft and communication made this an astonishing performance that blazed, shimmered and whispered with heart-tingling intensity.
Standing at the top of the magnificent double staircase (designed in 1902 by Felix Genzmer) which dominates the Staatstheater Foyer, Elza van den Heever sang the first lines of Elisabeth's entrance aria, 'Dich, teure Halle' (Dear hall, I greet you) with a sweet, shining tone which captured Elisabeth's youthful excitement and joy at the thought ofTannhäuser's return. Her voice bloomed ever more radiantly as the aria moved towards its peak, which she surmounted with wonderful élan and a glowing high B which seemed to swell and brim with infinite warmth and vitality.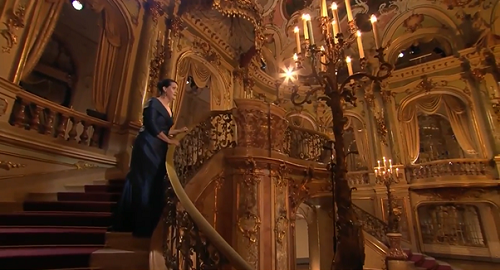 Christine Goerke was no less sensitive to the words and moods in two songs by Richard Strauss. Craig Terry drew forth the expressive intensity of the harmonies which unwind during the piano introduction to 'Allerseelen' (All Souls' Day), but I felt that the tempo was a little halting, though Goerke's first phrase was intimate and beckoning. The American soprano has a surfeit of colours at her disposal and a truly dramatic lower register. The poet-speaker urges his beloved to press their hand in his, "Und wenn man's sieht, mir ist es einerlei" (And if people see, I do not care). Goerke captured the imperviousness of love, the final words a carefree vocal shrug. In contrast, "Es blüht und duftet heut auf jedem Grabe" (today every grave is adorned with flowers and fragrances) faded with fragile wistfulness. Then, power and colour resurged, "Komm am mein Herz, daß ich dich wieder habe,/ Wie einst im Mai." (Come to my heart and be mine again, as you were in May.)
'Cäcilie' was sumptuous and impetuous – sometimes Terry seemed to be striving for MGM-style magnificence – and again Goerke's nuanced expressive modulations were transfixing. In the final stanza, "Wenn Du es wüßtest,/ Was leben heißt,/ Umhaucht von der Gottheit/ Weltschaffendem Atem" (If you knew what it is to live enveloped in God's world-creating breath) was by turns authoritative, awed and then comforting, and the stanza soared to a peak, the passion of which spilled into the bravura piano postlude.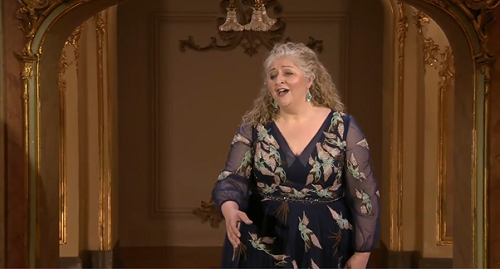 Terry certainly knows how to create a sense of occasion, and the rising arpeggios which prefaced Wolfram's, 'Wie Todesahnung … O du, mein holder Abendstern' (Oh you, my fair evening star) – the ripples of Wolfram's heart as he pleads with the star to guide his beloved Elisabeth – created the sense of peeling back precious leaves enwrapping an exquisite treasure. Michael Volle balanced restraint and release perfectly. The recitative was poised and the diction crystal clear. Then, in the aria Volle display a lovely glow at the top of his baritone and strength and authority at the bottom, singing with truly lyrical ardour. The closing image, "Wenn sie entschwebt dem Tal der Erden ein sel'ger Engel dort zu werden!" (When she soars above this mortal vale to become a holy angel there!) swelled with sudden strength and dynamism, then softened sweetly, fading to quiet restfulness.
Siegmund's monologue 'Ein Schwert Verhiess mir der Vater' (Die Walküre) similarly offered Andreas Schager the opportunity to show his vocal and expressive range. Schager's ample, firm tenor surged with strength and vigour at the memory of the promised sword, then quelled gently as Siegmunde cherished his love for Sieglinde. Schager has a strong lower register, too, and his declaration, "tief in des Busens Berge glimmt nur noch lichtlose Gluth" (deep within me even now a fire burns unseen) was fervent and full of the mystery of desire.
An ensemble performance of Wagner's Wesendonck Lieder followed. 'Der Engel' (The angel) was beautifully enhanced by Volle's flexible phrasing and light upper baritone, while in 'Stehe still!' (Stand still!) Schwager demonstrated an intelligent grasp of musical and expressive structure, moving from concentrated intensity to expansion, turning the harmonic corners persuasively and meaningfully. The climax opened up gloriously, resounding with wonder and rapture, "Erkennt der Mensch des Ew'gen Spur,/ Und löst dein Rätsel, heil'ge Natur!" (Then man perceives Eternity's footprint, and solves your riddle, holy Nature!)
'Im Treibhaus' (In the greenhouse) followed segue, as the camera panned the Foyer and climbed its staircase. Van den Heever's pianissimo musings on the silent sorrow embodied by the drifting fragrances were pure and tender, but Terry's increasingly dramatic bass octaves brought a note of anxiety and desolation, before the song's return to introspection and mystery. The agonies of the human condition were more present and wrenching in 'Schmerzen', as Goerke used every hue in her vocal palette to evoke the battle between despair and hope. After such emotional extremes the bittersweet retreat of 'Träume' was magically conveyed by Van den Heever.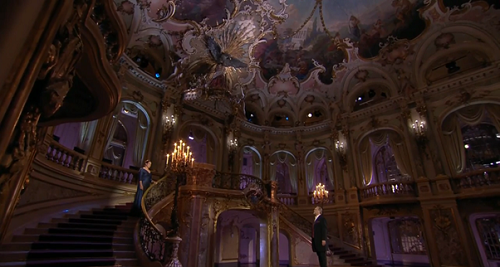 From solo arias, to shared song cycle and on to operatic duets. Volle and Van den Heever established the dramatic situation mood immediately and brilliantly in 'Wirst du des Vaters Wahl nicht schelten?' (Der Fliegende Holländer), in which Senta declares her love for the Dutchman and her wish to save him from his fateful curse. Again, Volle's soft, light reflections compelled: "Welch holder Klang im mächtigen Gewühl!" (What a sweet sound in my night of grief) was blissful, rapt. Van den Heever's vow, "Die Treue bis zum Tod!" (I shall be faithful to death) shimmered with a frisson of passion. Terry's busy, ever-changing accompaniment did not overwhelm the voices but sometimes seemed to push ahead – though perhaps that was a fitting anticipation of Volle's electrifying recognition and acceptance of the salvation that Senta's love offers.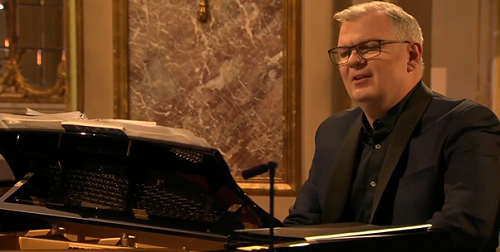 Schager's 'Winterstürme wichen dem Wonnemond' (Die Walküre) was beautiful relaxed and sincere – the sort of singing that makes one believe that all is right with the world. Goerke responded in 'Du bist der Lenz' with clarion power and glow, confirming the focus and stamina of her soprano and her innate musical and dramatic communicativeness.
By the time the final sequence of arias opened, it was clear that the singers were truly enjoying themselves and relishing every vocal moment, individual and shared. Wotan's paean to the setting sun, 'Abendlich strahlt der Sonne Auge' (Das Rheingold), was superbly sung by Volle; it's hard to imagine a better 'fit' for this role. Schager was authoritative in Parsifal's final peroration, 'Nur eine Waffe taugt', his sense of awe, as he presented the sword, an almost palpable gasp of wonder, "Oh! Welchen Wunders höchstes Glück!" (O, what a miracle of bliss). Terry conjured the starlit night sky, setting the scene for Elsa's 'Euch Lüften' (Lohengrin) and van den Heever thanked and blessed those stars with crystalline innocence and joy, before Goerke's Ortrud sowed the seeds of distrust, the women's voices intertwining flexibly as they negotiated the Italianate decorativeness. Goerke's secure top, wide tessitura and soul-giving commitment made 'Entweihte Götter!' absolutely chilling as Ortrud's fury was unleashed with astonishing vocal precision and focus.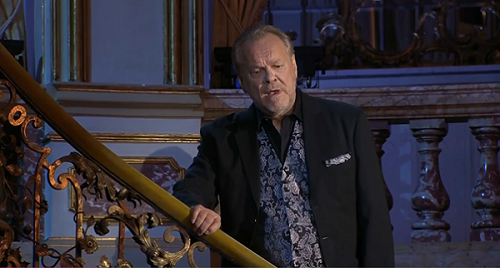 Goerke was not to be permitted to entirely relinquish her role as the series host, though. Laughing with elation she made what she described as "the most awkward transition I have ever been asked to do – something for my biography" and spoke on behalf of her fellow singers: "After this soul-crushing year, it is beyond a joy to be back with our musical family and to be able to say that there is light at the end of the tunnel." Thanking the teams in the Hessisches Staatstheater and in the New York studio, the quartet concluded their concert with the final ensemble, 'Nun will ich jubeln', from Strauss's Die Frau ohne Schatten which Goerke explained tells of "joy of new life and joy of what will come in the future". That joy, and hope, overflowed in a marvellous conclusion, as the singers held hands, embraced – no social distancing here – and shared the music that they love. When Volle's Barak declared with glorious vigour, "ich zerschwelle vor heiliger Kraft!" (I am filled with a divine power), it seemed the absolute truth.
This performance is available until 21st May: https://www.metopera.org/
Claire Seymour
Richard Wagner – 'Dich, teure Halle' (Tannhäuser); Richard Strauss – 'Allerseelen' Op.10 No.8, 'Cäcilie' Op.27 No.2; Wagner – 'Wie Todesahnung … O du, mein holder Abendstern' (Tannhäuser), 'Ein Schwert verhiess mir der Vater' (Die Walküre), Wesendonck Lieder, 'Wirst du des Vaters Wahl nicht schelten?' (Der Fliegende Holländer), 'Winterstürme wichen dem Wonnemond … Du bist der Lenz' (Die Walküre), 'Abendlich strahlt der Sonne Auge' (Das Rheingold), 'Nur eine Waffe taugt' (Parsifal), 'Euch Lüften … Entweihte Götter!' (Lohengrin); Strauss – 'Nun will ich jubeln' (Die Frau ohne Schatten)
Hessisches Staatstheater Wiesbaden (live stream); Saturday 8th May 2021.