The Glyndebourne Archive holds a wealth of material about the people, productions and origins of its world-renowned opera house. During the 2021 Glyndebourne Festival the archive will be exhibiting a collection of photography by the pioneering avant-garde photographer Ilse Bing, who visited Glyndebourne in the summer of 1937. It is believed to be the only time Bing visited the UK and the photographs taken by her of the Glyndebourne house and gardens, as well as performances of Le nozze di Figaro, Cosi fan tutte and Don Giovanni, capture a hazy, dreamlike fantasy world.
After an illustrious career as a avant-garde and commercial photographer, working in Paris for the likes of Vogue, Adam, Marchal, fashion designer Elsa Schaiparelli and the American Harper's Bazaar, the outbreak of World War Two saw Bing being interned in the Pyrenees – a year later she was reunited with her German husband, the pianist Konrad Wolff. On their release, with the support of Carmel Snow, the then fashion editor of American Harper's Bazaar, they were able to obtain visas for the United States and settled in New York in the summer of 1941. Bing was unable to take her prints and left them with a friend for safekeeping. Following the war, the collection was shipped to New York, but hefty custom fees stopped Bing from being able to claim them all.. Bing only her negatives and a selection of prints, leaving the rest to be destroyed.
By the late 1950s, Bing would retire completely from photography.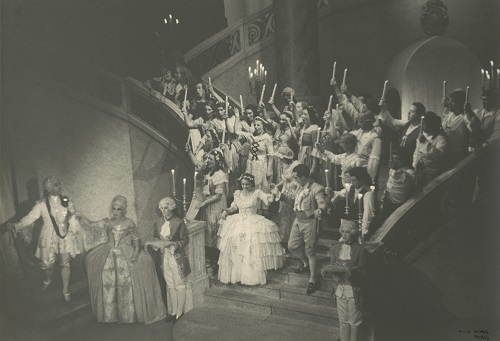 Previously unseen photographs from Bing's time at Glyndebourne will form a digital exhibition which will launch on 19 June on the Glyndebourne website. There may also be an opportunity for ticket holders to the Festival to view the collection in person in Glyndebourne's Archive Gallery, should social distancing restrictions be relaxed over the coming months.
Two of the exhibited photographs Glyndebourne Gardens, 1937 (2021) and Le nozze di Figaro, Glyndebourne, 1937  (2021) shown in this release will be available to purchase via the Glyndebourne shop. Printed by Robin Bell, one of Britain's leading photographic printers, each of the 2021 prints is one of a strictly limited edition of ten and replicates the specifications of the original held in the Glyndebourne Archive, from the printing method to the size. Each of the stamped and numbered 19.3 x 28cm gelatin prints will be priced at £1,000 and will be boxed, numbered and issued with a Glyndebourne certificate signed by Executive Chairman, Gus Christie.  
Both the prints and the original photographs serve as a lasting legacy to the individuals at Glyndebourne who had the artistic foresight to invite, commission and befriend artists, such as Ilse Bing, to capture the magic that makes Glyndebourne unique.
Glyndebourne is recognised internationally as one of the great opera houses; a reputation that stems from a passion for artistic excellence encapsulated in founder John Christie's insistence on doing 'not the best we can do but the best that can be done anywhere'.
John and his opera singer wife, Audrey Mildmay, founded the Glyndebourne Festival in 1934. In 1968 the Glyndebourne Tour was established to bring opera to new audiences across the country and create opportunities for talented young singers.
Today Glyndebourne is a 12-month operation. The Festival runs from May to August with a programme of six operas in a 1,200-seat opera house. The annual Tour takes place from October to December. The second Glyndebourne Opera Cup singing competition took place in March 2020. A widely respected education programme is active year-round staging new work and delivering projects to enhance the understanding and enjoyment of opera.
Together the Festival and Tour present 120 performances annually to an audience of 150,000 with many more people experiencing Glyndebourne's work through its yearly programme of cinema screenings and free online streamings. Glyndebourne has pioneered specialist recordings to share its work with a global audience through these channels and as part of this mission to reach new audiences, also offers reduced-price tickets to under-30s.
Since its founding, Glyndebourne has remained financially independent and, whilst receiving valued Arts Council support for the Tour and education work, the Festival receives no public subsidy. As a registered charity, our work is funded by Box Office income, our Members and supporters.
ABOVE: Ilse Bing, Glyndebourne Gardens, 1937 © The Estate of Ilse Bing/ Courtesy Glyndebourne Archive Collection