This recent disc of Luciano Berio's vocal music showcases the talents of the French mezzo-soprano Lucile Richardot and the vocal and instrumental ensemble Le Cris de Paris. It begins with the composer's Sequenza III from 1963. Conceived for his first wife Cathy Berberian, this landmark work redefines virtuosity in its acrobatic display of sound and phonetic material. Its compendium of vocalisations including whispered phonemes and specific shades of laughter treat the human voice as a kind of laboratory and has been considered a 'dramatic essay whose story is the relationship between the soloist and her own voice'. It may be hard to link this music to the great Italian vocal traditions, but Berio's fascination with the voice (alongside the whole vocal apparatus) and the sheer physicality of performance is this music's raison d'être.
Richardot is the latest singer to tackle this boundary-blurring work. Cathy Berberian's 1967 account is, arguably, still the definitive version, but Richardot (much associated with Baroque repertoire) takes the score in her stride, sashaying its expressive about-turns, disjointed phonemes and quickfire ululation with ease. She can giggle and gurgle with the best of them, but convincing as her performance is technically she doesn't quite match the chutzpah of Barbara Hannigan or the mania of Christine Schadeberg, her purity of tone too closely reminding us of her baroque credentials.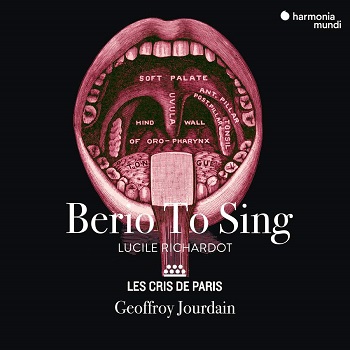 There's much to enjoy, however, in Berio's Folk Songs, eleven reworkings of traditional material for voice and ensemble that traverse Armenia to Azerbaijan via the United States. These works have generated a number of versions on disc, but Richardot is a wonderfully lissom interpreter, bringing a beguiling simplicity to the freely adapted 'Black is the colour'. Some listeners may not like the American accent, but when it's sung this musically and when she's clearly such a gifted communicator, who cares? It matters not when she mispronounces the 'o' and 'a' vowels in 'I wonder as I wander'; it's the personal connection that counts. Both the Armenian 'Loosin yelav' (a song to the moon) and 'Rossignolet du bois' (a song to a nightingale) draw tender expression, while a more red-blooded tone emerges in the Sicilian prayer 'A La Femminisca' and in the urgent 'Ballo'. Elsewhere, Richardot variously mourns, jests and caresses, and in the exuberant love song from Azerbaijan she enters fully into its spirit of its rustic marriage proposal. The supporting ensemble of flute, clarinet, harp, viola, cello and percussion constantly prick the ear and provide colour, warmth and touches of wit, reinforcing its fanciful commentary with an unceasing empathy.
Equally sensitive and assured is the rendition of Berio's luminous yet unsettling O King, a memorial to the civil rights activist Martin Luther King who was assassinated in 1968. Soloist and ensemble respond with cool precision to the work's fragmented vowels and fractured sonorities. No consolation is offered in this mesmerising tribute, a reflection of uncertainty within a troubled society.
There's a precision-engineered response to the virtuosic choral demands of Cries of London, an a cappella work of deconstructed street cries originally conceived for the King's Singers. In this latter eight-part version, Geoffroy Jourdain's Les Cris de Paris produce a beautifully balanced sound. Intonation is second to none and fluency of articulation (notably 'Money, penny come to me') impresses at every turn. There's an agreeable contrast between a finely nuanced ensemble and expressive individual contributions. Some may find the group's singing a little urbane in contrast to the more characterful, but no less polished approach from the Swingle Singers. Less cockney, more Parisian, 'Old clothes to sell' sounds more like a fish vendor on a Mediterranean quayside hankering for the day's first pastis. But this crack team make light of work of its instrumental demands whether chant-like recitation or rhythmically complex polyphony.
This fascinating disc closes with Berio's café-style arrangement of the Beatles' Michelle and two engaging choral pieces (one playful, the other charming), offered as bonbons. There is no tune and E si fussi pisci both show off the expertise of Les Cris de Paris and add to the stylistic sweep of this most radical and intellectually curious composer. It's a fine disc with excellent sound quality and the comprehensive booklet has a fictitious interview between the composer and Jourdain. All in all, this is an essential purchase for Berio devotees.
David Truslove
Lucile Richardot, Les Cris de Paris, Geoffroy Jourdain (director)
Berio: Sequenza III, Cries of London, O King, Folk Songs, Michelle II, There is no tune, E si fussi pisci.
harmonia mundi HMM 902647 [58.06]