This recent recording from New York's Saint Thomas Choir of Men and Boys is an affectionate tribute to the work of Dr. Gerre Hancock (1934-2012). The Texas-born musician was a key figure in rejuvenating the singing at the Church of Saint Thomas Fifth Avenue where he was a much-loved choirmaster and organist for over three decades. Renowned also as a gifted improviser, he left a quantity of choral and organ music mostly written for friends and colleagues across the USA. Following his departure from St Thomas's in 2004, the choir has been directed by no fewer than three UK organists: John Scott, Daniel Hyde and, since 2019, the acclaimed pianist and organist Jeremy Filsell.
For his debut disc with the choir, and supported by the Saint Thomas Brass ensemble, Filsell has chosen a selection of Hancock's liturgical work, an output mostly steeped in the Anglican choral tradition, drawing on cathedral-associated composers from this side of the pond. In his liner notes Filsell comments on Hancock's many voluntary-style organ pieces that bear kinship with 'a gallic-inflected improvisatory style and language', adding that his music for choir has similar echoes. Certainly, several of Hancock's anthems have an extemporary quality, and while there may be French influences, I hear an assimilation of English church composers whose music is still part of St Thomas's daily bread and butter.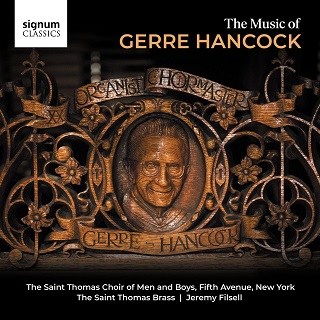 Rather than attempt to identify any single inspirational source, I might summarise Hancock's music with the Revelation text that opens 'A Song to the Lamb'; 'Splendour and honour and kingly power'. These words catch something of his music's expressive grandeur, its nobility and conviction, all of which are fully realised in this anthem's vigorous performance by choir, organ and brass. If at times one senses Hancock has cloned the pomp and ceremony, its impact is no less imposing for being a pastiche. There's a buoyant and enthusiastically rendered 'Jubilate Deo', although its emphatic delivery and over reliance on lilting rhythms outstays its welcome, and points to this composer's habit for overworking an idea. It's a trait that strains the attention in'How dear to me' where searching lines appear to find release in a more broadly conceived central paragraph, but Hancock provides no escape from the obsessively repeated phrase patterns.
His Missa Resurrectionis for choir, organ & brassisa mixed, albeit characterful affair. A somewhat perfunctory 'Kyrie' feels like an extended cadence before a dancing 'Gloria' unfolds, its ebullience and sincerity never in doubt, yet the unchanging mood does not adequately mirror the text. Hymn-like phrases shape much of the 'Sanctus', where its festive manner pauses briefly for a more penitential 'Benedictus'. It's left to the atmospheric 'Agnus dei' (sounding not unlike something Herbert Sumsion might have written) to make a more lasting impression, long-breathed phrases making a refreshing change of address.
Amongst the more persuasive works here are the evening canticles, of which the 'Magnificat', propelled by duplet and triplet rhythms, possesses a convincing outline, and one not without melodic interest or moments of relaxation. Just a pity there's some over-singing at times, notably at 'He remembering his mercy hath holpen his servant Israel', a lofty phrase that produces some harsh tone. That said, the 'Gloria' is thrilling where the boys revel in the soaring 'world without end'. The candle-lit intimacy encompassing the 'Nunc dimittis' is especially rewarding, and beautifully conveys the aged Simeon and the mystery of salvation.
Equally effective is the accumulating interest of 'The Lord Will Surely Come', an anthem that has deservedly earned its place within the American church. Baritone Andrew Padgett is splendidly declamatory in his brief solo, but it is the work's exotic harmonic language (now prominently Gallic) and its melodic 'rolling breakers' that leave no doubt of a second coming implied by the work's title. It's a highlight of the compilation and sung with the same degree of warmth and affection as Hancock's deft arrangement of 'Deep River' that closes the disc.
Overall, it's a mixed bag of pieces, performed with assurance and commitment and giving every indication of the exciting future this impressive choir has with its highly talented musical director whose own compositions are already enhancing St Thomas's repertoire. In short, this CD is well worth investigating.
David Truslove
The Saint Thomas Choir of Men and Boys, Fifth Avenue, New York, Benjamin Sheen & Nicholas Quardokus (organ) The Saint Thomas Brass, Jeremy Filsell (organ & musical director).
A Song to the Lamb, Jubilate Deo, Infant Holy, To Serve, The Saint Thomas Service, Air for Organ, Missa Resurrectionis, The Lord Will Surely Come, You Are One in Christ Jesus, How Dear to Me, Come Ye Lofty, Kindle the Gift of God, Judge Eternal, Psalm 8, Ora Labora, Variations on Ora Labora, Deep River.
SIGNUM: SIGCD631 [81:14]
ABOVE: The Saint Thomas Choir of Men and Boys (c) Ira Lippke