There cannot be many sopranos whose debut CD takes the listener on a cultural tour around the Mediterranean. And what a fascinating exploration this is by a rising star who has already made a deep impression in the concert hall with forays into classical and folk traditions of different countries. Egyptian-born soprano Fatma Said presents a programme of French, Spanish and Arabic song in a new CD, entitled El Nour (meaning 'light' in Arabic), that combines the joint heritage of Western and Middle Eastern music. This impressive launch introduces Said's impeccable musicianship and a breadth of vision incorporating authenticity and innovation.
She begins with Ravel's familiar Scheherazade and responds to its sensuous evocation and Tristan Klingsor's contemporaneous exotic fantasy in a rendition variously bewitching, intimate and seductive. She vividly captures the orient in an alluring, shimmering 'Asie', airy high notes shaped with effortless control, and the opening phrase delivered with breathless excitement, her voice thrilling with expressive intensity. I love the subtle way she bends certain pitches, especially when yearning for far-off places. She cherishes the perfumed languor of 'La flûte enchantée', conjuring a sensual portrayal of a woman listening to her lover playing the flute with natural affinity. But it's the use of the ney, a Middle Eastern flute with a timbre so similar to the human voice, that pricks the ear as Burcu Karadağ's wonderfully sculpted phrases hang in the air. Its breathy, woody tone heightens the mystery and torpor where one can almost feel the stifling heat. Then there's the stillness of 'L'indifférent' with a perfectly poised moment of seduction at 'Entre!', Said bringing to a single descending interval such delicacy and refinement. Malcolm Martineau's playing throughout brings customary consideration and sensitivity.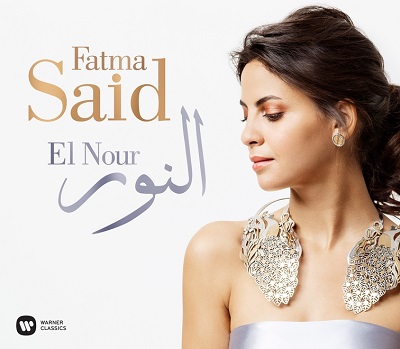 Manuel de Falla's 'Tus ojillos negros' is the first of six Spanish songs with guitar (stylishly played by Rafael Aguirre) where Said brings a smoky allure to its yearning and regret, beguiling in her myriad shadings. She sashays through the charms of JoséSerrano's 'La cancion del olvido', outlining the tale of its lonely country girl with story-telling ease, and gives a moving account ofFernando Obrador's tender 'Del cabello más sutil', her suspended final note spine-tingling. On to a group of three characterful songs by Federico García Lorca: 'Anda, Jaleo' is striking for its asymmetrical phrase patterns, 'Sevillanas del siglo XVIII' impresses for its lively flamenco-style accompaniment (underpinning an ebullient paean to 18th-century Seville), while the gentle 'Nana de Sevilla' is a lament for an orphan child.
From Hector Berlioz there's a flamboyant picture postcard of ancient Granada in 'Zaïde', its palace, sultans and young girl of the title given colourful and rhythmical expression by Said, also busy on castanets. There's a world-premiere by French composer, conductor and flautist Philippe Gaubert, whose 'Le repos en Égypte' is a dreamy evocation of a night's rest as the Holy Family journey across Egypt. Somewhere between recitative and mélodie, its accompanying arabesque figures provide gentle moments of luminosity from an ever-alert Martineau. Burcu Karadağ's ney makes one more appearance in Georges Bizet's hypnotic 'Adieux de l'hôtesse arabe'. It is regarded as the composer's greatest song, and its overtly sensual text by Victor Hugo tells of a hostess's desire to prolong a visiting Frenchman's hotel stay with whatever means at her disposal. Said finds just the right balance of allure and growing desperation, and even fashions a nasal twang when the hostess offers to brush midges from the traveller's brow. Vocal gyrations in the final verse – seemingly the aural equivalent of a belly dance – suggest one last attempt by the hostess to entice the visitor to remain, and pleas for remembrance take the form of yearning arabesque figures. Said excels herself in this haunting song.
The remaining five tracks, where the soloist is joined by an ethnic instrumental ensemble, all feature composers from north Africa. First up is the Egyptian Gamal Abdel-Rahim's idiomatic 'Ana Bent el Sultan', this disc's second premiere. Sayeed Darwish creates westernised pop/jazz in 'El Helwa Di', while Daoud Hosni's 'Yamama Beida' (with the addition of the vision string quartet) provides further insight into Said's eclectic range. There are two items by Lebanese composers: the sentimental 'Aatini Al Naya Wa Ghanni' by Najib Hankash and the cocktail bar ambience of 'Sahar El layali' by Elias Rahbani.
Even if the African songs are arguably aimed at a wider audience, there is much to enjoy in this cultured traversal of musical exotica. As debut discs go, this is highly recommended and definitely worth investigating.
David Truslove
Malcolm Martineau (piano), Rafael Aguirre (guitar), Burcu Karadağ (ney), Tim Allhoff (piano), Itamar Doari (percussion), Henning Sieverts (double bass), Tamer Pınarbas (kanun),
vision string quartet [Jakob Encke, Daniel Stoll (violins), Sander Stuart (viola), Leonard Disselhorst (cello)].
Ravel: Shéhérazade, Falla: 'Tus Ojillos Negros', Serrano: 'La cancion del olvido', Obradors: 'Del cabello más sutil', Berlioz: 'Zaïde', Gaubert: 'Le Repos en Égypte', Lorca: 'Trece Canciones Españolas Antiguas', Abdel-Rahīm: 'Ana Bent El-Sultan', Bizet: 'Adieux de l'hôtesse arabe', Hankash: 'Aatini Al Naya Wa Ghanni', Darwish: 'El Helwa Di', Rahbani: 'Sahar El Layali', Daoud: 'Yamama Beida'.
Warner Classics Erato 0190295233600 [64.57]
ABOVE: Fatma Said (c) Josef Fischnaller