'So, we grew together,
Like to a double cherry, seeming parted,
But yet an union in partition,
Two lovely berries moulded on one stem.'
I don't know if Mascagni knew his Shakespeare, but his 1891 pastoral romance, L'Amico Fritz, chimes with Helena's comparison of her youthful connection to Hermia in A Midsummer Night's Dream – two cherries which share the same stem. 
The libretto by Nicola Daspuro (pseudonym P. Suardon) based on the French novel L'ami Fritz by Émile Erckmann and Pierre-Alexandre Chatrian might not seem replete with dramatic potential – an inveterate bachelor resists his attraction to a sweet-natured, down-on-her-luck ingénue who is a tenant on his country estate, until a meddling, match-making rabbi intervenes – but at its heart the opera embraces essential human experiences and emotions.
The premiere of Cavalleria rusticana in 1890 launched Mascagni's career and made him a rich man, but it also initiated his reputation as a one-work composer. And, although the ensuing 45 years saw him compose numerous operas and other works, his failure to match that initial stunning success has seen that reputation sustained, despite the efforts of those such as Opera Holland Park who have championed Mascagni's achievements.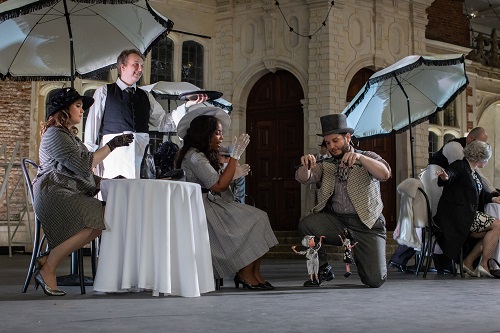 There's another sticking point, too. The label 'verismo' which is customarily applied to the works of Mascagni, Puccini, Leoncavallo et al,has tended to imply violent dramatic situations and vocal histrionics. But, if the drama of L'Amico Fritz could be described as slender, then it is also 'true': it embodies the essence of the verismo style, in depicting the emotions of ordinary people and investing them with magnitude and nobility.
In this new OHP production (the company's third production of this work), director Julia Burbach shows that she appreciates the opera's innate expressive qualities. Understatement rules. Designer Alsyon Cummins' sets are minimal. A few café tables indicate the social milieu; white step-ladders both convey the cherry-gathering harvest and infer the social distance between Suzel and her beloved Fritz. We can happily imagine the bicycles, water jugs and cherry trees that are gestured.
Costumes suggest the 1960s, and the cinematic achievements of Federico Fellini, Luchino Visconti and Roberto Rossellini. The 'neorealist' label that bracketed these giants of Italian film is perhaps as misapplied as the operatic branding, verismo. The exponents of film and opera alike aimed to restore to Italian drama – nourished as it was on propaganda and sentimental narratives – an essential humanism based on compassion. And, in the context of Mascagni's gentle, slow-burn romance, it's perhaps not coincidental that Fellini declared, 'All our anguish and mistakes occur when there is no love'.
In keeping with Fellini's reaching into magic realism, Burbach injects a fairy-tale 'uplift', making the itinerant gypsy fiddler, Beppe, a transcendent spirit-à-bicyclette – luxuriantly feathered wings indicating Beppe's status as both Cupid and a guardian angel.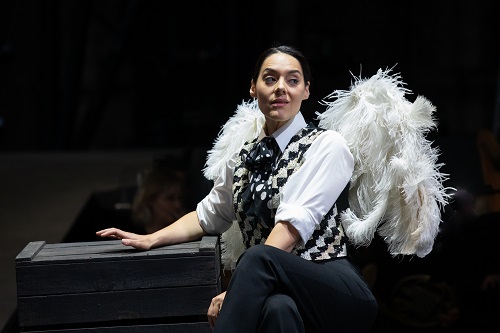 OHP are also blessed with a conductor who appreciates the dramatic tenor and structure of L'Amico Fritz. Making an impressive UK debut, Beatrice Venezi demonstrates an innate understanding of the quietude and delicacy of Mascagni's score, while never neglecting its dramatic impetus. The reduced forces of the London Sinfonia offer not less but more, in expressive terms. There are truly lovely solos, not just from leader Charlotte Reid in the Romany fantasia which accompanies Beppe's entrance, but also the beguiling contributions of the lead oboe and clarinet, the warm horns, and the expressive lower strings. Venezi appreciates how to let Mascagni's inexhaustible cantabile flow, creating space while maintaining momentum, and she conjures delectable colours and scents, with calm authority.
Mascangi's natural melodic gracefulness is respected by the OHP cast, and the melodic character unfailingly captures the expressive sentiment. As the eponymous Fritz, Matteo Lippi sings with a handsome tone and passionate sensitivity. Lippi, a seasoned OHP lead, sings with handsome strength and colour, initially a debonair confirmed bachelor, then lovestruck and vulnerable. Lippi cruises the heights, his tenor throbbing with passionate vitality. In the quieter moments, his Fritz Kobus is sincere and noble, and he respects – as do all the cast – the pianissimo intimacy of some of the score's most telling moments.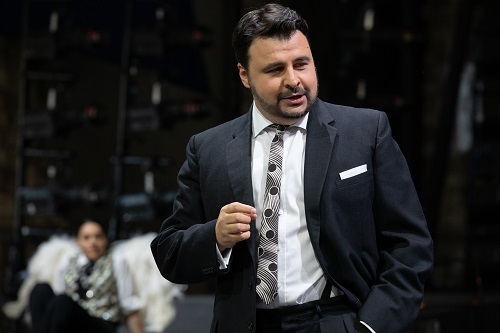 Lippi is brilliantly partnered by Katie Bird. Though conveying the innocent naivety of Suzel, Bird does not neglect the country lass's innate fire and feeling. Her first aria 'Son pochi fiori' conveys an underlining melancholy, the duskiness only serving to showcase the subsequent luminosity of her soprano. There is no 'side' to this Suzel; she retreats to the shadows of the orchard and blossoms in the light in the sun according to the tug and sway of her feelings. The 'cherry duet' is as charming as Mascagni surely hoped, particularly as the pianissimos are respected and cherished.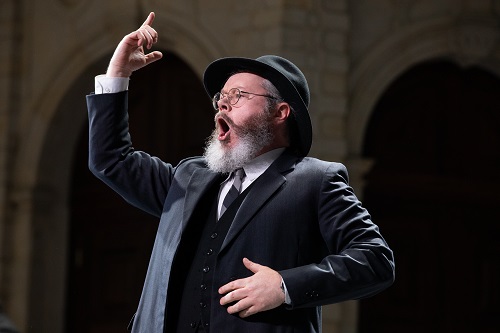 Paul Carey Jones is an authoritative Rabbi David, enjoying the chutzpah of his character but also communicating genuine human care and compassion. When testing the feelings of Suzel towards his friend, by invoking the biblical tale of Rebecca, this Rabbi never resorts to dry catechism and the story-telling is always human. Carey Jones has just the right 'knowing' air: Rabbi David can smile at his own foibles, and those of others.
In the trouser role of Beppe, the gypsy boy, Kezia Bienek sings her two folky arias with the same stylish dignity that characterises her two-wheeled perambulations.  Themba Mvula (Hanezò), Mike Bradley (Federico) and Rose Stachniewska (Caterina) are a genial group of buddies, complemented by an excellent OHP Chorus whose warm singing infuses the evening air with soul and kindness.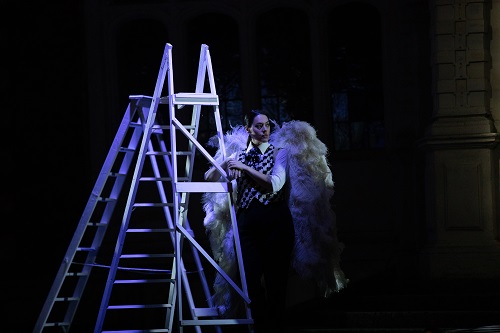 This was my first visit to the new-look Holland Park. All credit to OHP for not packing in the punters following the government's relaxation of restrictions on 19 July – allowing the audience to experience performances in conditions for which they signed up. The spacious canopied arena is comfortable, with an excellent acoustic. It induces an intimate ambience which is enhanced by the proximity to the singers afforded by the looping stage walkway. Such friendly discourse will be extended into next season, when OHP will retain this venue layout, albeit with – hopefully – a few more donated seats in place to house the punters.
Do hurry to Opera Holland Park if you can, this season or next. I had a lovely evening, not least because the subtle introspection of L'Amico Fritz was protected and nurtured. OHP show affection for that lovely quality which the 21st century seems to have forgotten: quiet charm.
Claire Seymour
Fritz Kobus – Matteo Lippi, Suzel – Katie Bird, David – Paul Carey Jones, Beppe – Kezia Bienek, Hanezò – Themba Mvula, Federico – Mike Bradley, Caterina – Rose Stachniewska; Director – Julia Burbach, Conductor – Beatrice Venezi, Designer – Alyson Cummins, Lighting Designer – Rory Beaton, Choreographer – Cameron McMillan, City of London Sinfonia, Opera Holland Park Chorus.
Opera Holland Park, London; Tuesday 27th July 2021.
ABOVE: Katie Bird as Suzel in L'amico Fritz at Opera Holland Park © Ali Wright