In addition to the "Big Three" Main Stage offerings in the Des Moines Metro Opera summer season, we were also indeed fortunate to experience their deeply affecting Second Stage production of Gregory Spears and Greg Pierce's Fellow Travelers.
This is a haunting, much-admired recent operatic work, and this particular physical production is itself 'well-traveled.' Fellow Travelers very empathetically tells the heartbreaking story about the disturbing fate of a political operative and his author/lover during the 1950's Lavender Scare in America. Having encountered it at Arizona Opera a couple of seasons ago, its familiar stagecraft was like a welcome encounter with an old friend.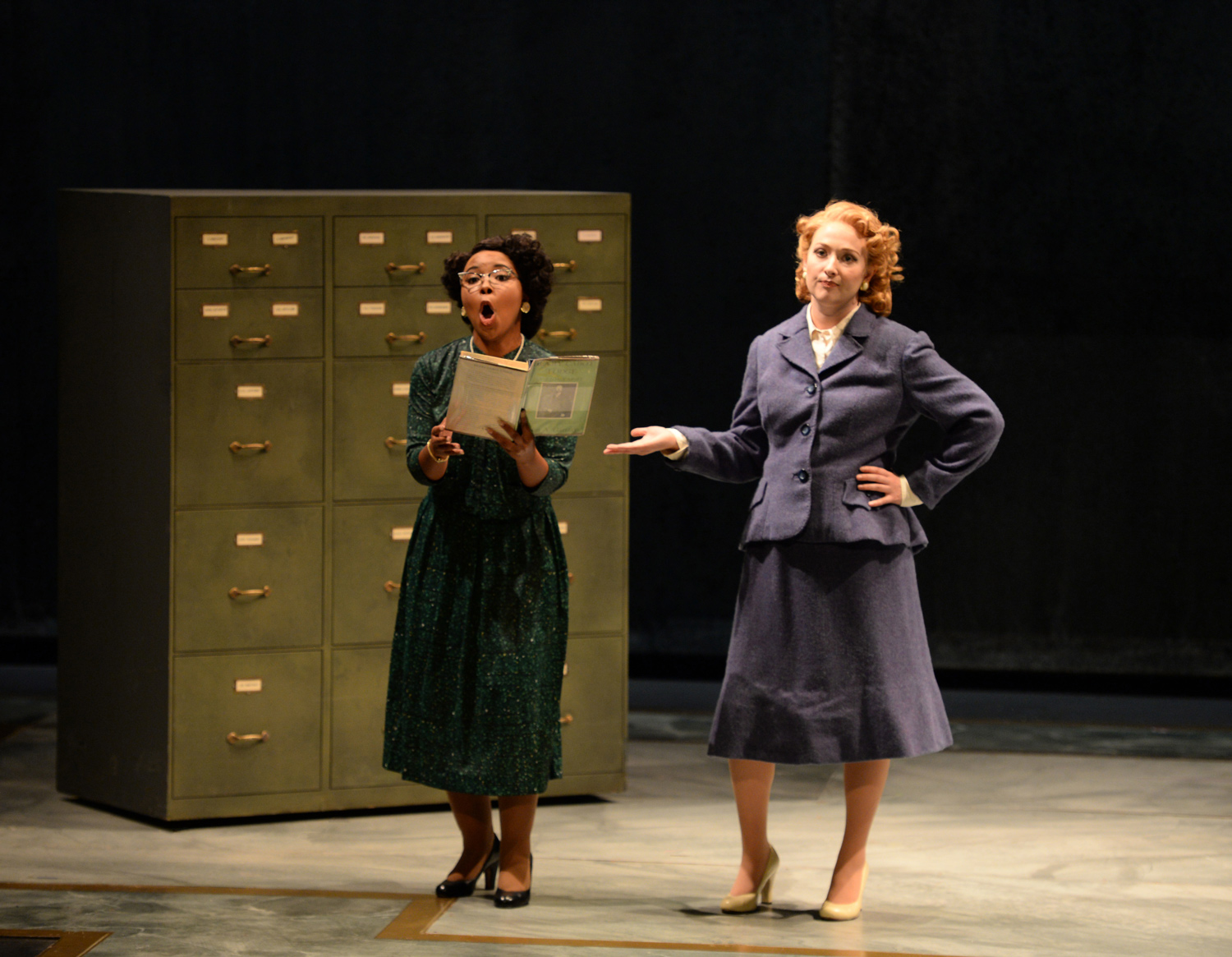 Victoria Tzykun's cleverly spare set pieces rolled, turned, and repositioned fluidly to deftly create any number of DC locations. Her economy of gesture was married to a keen eye for telling detail. Paul Carey's effective original period costume design was augmented by Heather Lesieur. Lighting Designer Nate Wheatley successfully adapted the numerous specials and defined areas from Thomas Hase's first concept. Sondra Nottinham completed the authentic mid-20th Century look with her spot-on hair and make-up design.
Composer Spears has pulled off quite a feat by crafting an aurally approachable, melodic score, all the while putting forth a fresh and personalized musical vocabulary unlike any other. Utilizing grupetto-like figures generously for both voice and instruments, he imbues critical motifs and phrases with a pulsating urgency, and/or vacillating emotional subtext. He offsets heartfelt, arching phrases with pulsing statements of considerable angularity and urgency.
The colorful, compact instrumentation achieves an astonishing variety of effects, especially as conducted by the poised and gifted Carolyn Watson. With efficiently clear baton work, and an obvious deep commitment to the emotional resonance of the piece, Maestra Watson made a very persuasive case for the opera's many strengths. Her interpretation effortlessly balanced poignant intimacy with dramatic sweep.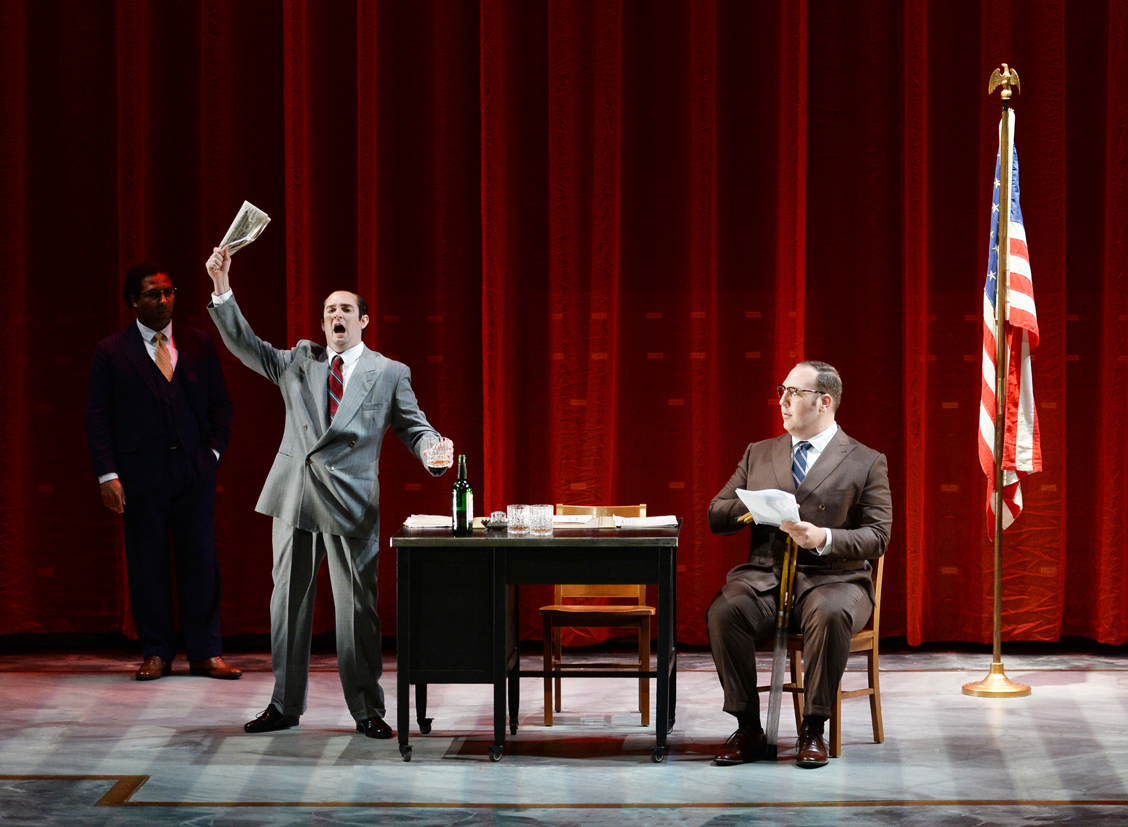 Mr. Pierce's deft libretto is based on Thomas Mallon's 2007 novel of the same name. In addition to effectively juxtaposing fictional characters with notorious real-life personages, he manages to inject a good deal of welcome humor into the proceedings, further heightening the heart wrenching dilemma of the interdependency of two well-drawn men whom we grow to love.
Director Marcus Shields has masterful way of highlighting crackling political repartee and pacing the flow of the numerous short scenes, but his richly rewarding, multi-layered character relationships was the real cause for substantial rejoicing. Mr. Shields eagerly embraces the theatrical style of presentation in the work, but just as willingly facilitates unbelievably intimate interactions between the two male lovers.
If Joseph Lattanzi does not own the role of Hawkins Fuller by now, he should. He created the part in the world premiere and has been seen more often than not in subsequent applauded showings. His soft-grained, well-modulated lyric baritone is warm, pliable, and endlessly appealing. And when forceful declamation is required, he has absolutely no trouble commanding your attention with vocal power and potency.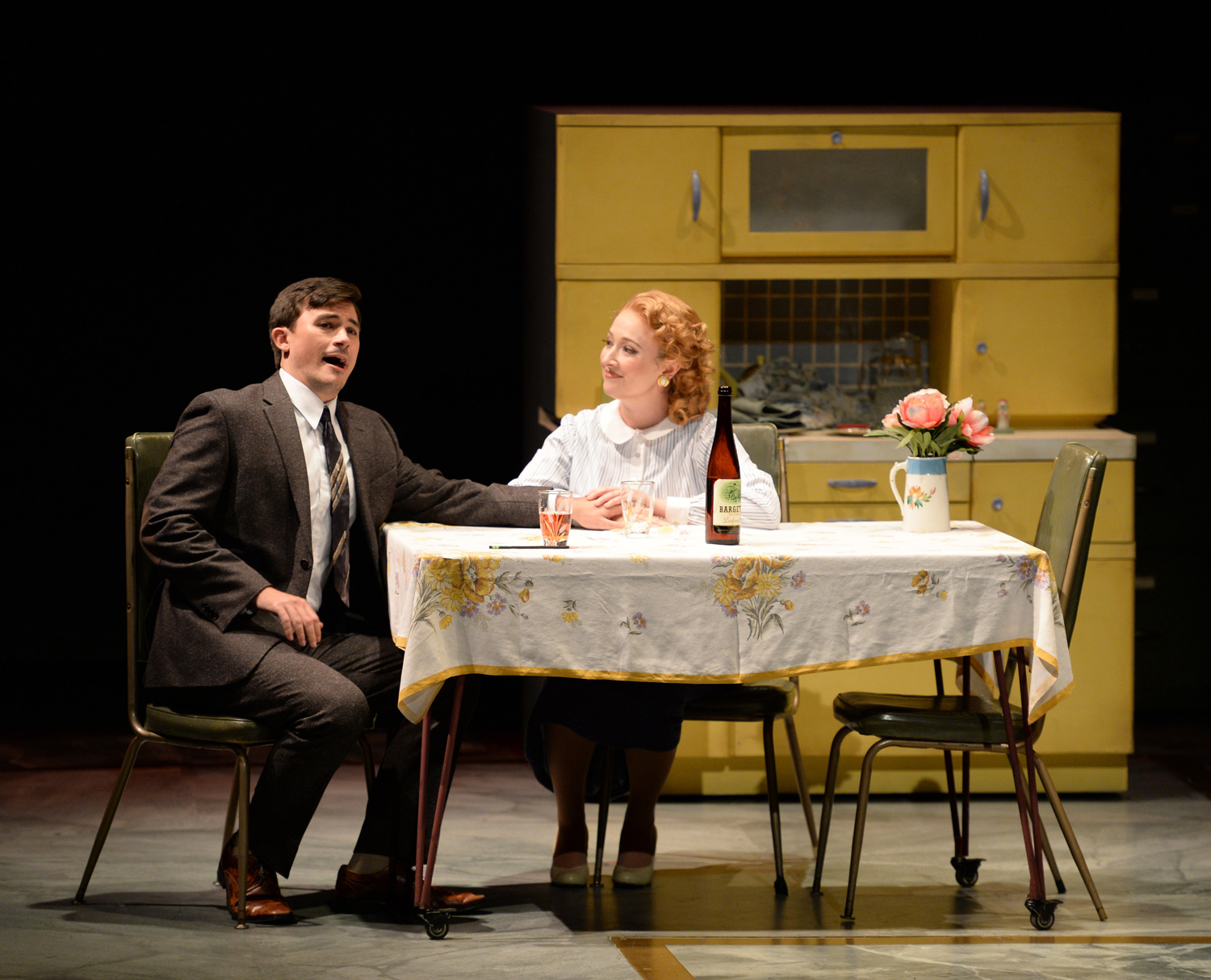 Moreover, Mr. Lattanzi is movie star handsome. Who wouldn't fall for his charms, whatever warts his character possesses? At this point in his affiliation with this opera, there is no nuance of Hawk's requirements that eludes his accomplished grasp. This is a definitive role traversal.
As his counterpart in love and distress, Christian Sanders is a formidable liaison. Coming right off a matinee performance of Sweeney Todd, the tireless Mr. Sanders made the tole of Timothy Laughlin his own, deploying his steady lyric tenor with assurance, and unwavering understanding of the complexities of his character's sometimes naïve ambitions.
Mr. Sanders is also trim, attractive and physically uninhibited. His laudable vocalizing was complemented by some pretty steamy love making. I don't know the orientation of either of the leading players, but their physical connection was so impassioned and so intense that at one (um) climactic moment, a female viewer let out a war hoop usually reserved for extra points scored in soccer game overtime play.
Benjamin Taylor as Tommy McIntyre gave yet another winning performance in this festival cycle. If I had to choose a breakout star singer from this summer's line-up, it would likely be Mr. Taylor, whose engaging, robust, sturdy, buzzy baritone never failed to impress. Soprano Grace Kahl's well-modulated, appealing soprano found a congenial fit for her substantial gifts in the sympathetic role of Tim's friend Mary Johnson. Like Mr. Sanders, her success was the more admirable since she had just trilled/thrilled for three hours in the afternoon's show as Johanna in Sweeney Todd.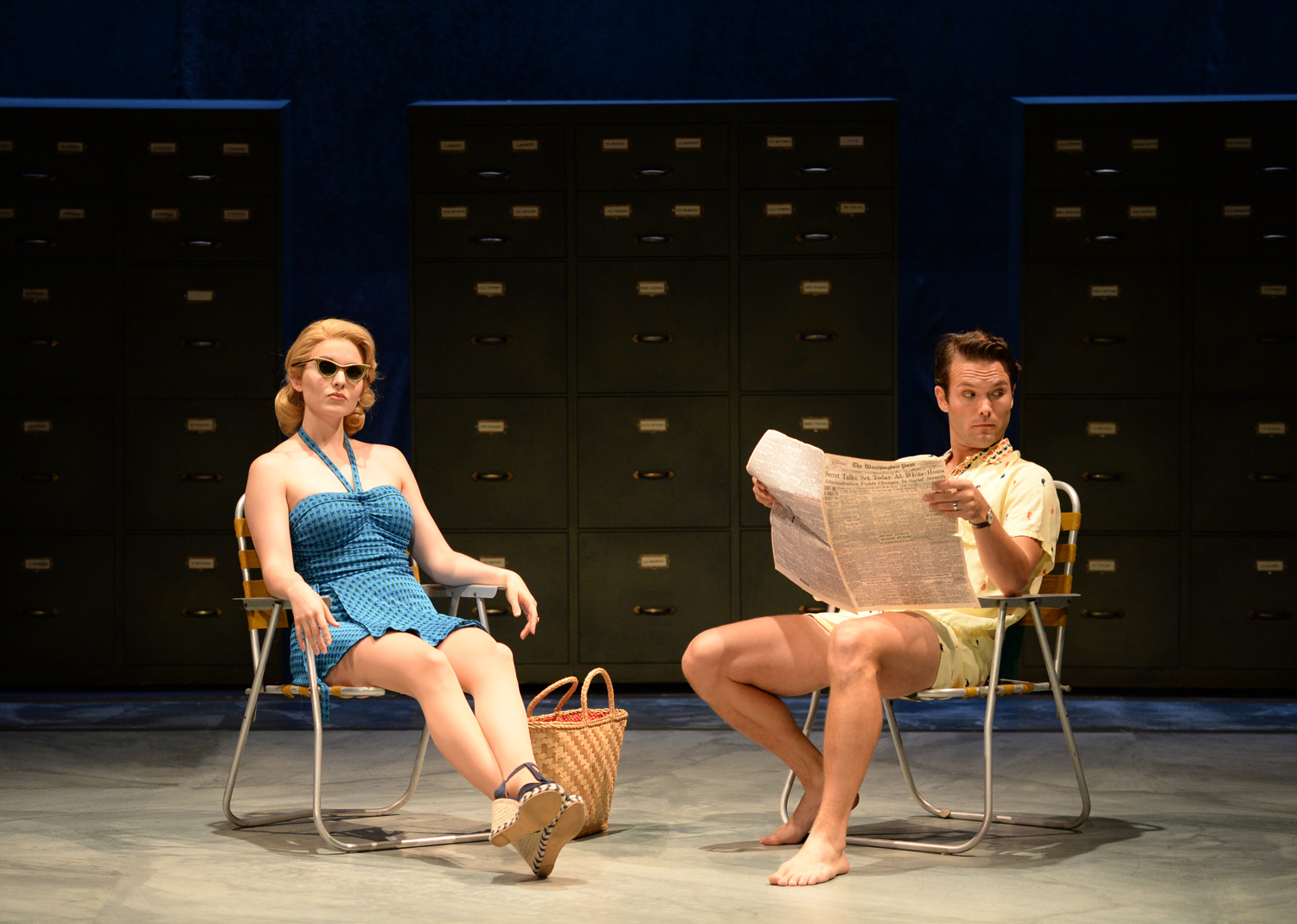 The rest of the supporting cast was a dream team drawn from the deep bench of the impressive DMMO Young Artists roster. Claire Lopatka's alluring soprano was treasurable as Lucy, Hawk's wife/beard; Craig Juricka's malleable baritone was a fine match for the role of Senator Charles Potter; the petite, cute-as-a-button soprano Amanda Sheriff, used her silvery soprano to good effect as the malevolent Miss Lightfoot; and Ryan Wolfe successfully essayed multiple roles, each benefitting from his well-tutored, polished baritone.
Kellen Schrimper intoned his imposing directives as the Interrogator in a plangent baritone and was immorally charming as Mary's willful Estonian impregnator. Nathaniel Hill's solid baritone limned Joseph McCarthy's accusations with substantial weight and luxuriant tone.
The first time I listened to the world premiere recording of Fellow Travelers I was moved to tears. Every experience since then has had the same effect. Messrs. Spears and Pierce have crafted a timely opera of universal appeal that touches the heart and ravishes the ear. 'Bravi tutti' for this one-night-only performance that was a jewel in the crown of Des Moines Metro Opera's 49th anniversary season.
James Sohre
Gregory Spears: Fellow Travelers
Music by Gregory Spears
Libretto by Greg Pierce, based on the 2007 novel by Thomas Mallon
Hawkins Fuller: Joseph Lattanzi; Timothy Laughlin: Christian Sanders; Sen. Potter's Assistant/Bookseller/Priest/Technician/Party Guest: Ryan Wolfe; General Arlie/Bartender: Brandon Bell; Tommy McIntyre: Benjamin Taylor; Senator Charles Potter: Craig Juricka; Miss Lightfoot: Amanda Sheriff; Mary Johnson: Grace Kahl; Senator Joseph McCarthy: Nathaniel Hill; Estonian Frank/Interrogator: Kellen Schrimper; Lucy: Claire Lopatka; Conductor: Carolyn Watson; Director: Marcus Shields; Set Design: Victoria Tzykun; Costume Design: Paul Carey; Supplemental Costume Design: Heather Lesieur; Lighting Design: Nate Wheatley; Original Lighting Design: Thomas Hase; Make-up and Hair Design: Sondra Nottingham
All photos © Duane Tinkey for Des Moines Metro Opera
Above: Joseph Lattanzi (left) as Hawk Fuller, Christian Sanders (right) as Tim Laughlin