A champagne cork pops at the onstage bar under a spate of piss-elegant chandeliers, the music strikes up, and Des Moines Metro Opera's fizzy, heady Platée is off to the races.
Like the champers the assembled hipster revelers are swilling immoderately, this effervescent rendition of Rameau's seldom seen opus never loses its sparkling tang. Much of this is owing to the deliciously demented imagination of director Chas Rader-Schieber, who has enough funny ideas on display in Platée for three other productions, but yet the parade of hijinks never seems over-stuffed. Mr. Rader-Schieber is greatly enabled in his manic merriment by a design team whose wacked out creations make "over-the-top" an understatement.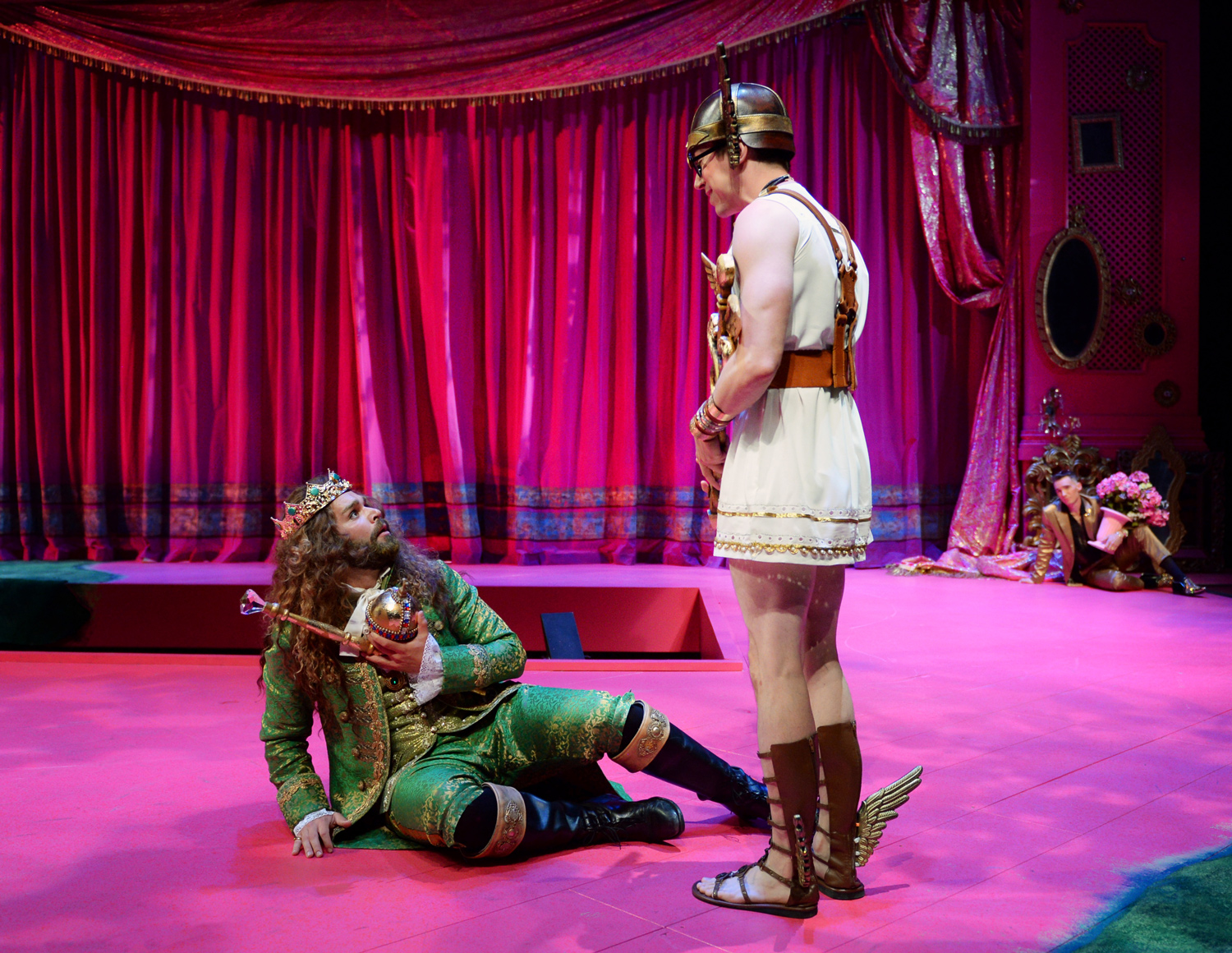 Jacob A. Climer's fantastical sets and costumes (and pyro) appear to be the mind-blowing result of Hieronymus Bosch having been commissioned to do an installation for Meow Wolf. The modish garb for much of the opening 30 minutes would not have been out of place on an uber-trendy red carpet event. The dominant set color is Pepto Bismol pink, which spills over the floor, the chorus attire, the swags, that is, when it isn't augmented by a vibrant red proscenium and grand drape as accent (or competition).
The evocative "swamp" home of the title character is dressed (among other things) with stylized trees that could be a respectable Ikea display, an armoire, and a massive staircase down which the gods can descend to this lesser realm. In addition to the featured singers' mythical costumes riffing on classic lines, the ensemble seemed to be wayward sugar plum fairies, squishy courtiers dripping in cotton candy. The barefoot chorus was wigged within an inch of their lives, thanks to Sandra Nottingham's extensive and inventive hair creations, complemented by a comparatively subtle make-up design.
All of these elements were bound together quite wonderfully by Nate Wheatley's varied lighting design. Mr. Wheatley wisely let the popping color already on stage do much of the work and drafted quite a warm look to let the scenery and costumes shine (as it were). But he also had a few specials up his sleeve, some isolated areas that underscored moments as needed, and he used the back cyclorama to unleash some moody and colorful effects.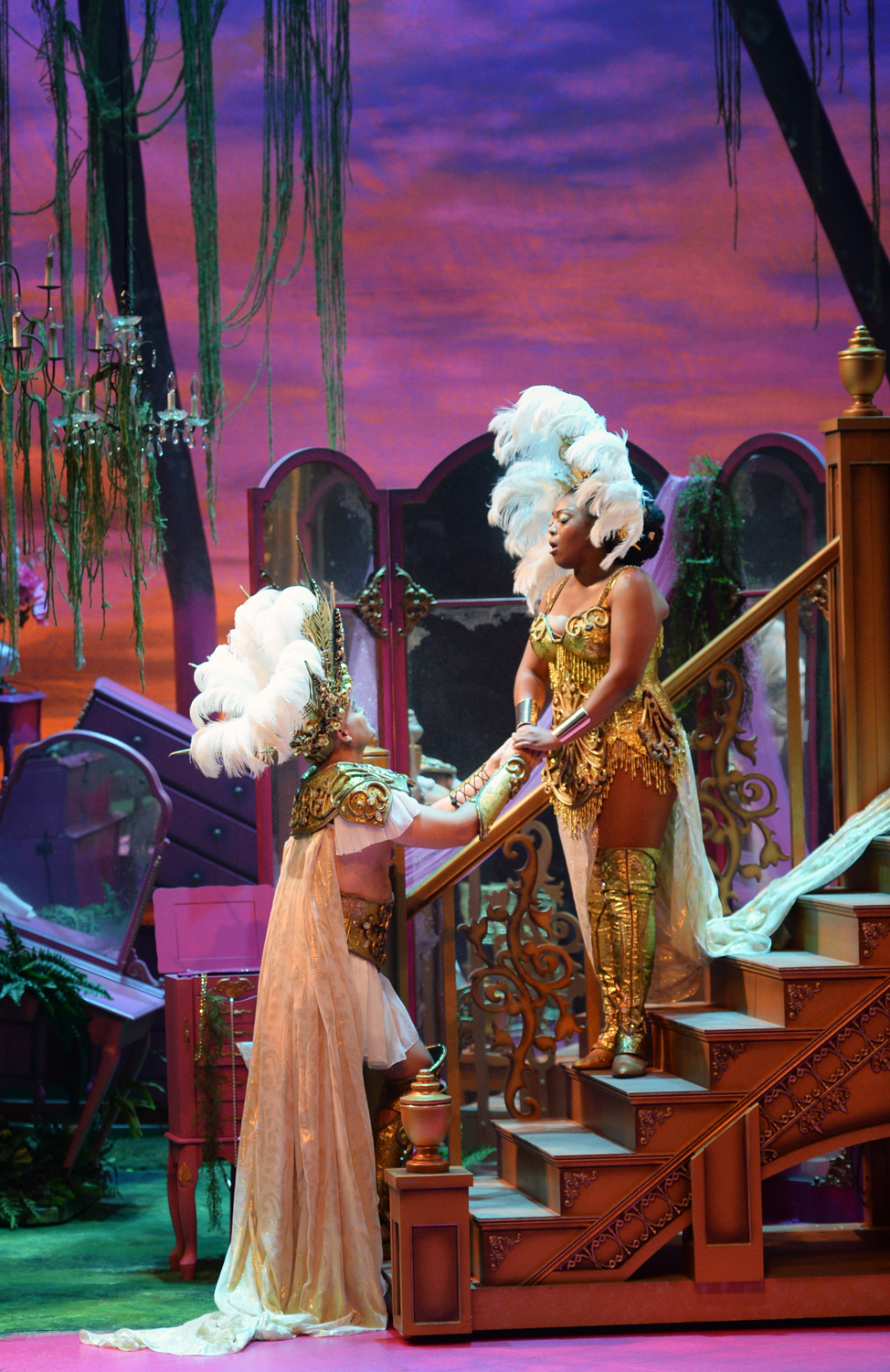 The director was also in debt to the recurring dance sections, impressively executed by six tireless performers who kept re-inventing themselves as ever-changing personae. If Twyla Tharp and Mark Morris had a love child, that might have been choreographer Isaac Martin Lerner. The fluid movement he devised was endlessly inventive, full of twists, turns, tumbling, flopping, collapsing limbs, writhing torsos, and surprising pairings and formations.
Expectations were high for tenor Taylor Stayton in the title role of the female water nymph who is deluded about her romantic appeal. Although he was announced as indisposed, Mr. Stayton performed with sassy verve, and sang the lengthy part with undiminished insouciance, beauty of tone, and impressive florid passages.
(S)he looked ravishing from the top of her seafoam green wig to the toe of her pink vinyl thigh length go-go boots, which showcased great gams. Ms. Nottingham's superlative make-up was again a key contributor to Stayton's feminine transformation.
Originally, the character was actually supposed to be haughtily unaware that she is homely, but this production decided she would be beautiful – but – with "ugly" traits like a total lack of empathy or self-awareness. While Mr. Stayton did his damnedest to make this work, there were a few too many times (s)he seemed more a bitchy sore loser on Ru Paul's Drag Race. Consequently, for this viewer at least, the ultimate comeuppance seemed crueler than it should be, and any modicum of pity we might have felt for a physically unappealing creature went missing.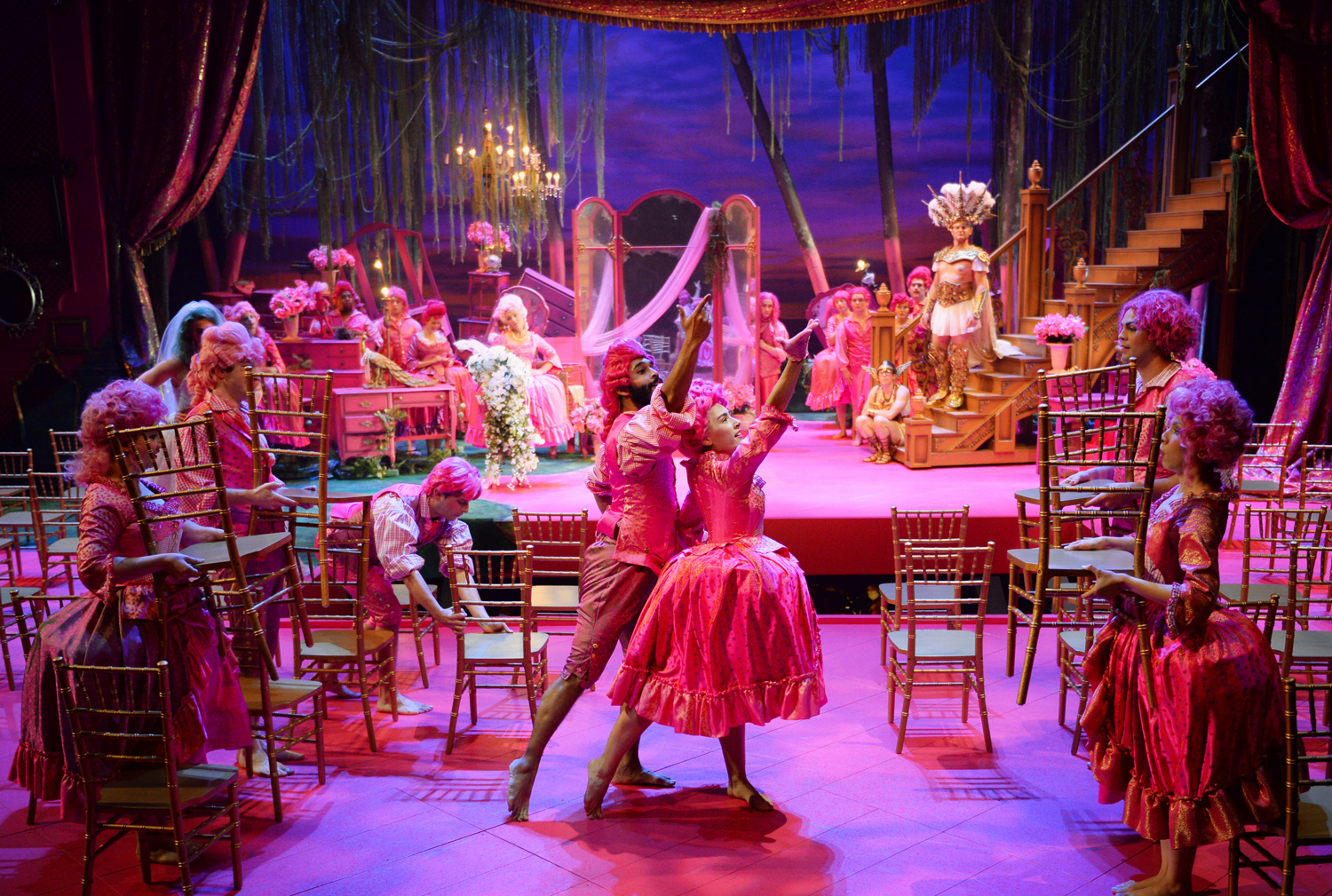 This piece is chockful of featured roles that are given the chance to shine. And shine they surely did. Elizabeth Sutphen offered inspired lunacy and jaw-dropping singing as La Folie (Madness). During her stunningly detailed, musically complicated aria, coming late in the proceedings, the glamorous Ms. Sutphen threatened to tie the show up with a bow and run off with it. Her pliable, secure lyric soprano shone in all registers but never more so than above the staff. The role's high-flying tessitura and rapid-fire melismas were dispatched with radiant ease.
As a nebbishy bespectacled Mercury, Jonas Hacker dominated every scene he was in. Mr. Hacker has an immensely engaging stage presence, and his bright, full-bodied lyric tenor invited our attention with every pleasurable phrase. The long-anticipated arrival of Jupiter was decidedly worth the wait. Scott Conner's world class, powerfully orotund bass instrument was the perfect match for the god's imposing proclamations. His beefcake factor was a decided bonus, looking as handsomely burly as he sounded.
Jupiter is joined late in the game by his paramour Juno, here give a luxurious impersonation by a stylish Zoie Reams, who's imposing, richly tinted, beautifully modulated mezzo-soprano was indeed fit for a god. Alex Rose delighted as Cithéron, displaying a formidable bass and considerable stage savvy. Alexander Birch Elliot was a louche, big-voiced Momus, secure in his charms as a babe magnet, sporting an equally secure, ringing baritone. The goof of his suddenly appearing nearly naked as a lean, buff cupid, his identity given away by his sparkly gold tipped shoes, was another giddy visual bombshell.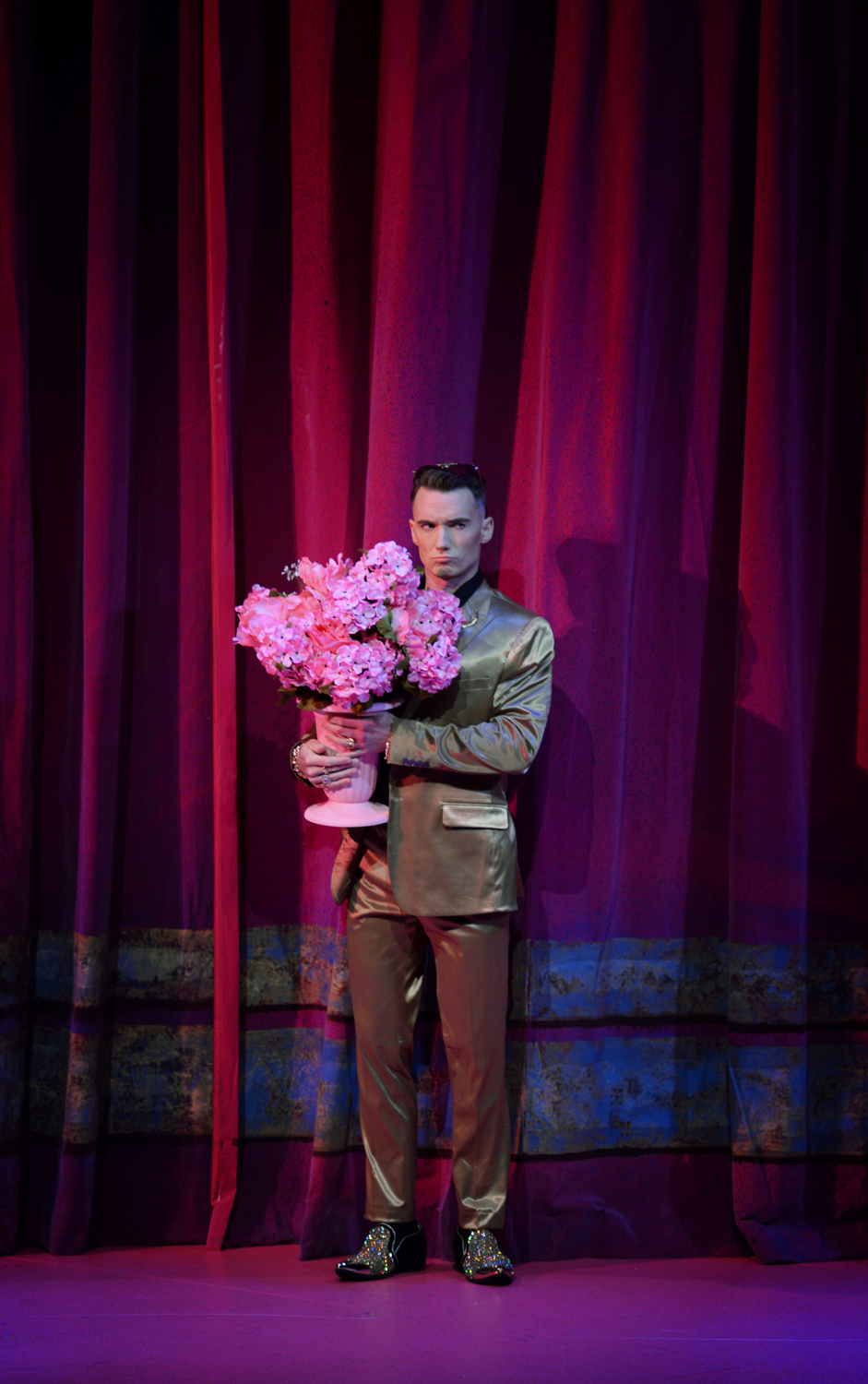 Sidebar: There was more skin and nipples (some pierced) on display than in a Vegas Saturday midnight Chippendales Revue. Corn-fed hedonism seems to be thriving in Iowa.
Several standout soloists were drawn from the ranks of DMMO's Young Artists roster. Cadie J. Bryan was an utter delight as Clarine. Her luminous, attractive soprano encompassed all the interpretive demands of Clarine's jewel of an aria. Véronique Filloux gave an enjoyable turn as Amour, her limpid soprano floating through the house with good effect. Camille Sherman's plummy mezzo served up a Thalie with great abandon. After having been drug by the legs from his nap under the grand drape, Thespis, aka the wiry James Stevens was shamelessly fey, and his focused, suave tenor was well suited to the assignment.
I have written elsewhere about the many pleasures of Benjamin Taylor's accomplished baritone, and his appealing artistry. As the Satyr of the show's opening pages, Mr. Taylor once again sang with a firm toned, burnished instrument. It will be a joy to watch his star rise.
Even with so many lilies being gilded in the vocal, dance, and technical elements, they did not in any way overshadow the glorious musical results emanating from the pit, under the knowing baton of Gary Thor Wedow. Maestro Wedow brought his genius in this rep to bear and elicited awesomely controlled, stylish music-making from the assembled forces. He was also an admirably accommodating partner with his soloists and dancers. Lisa Hasson's hard-working chorus was meticulously prepared.
Presenting such a thoroughly accomplished, stylistically assured presentation of Platée, a true operatic rarity, should be a matter of great pride to all concerned. Des Moines Metro Opera will celebrate it's Fiftieth Anniversary next summer. I urge every serious opera lover to be there. There is no finer place to experience opera in America.
James Sohre
Jean-Philippe Rameau: Platée
Music by Jean-Philippe Rameau
Libretto by Adrien-Joseph le Valois d'Orville
Un Satyr: Benjamin Taylor; Thespis: James Stevens; Thalie: Camille Sherman; Momus: Alexander Birch Elliott; Amour: Véronique Filloux; Cithéron: Alex Rosen; Mercury: Jonas Hacker; Platée: Taylor Stayton; Clarine: Cadie J. Bryan; Jupiter: Scott Conner; Le Folie: Elizabeth Sutphen; Juno: Zoie Reams; Conductor: Gary Thor Wedow; Director: Chas Rader-Schieber; Set and Costume Design: Jacob A. Climer; Lighting Design: Nate Wheatley; Make-Up and Hair Design: Sondra Nottingham; Choreographer: Isaac Martin Lerner; Chorus Master: Lisa Hasson
Above: Taylor Stayton as Platée
All photos © Duane Tinkey for Des Moines Metro Opera