Our present condition lends us, perhaps more than ever, to think of what has led us here, how things really are now, and where the world will take us next. Or so we fancy: for some of us that is doubtless the case, for others less so, and is it really that different from other stages in our earthly existence? Plus ça change? It is too early to tell. Whatever the truth or otherwise of such claims, an opera that decentres humans without obliterating them, turning our attention to the life cycles of which that of our species is but one—and an intrusive one at that—has much to say to us right now.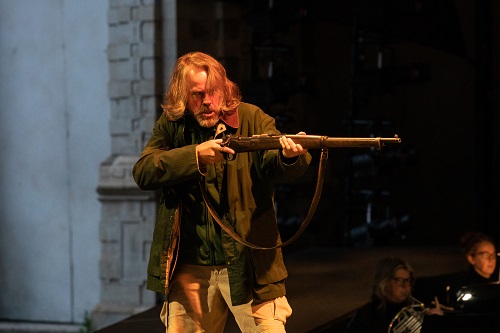 Enter The Cunning Little Vixen; indeed, enter the cunning little vixen Sharp-Ears. A particular strength of Stephen Barlow's new production for Opera Holland Park is the heightening of a sense of interaction—perhaps neither good nor bad, but just 'how it is'—between the natural and human worlds, in this case a decidedly urban world portrayed with sparing use of designs and props but decided suggestion, subtlety, and dramatic impact. We see Terynka on stage at the opening, a reminder not only of the intertwining—real, though less crucial than we might think—but also of the constructed parallels between the poacher Harašta's forthcoming marriage to Terynka and the life, loves, and death of our vixen—and what will become in turn of her daughter. There is sadness, both of regret and of grief, in that, not least with respect to the lovelorn Schoolmaster, who has always admired Terynka from afar. There is also danger: danger that humans might encroach on that natural world too far: not for nothing are our urban foxes, human and animal, seen by a recycling bin. The natural world exists here too: we probably see foxes in London more often than elsewhere in the country. Should we? That is probably a meaningless question. How, then, might we effect some sort of return, for our sake and theirs, to a more 'natural' life-cycle? And should we?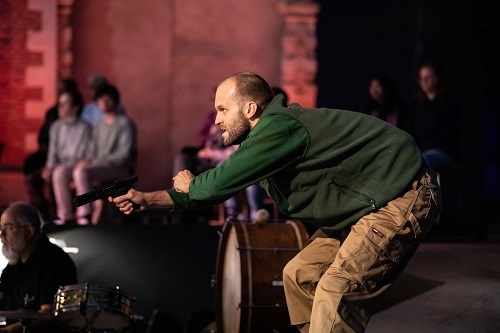 That love (probably) and sex (definitely) lie at the heart of such conundrums, intertwined and parallel, is clear too. Much is done, probably all to the better in the age of coronavirus, by suggestion, again by intersection and parallelism. That word 'intersection' reminds us of gender issues, contemporary and age-old, too. The scene in which the vixen tempts hens to leave the apparent safety of their masters, animal and human, by presenting a utopia of women's (and animal) rights seems especially crucial in this staging, both as high-point and as dead-end. Make of that what you will in light of the loss of their eggs and thus their potential for motherhood and, ultimately, the continuation of their species line. Are not, though, humans doing that anyway? Do we only care when, to borrow from Strauss and Hofmannsthal, a vixen rather than a forester/farmer steals their shadow?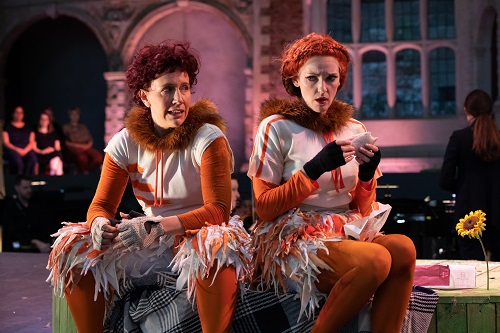 There are rightly no easy answers, but they are posed: as they are in the musical performances, here very much of a piece with what we see. As so often in Holland Park, a sense of company that is more than its parts—like opera, like society, like nature?—is palpable and productive. Jessica Cottis's direction of Jonathan Dove's skilful reduction of Janáček's score—very much a work of art in its own right, accordion and all—is fiercely alert in the moment; yet it also, as must any comprehending Janáček performance, senses and conveys the often surprising ways in which what might seem to be difficult, even rebarbative fragments are magically, indissolubly pieced together. The orchestra, here an attentive, lively City of London Sinfonia, takes on still more of that role when the work is sung in English, thus losing those foundational, generative Czech speech rhythms (even for those of us who speak no Czech). The decision is doubtless wise in a world permitting little international travel, a largely English cast (and audience) responding to the immediacy of a common tongue, a witty updating of Norman Tucker's translation very much delivered and heard in the here and now. The ear compensates, as do the mind and eye.
It was, then, the sort of performance in which it is tempting to re-list the cast and attribute good things to all of them. Such an approach, if slightly tedious, would doubtless be warranted. If I only single out a few performances that particularly caught my ear (and other senses), such words should be taken as indicative rather than exclusive. Jennifer France and Julia Sporsén offered lively, loving portrayals of Vixen and Fox, similarly alive in the moment yet allusive to broader, more cyclical (and/or ruptured) themes. Grant Doyle's detailed way with words and music had me wonder what he would have made of the original Czech, though only in retrospect. As a key bridge between one world and another, he not only made things fit but ensured that they moved us in our human state of alienated longing. So too, albeit more exclusively on the human side, did Charne Rochford's Schoolmaster. Ashley Riches operated as Harašta with a fine vocal and stage swagger, seemingly knowing yet ultimately foolish. All contributed, though; the operatic ecosystem would have been considerably the poorer without any. Surely that offers its own, broader moral.
Mark Berry
Vixen – Jennifer France, Fox – Julia Sporsén, Forester – Grant Doyle, Forester's Wife/Owl –Ann Taylor, Schoolmaster/Mosquito – Charne Rochford, Priest/Badger – John Savournin, Harašta – Ashley Riches, Chocholka – Harriet Eyley, Lapák – Natasha Agarwal, Jay/Rooster – Grace Nyandoro, Woodpecker – Chloë Pardoe, Innkeeper – Phillip Costovski, Innkeeper's Wife – Yolanda Grant-Thompson, Pepík – Alys Mererid Roberts, Frantík – Claire Ward, Frog – Daniel White, Caterpillar – Toby Yates, Grasshopper – Ben Jardim, Young Vixen – Estella Charlesworth; Director – Stephen Barlow, Conductor – Jessica Cottis, Designs – Andrew D. Edwards, Lighting – Rory Beaton, Choreography/Movement – Sarita Piotrowski. Opera Holland Park Chorus (chorus master: Dominic Ellis-Peckham), City of London Sinfonia.
Holland Park Theatre, London, Tuesday 13 July 2021.
ABOVE: Jennifer France as The Vixen in The Cunning Little Vixen at Opera Holland Park, 2021 © Ali Wright