Oh, is there not one maiden breast
Which does not feel the moral beauty
Of making worldly interest
Subordinate to sense of duty?
'The Slave of Duty' is the subtitle of Gilbert and Sullivan's The Pirates of Penzance, which doubly satirises the Victorian notion of 'duty' as both an unthinking convention and a concept which had become a source of duplicitous insincerity, used by the upper classes and political elite to further their own interests.
Today, there seems no hope in the UK that a 'sense of duty' will take precedence over 'worldly interest', when power and position depend on cronyism and the latest opinion poll, the Ministerial Code designed to uphold standards in public life depends on prime ministerial whim, and commitment to civic duty is a vague notion submerged by overweening ambition and egotism. So, at a time when Premier League footballers give Prime Ministers object lessons in social responsibility and moral conscience, the Gilbertian wit of The Pirates of Penzance – with its ethically minded buccaneers whose maxim is "Always act in accordance with the dictates of your conscience" – might seem to lend itself to some modern re-orientation.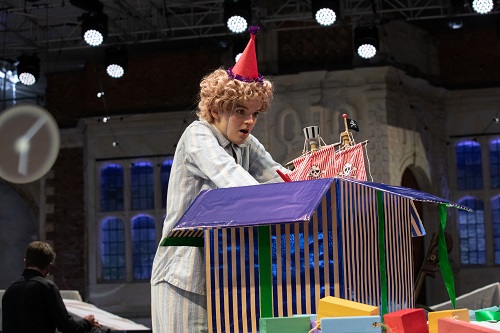 John Savournin takes a gentler, more genial directorial approach at Opera Holland Park (a co-production with Charles Court Opera), in which Savournin also plays the Pirate King – more debonair gallant than swaggering swashbuckler on this occasion. It's true that the satire of Pirates is perhaps less acidic than some of W.S. Gilbert's other hypocrisy-skewering libretti, but at first glance it seems a pity to overlook the elements that are ripe for contemporary plundering: not least the depiction of the piratical 'noblemen who have gone wrong', but who as true Englishmen, are moved to dispense with their honourable notions of justice and truth because of their love for their 'House of Peers' and, that ultimate symbol of all that is British, the Queen.
However, if OHP's Pirates is more fairy tale than political fable, its story one of bold primary colours rather than shades of grey, then it's also a story told true and clear, with a cheerful spring in its step. The overture-medley serves to introduce a pyjama-ed child (Alys Roberts), awakening to discover a trunk containing a panoply of birthday presents – a wooden pirate-ship that surfs the musical wave crests, a box of Scrabble, some Lego bricks, and a picture-book of derring-do adventures. From such treasure chests climb a helmeted British bobby – straight out of the BBC's 1960s children's classic, Trumpton – and a clockwork Major-General with an outsize key prominently puncturing the back of his scarlet mess jack.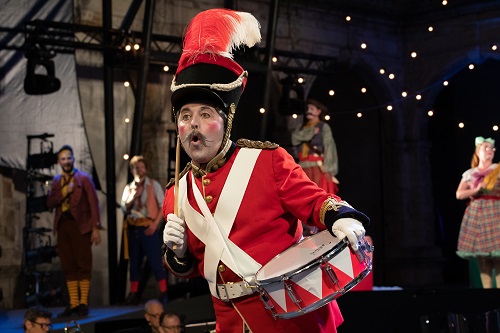 The topsy-turvydom served up by Savournin and the neat-and-dapper cast – skilfully rehearsed by choreographer David Hulston – serves the ridiculous rather than the revolutionary. And, it does so in a manner notable for its exactitude, clarity and elegance. The reductio ad absurdum is made as clear and simple as the light of day: after all, it's just play-acting – as the arrival of the screen-bill painter at the start, and the protagonists' retreat to the dressing-up chests at the close, confirm. The imagination reigns: there is no need for literal impressions of a rocky seashore on the coast of Cornwall or a ruined chapel lit by the moon. Less is more, and the two-dimensional can infer. Designer Rachel Szmukler and lighting designer Jake Wiltshire do much with the basics: colour, shape, gesture, suggestion more than suffice. The minimalism is both artful and artless: the mock-serious air is maintained, and the cardboard cut-outs have moments of flesh-and-blood realism. In the pit, conductor David Eaton keeps things moving along smoothly and sympathetically.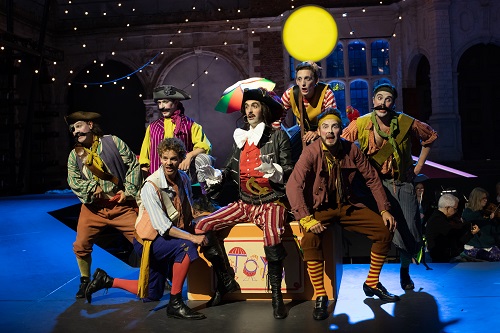 So, even if a little more of the subversive carnivalesque to coax some cultural commentary out of Gilbert's subtleties and Sullivan's faux coyness might have been welcome, one could not fault the ship-shape fluency of the performance of the soloists and ensemble. Savournin's theatrical nous served him well as the Pirate King, and his bass-baritone comfortably reached the heights of his introductory aria as well as tinging the bottom with a nice gleam of darkness. Initially, I felt that Savournin exaggerated the twang of the Pirate King's accent, making it a little difficult to tune into the spoken dialogue – in fact, nearly all the cast struggled to get the spoken words across, so perhaps some discreet amplification would have been helpful? – but as events proceeded the nobility of the corsair caption shone through. And, his lively seafarers, including a fine-voiced Frederick Long as Lieutenant Samuel, were definitely a sincere bunch, resorting to "piracee with a little burglaree" only to avenge the Major-General's deceit in exploiting their repository of sympathy for orphans with his fabricated daughter-saving biography.
Richard Burkhard was indeed the very 'model' of a 'Modern Major-General', his toy-town steps stuttering, his fitness for military leadership questionable, but a sympathetic figure – wandering forlornly and fearfully in his pyjamas, clutching his teddy-bear – nonetheless.  Jerkily jiggered this wind-up Major-General's movements may have been, but Burkhard whipped through the tongue-tying, esoteric imagery of the rhyming couplets – "I quote in elegiacs all the crimes of Heliogabalus,/ In conics I can floor peculiarities parabolous" – with breezy nonchalance, singing not reciting, and with not a syllable swallowed.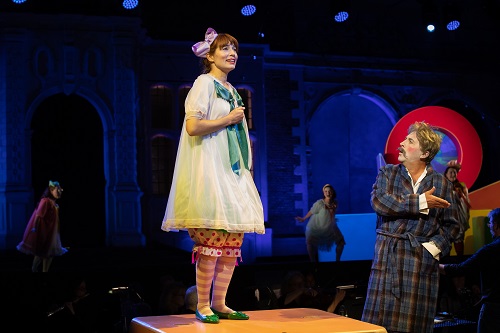 Daisy Brown's Mabel was as optimistic and self-assured as Brown's soprano was bright and strong. She relished Sullivan's Donizettian parody and the coloratura excesses of her entrance aria, 'Poor wandering one'. As Frederic, Peter Kirk displayed an even, warm tenor – particularly advantageous and engaging in 'Oh is there not one maiden breast' – and if the youthful lad seemed a bit dull that's surely because the eponymous slave of duty is representative of Victorian convention and conformity, accepting that his apprenticeship was an unfortunately outcome of his nursemaid's deafness (pilot/pirate?) and that his betrothal must extend almost into his dotage because of his leap-year origins which stunt his 'calendar growth'. The beloveds' duet, 'Ah, leave me not to pine', was lovely, a touching moment of genuine depth of feeling and a fleeting step into a credible world.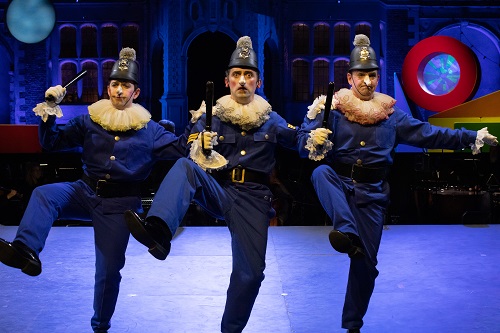 Trevor Eliot Bowes was a charmingly perplexed Sergeant of Police, inflecting the vocal line in an understated but meaningful way as it sank low as he lamented the unhappy lot of the policeman, forced to reluctantly arrest offenders for whom he has a surprisingly 'modern' sympathy. He was joined by two cowardly colleagues from the OHP Chorus in 'When the foeman bares his steel', to declare their collective preference for life over glory and their aim to hide from rather than help the law.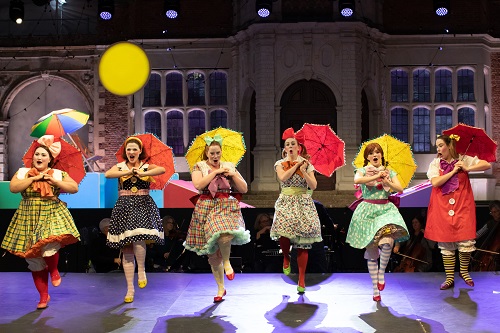 The Major's daughters – Lotte Betts-Dean (Isabel), Alys Meredid Roberts (Edith) and Sophie Dicks (Kate) – had clearly inherited a well-drilled military manner, swirling their parasols with the pertness and precision of Tiller Girls. They milked the theatricality and faux innocence of the text and shone vocally, especially in their entrance aria, 'Climbing over rocky mountain'. Yvonne Howard's Ruth had a touch of Sue Pollard's Hi-de-Hi! Peggy about her, and inspired similar affection and sympathy, though she struggled to project at times.
In sum, if this production lacked a sharp scalpel, then it had charm in spades. And, maybe, today's politicians have out-paced satire? Perhaps what we need is not irony and invective but entertainment and enchantment, and there has certainly been plenty of the latter at Opera Holland Park this season.
Claire Seymour
Major-General Stanley – Richard Burkhard, The Pirate King – John Savournin, Samuel – Frederick Long, Frederic – Peter Kirk, Sergeant of Police – Trevor Eliot Bowes, Mabel – Daisy Brown, Edith – Alys Roberts, Kate – Sophie Dicks, Isabel – Lotte Betts-Dean, Ruth – Yvonne Howard; Director – John Savournin, Conductor – David Eaton, Designer – Rachel Szmukler, Lighting Designer – Jake Wiltshire, Choreographer – David Hulston, City of London Sinfonia, Opera Holland Park Chorus.
Opera Holland Park, London; Saturday 7th August 2021.
ABOVE: John Savournin (c) Ali Wright