Beginning in 1957, the venerable Santa Fe Opera festival embarked on an ambitious journey that included presenting world premieres, in which series this summer's The Lord of Cries is the seventeenth.
SFO commissioned this new piece from composer John Corigliano and librettist Mark Adamo, ensuring it would have a laudable high-profile pedigree. Together with many stellar compositions Mr. Corigliano is highly celebrated for his first (and only other) opera, The Ghosts of Versailles; while Mr. Adamo numbers among his successful compositions, a well-traveled and much-admired version of Little Women.
The pair chose as their inspiration a Gothic novel (Bram Stoker's Dracula) and a Greek tragedy (Euripides' The Bacchae). While we are at least passing familiar with the first, Euripides' masterpiece is far less widely known. In it, Dionysus utterly destroys Thebes for not acknowledging him as a deity. In The Lord of Cries, the vengeful god descends on Victorian London, intent on doing the same.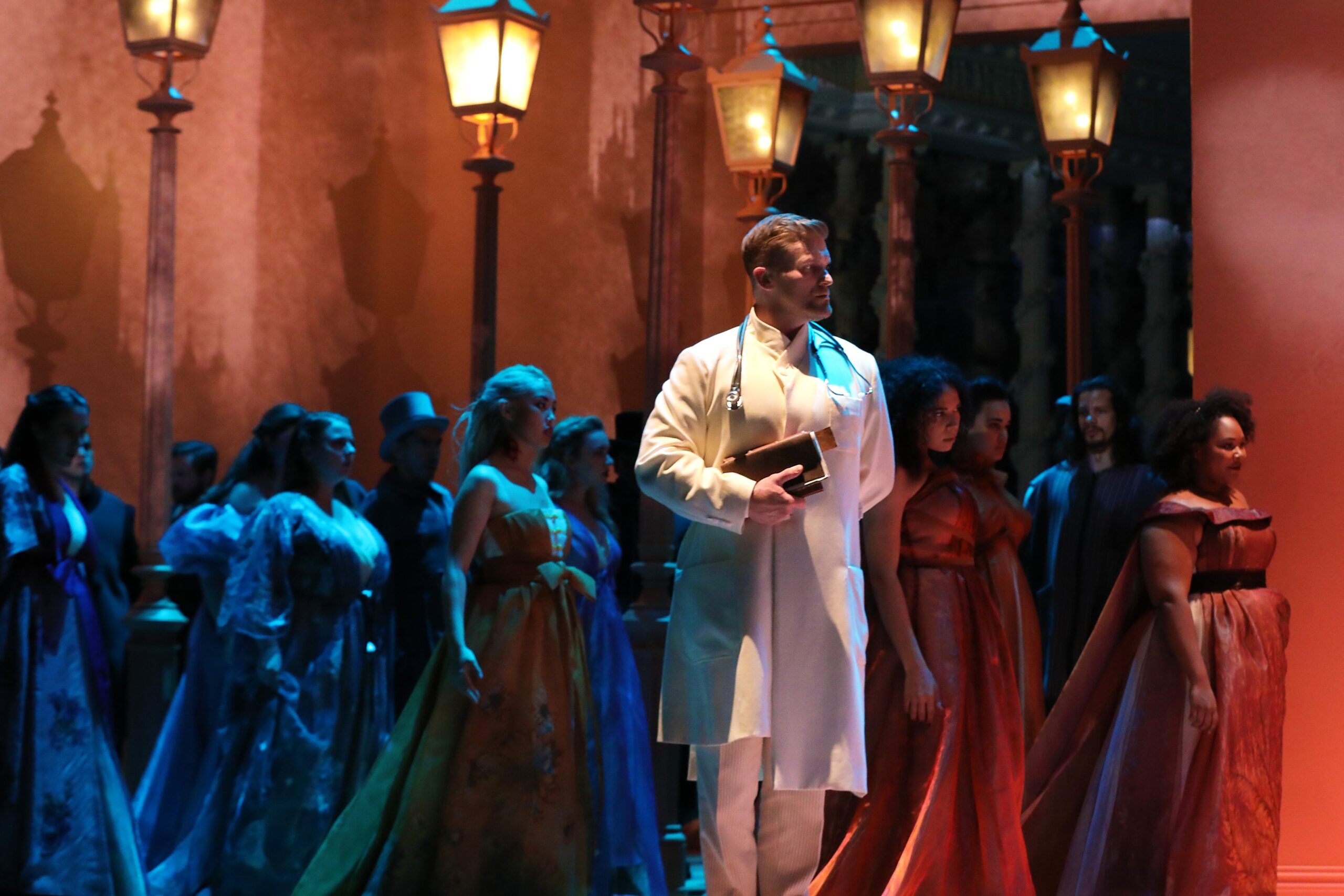 I this mash-up, Dionysus concentrates his attention on the straight-as-an-arrow Jon Seward, a doctor who heads a mental hospital. Seward suppresses his feelings for Lucy Harker, who is married to his best friend Jonathan Harker, who is in fact institutionalized in Seward's asylum. The opera explores the dire consequences when characters give in to buried feelings and fail to acknowledge forces (evil or good) larger than themselves.
If this sounds like the grist for passionate conflicts and outsized sentiments, you would get no argument here. In reality, the resulting opera bypassed a number of opportunities for emotional resonance and for this viewer at least, contented itself with rather cerebral musings. In spite of some handsome writing, wrenching musical effects, and powerful performances, Act One was particularly two-dimensional.
An overused device of reciting/reading long passages from news stories, diaries, a ship's log, and other documents works against engagement of the characters, with us, or with each other. Rather than showing us operatic scaled calamitous doings wrought by perilous choices, we are merely "told" how bad they were. The much shorter Act Two improved in focus and depth of feeling but by then it was really a case of too little too late.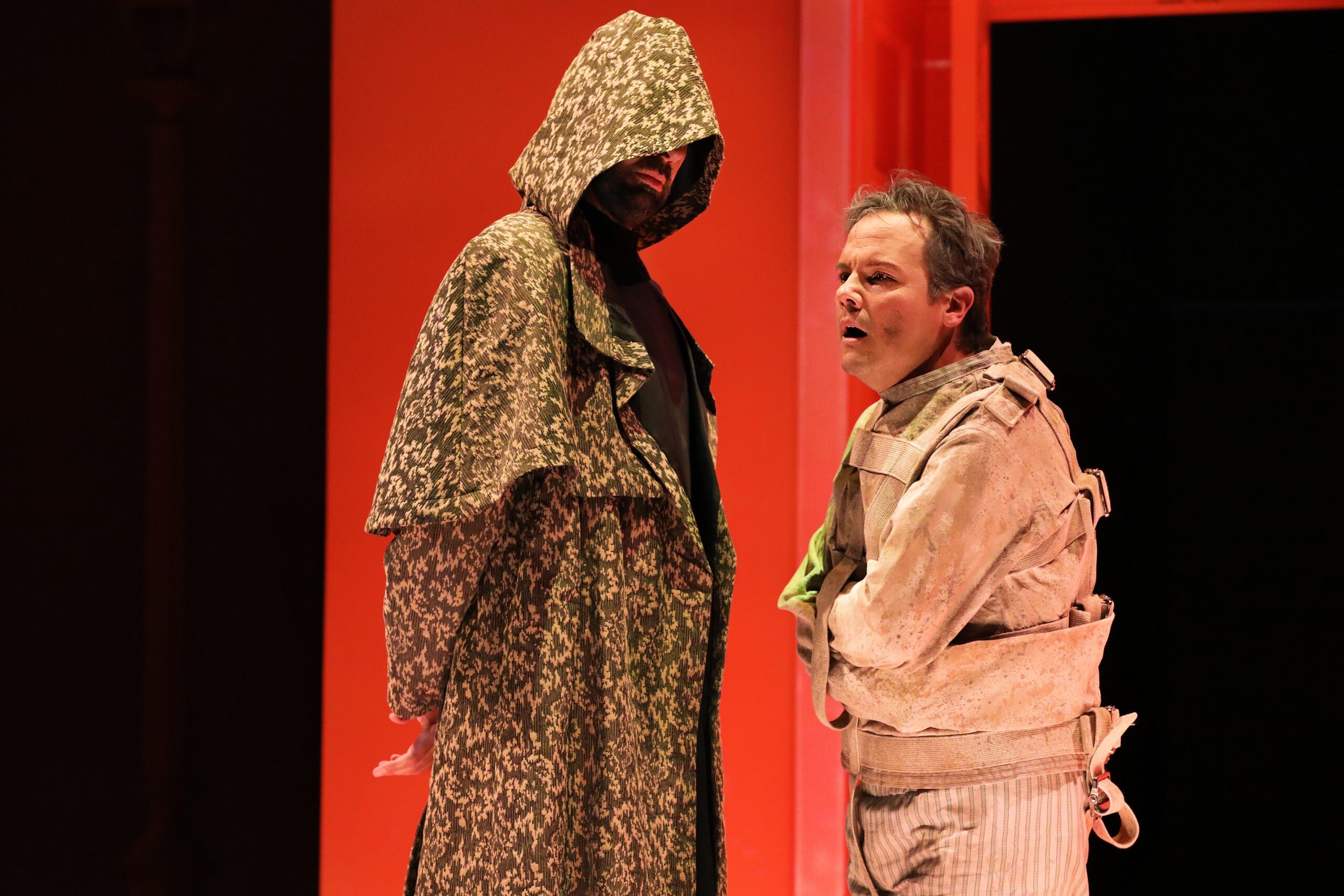 Among his many musical gifts, Corigliano is a master of orchestration. Anyone familiar with Versailles knows that that score requires a very large band with every instrument but the kitchen sink. Well, that sink may have made it into the pit for The Lord of Cries. The colorful and diverse instrumental combinations result in a number of astonishing and potent aural effects. The percussion parts alone call for five players to perform on thirty plus various instruments.
The composer tempers frequent dissonances with an underlying tonality to which he can deftly retreat at key moments. The superb choral work, tutored by Susanne Sheston, provided some of the most thrilling passages of the night. From barking unison incantations over throbbing drumbeats early on, to the maddening layered intricacies tumbling over each other in the bacchanal, until finally intoning a harmonious lamentation at evening's end, this splendid chorus was one of the production's chief glories. Another was the thoroughly accomplished group of musicians that comprise the SFO orchestra.
I cannot imagine any conductor making a better case for this knotty, challenging opera than the inordinately talented Johannes Debus. Maestro Debus was in total control from first downbeat to final cutoff. Watching him negotiate the amassed forces through the complicated finale of Act One, giving signals, cueing entrances, holding up certain numbers of fingers when going got complicated, was a master class in detailed musical precision. Should he ever step down from the podium, he could get a job as an air traffic controller at O'Hare.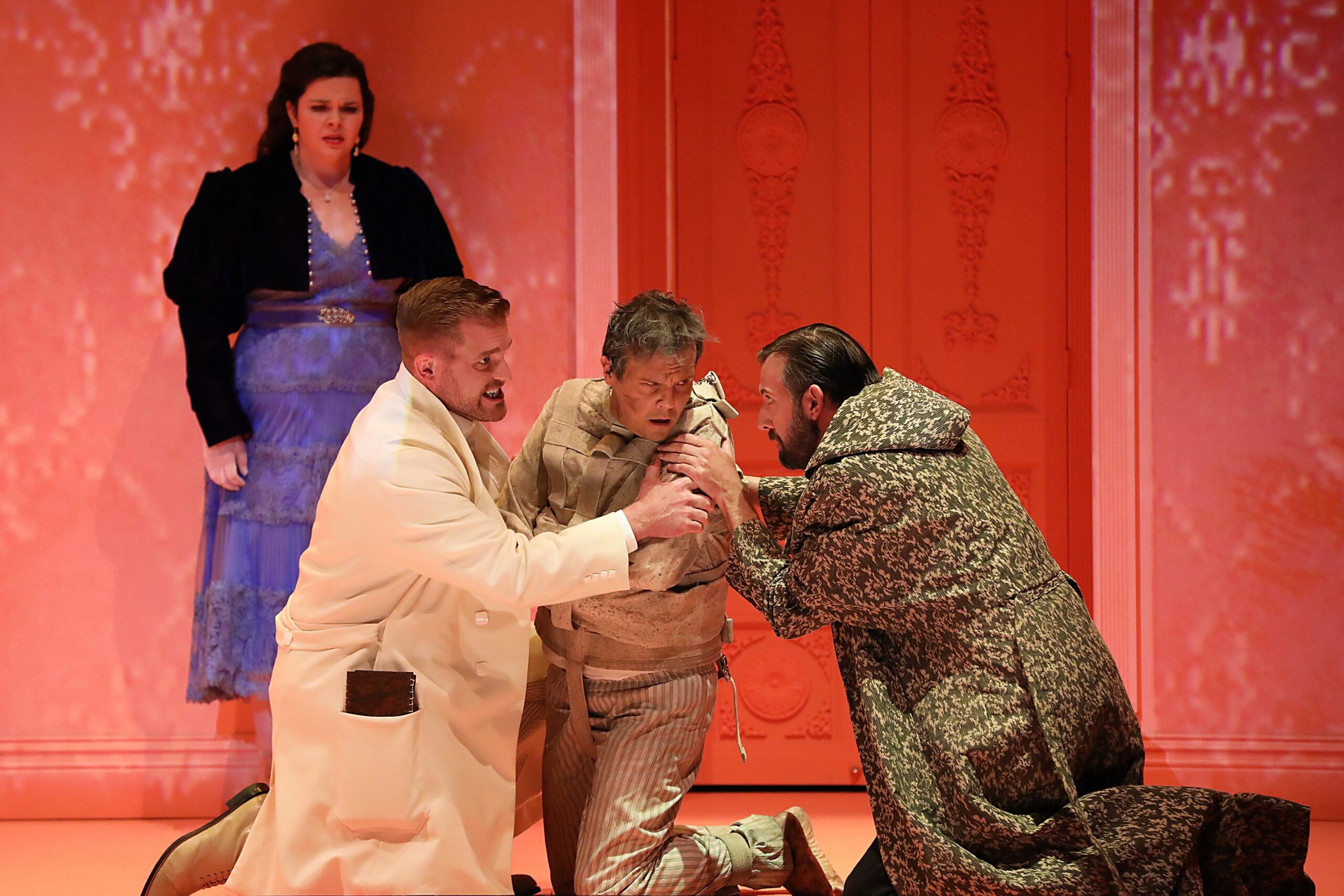 As Seward, Jarrett Ott is surely one of the finest, most stylish young baritones performing today. Handsome of voice and face, his malleable, burnished tone commanded the stage, whether exploding in full-voiced abandon or limning more intimate phrases with flexibility and varied color. A few years back I first encountered him on stage, creating a distinctive Curly in Oklahoma! If he could do that with that over familiar stock character, I told myself this guy would make it in the business. Well, he has arrived. If Jarrett weren't already a star, this stunning performance would seal the deal.
Dionysus was written for the specific and spectacular gifts of Anthony Roth Costanza, making his SFO debut. Mr. Costanza does not disappoint, deploying his warm countertenor with assurance and purpose. In addition to extensive pages mostly in the treble clef, the composer calls upon him to make several jarring momentary forays into baritone territory with searing results. Anthony's appealing instrument almost works against the nefarious intent of the character, but he is such an accomplished stage creature that he compensates with barely controlled menace.
The total surprise for me was the astonishing result that David Portillo achieved with the character of Jonathan Harker. I was familiar with the high quality of his enjoyable tenor, but nothing could have prepared me for the savage commitment and depth of despair summoned up by this usually genial, button-cute, angelic persona. In an extended mad-scene-cum-aria, Mr. Portillo weeps, gulps, coughs, rasps, and gasps with unhinged variety, in between singing other passages with poised lyrical beauty. His was the opera's most sympathetic and triumphant solo performance.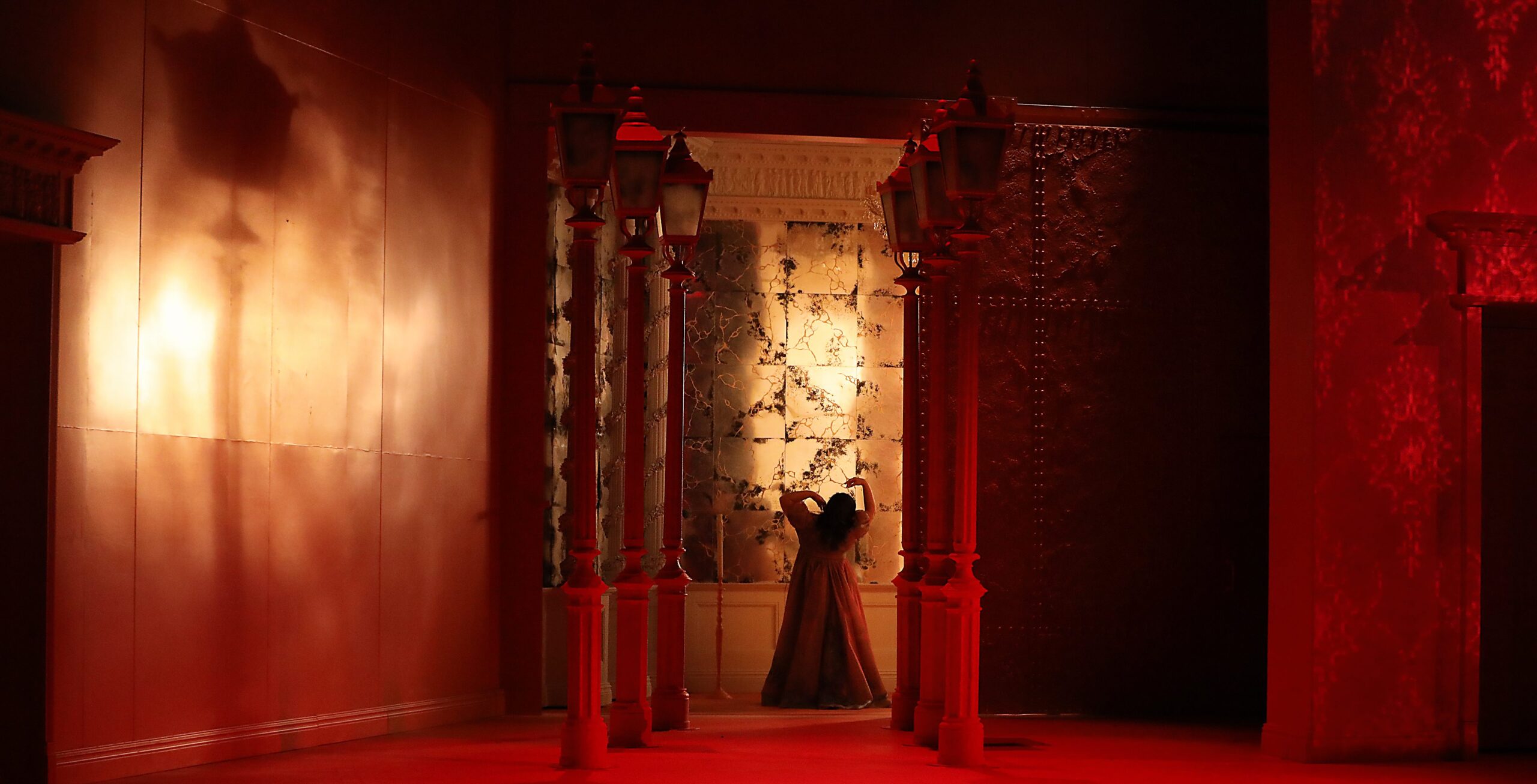 Apprentice Singer Kathryn Henry was covering the role of Lucy Harker, until rather late in the process when she assumed the part outright. Ms. Henry successfully holds her own among her seasoned castmates, her crystalline, supple soprano shimmering with heartfelt phrasings. Her voice is even throughout the range, and in her aria (yes, there are definable arias) she displays an upper register of considerable sheen and amplitude.
The redoubtable bass Kevin Burdette declaims the Correspondent's numerous narrative proclamations with fine diction and coloration but I wish he had sung them instead. Matt Boehler does get to regale us with his rich, rolling bass as Van Helsing, but had too little material with which to create much of a character. Robert Stahley contributed a well sung Captain, his meaty, ringing tenor a momentary force of great satisfaction. As "the three weird sisters," sopranos Leah Brzyski and Rachel Blaustein, and mezzo-soprano Megan Moore sang their difficult passages with admirable control and grace.
Director James Darrah was making his SFO debut, and for the most part moved his forces about the stage with ease and meaning. The lack of depth or detail in character relationships is not his fault, but I still think more connections might have been created. Too often the cast sang at each other than to each other (and us). Although the basic walled set design by Adam Rigg first seemed a rather simple affair, Adam Larsen's terrific projection design used Rigg's blank canvas to wow us with some awesome imagery.
Costume Designer Chrisi Karvonides-Dashenko's straight forward Victorian attire was eclipsed by the superb supernatural and phantasmagorical get-ups created for Dionysus and his tribe. Brilliant! Similar to recent operas by John Adams and Mason Bates that were on view at SFO, John Corigliano's opus incorporates amplification. If this sounds antithetical to the usual practices of the art form, it was reassuring that Mark Grey managed a tastefully subtle sound design that was almost imperceptible.
Having such admiration for Messrs. Corigliano and Adamo, I came to The Lord of the Cries, wanting to love it. It is no small feat giving a new work legs. I certainly greatly admired the attempt. But while there is a profusion of topnotch talent involved in every moment of this production, and many individual things to recommend it, in its current form it is a promising work in progress.
James Sohre
The Lord of Cries
Music by John Corigliano
Libretto by Mark Adamo
Dionysus: Anthony Roth Constanzo; Correspondent: Kevin Burdette; Agave: Leah Brzyski; Autonone: Rachel Blaustein; Ino: Megan Moore; Jonathan Harker: David Portillo; Van Helsing: Matt Boehler; Jon Seward: Jarett Ott; Lucy Harker: Kathryn Henry; Captain: Robert Stahley; Conductor: Johannes Debus; Director: James Darrah; Set Design: Adam Rigg; Costume Design: Chrisi Karvonides-Dushenko; Lighting Design: Pablo Santiago; Projection Design: Adam Larsen; Sound design: Mark Grey; Chorus Master: Susanne Sheston
Above: Anthony Roth Costanzo (Dionysus). Photo Credit: Curtis Brown for the Santa Fe Opera, 2021