There's a degree of inevitability that a composer who has made numerous contributions to the repertoire for church and cathedral choirs spanning some fifty years might want to add a Requiem to their portfolio. This Requiem, one not entirely new, was first performed on All Souls Day 2008 by the Chapel Choir of Magdalen College, Oxford. Originally conceived for harp and organ, it was commissioned to mark the 550th anniversary of the College's foundation. The chamber orchestra version recorded here brings together the combined choirs of Jesus College, Cambridge (performing in term-time as separate choirs of boys and girls' voices supported by one group of choral scholars) with the Britten Sinfonia. They are directed by Richard Pinel, a former organ scholar of Magdalen College for which august body Ives had been the Informator Choristarum (Musical Director) for eighteen years from 1991.
Considering the extensive back catalogue of this composer's work dating back to his first published composition in 1973 (Listen sweet dove), it is a shame that Signum decided not to include a handful of Ives's earlier works which would have expanded this disc beyond its parsimonious 42 minutes. However, the Requiem is an engaging work, obligingly scored for a choir, tenor soloist and chamber orchestra comprising strings, single woodwind (without oboe), pairs of horns and trumpets, timpani, percussion, harp and organ. No great demands are made on players or singers, neither does the work pose any difficulties for listeners, its easy-on-the-ear style rooted in Anglican choral tradition. As the composer comments in the disc's accompanying booklet the Requiem is 'the distillation of a lifetime in music'.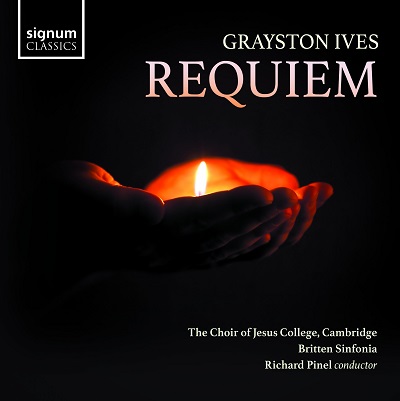 That's all well and good, but less gratifying is the absence of any obviously identifiable musical personality. Perhaps Ives's thorough absorption of an A-Z of English composers from the last seventy or more years generates a somewhat characterless amalgamation resulting in a stylistic anonymity. The work is, however, not without craftsmanship or melodic attraction. Splashes of colour from solo flute, horn and violin intermittently catch the ear and provide relief from the music's comforting surface. Its general tone of restraint is tempered by occasional bursts of energy such as febrile strings and scurrying woodwind that give distinction to the 'Sanctus', or the snarling brass colouring the 'Libera Me'. At least these passages, along with Ronan Busfield's brief, and impressively rendered tenor solo in 'O Domine, Jesu Christe', provide a welcome contrast from the plainsong-like contours built from succinct phrases.
The 'Introit- Kyrie'opens with the strikingly intimate sounds of finger cymbals and arpeggiated harp, both heralding a pleasing initial motific idea shaped with a satisfying economy of means. Reassuringly warm choral tone suits the gently rising phrases of the 'Introit', although there is some slight strain in the pleas for mercy in the 'Kyrie' when upper voices rise above the stave. A more prayerful tone occupies the outer sections of 'O Domine, Jesu Christe', and the choir's urgent petitions for deliverance from the fires of hell are suitably heartfelt. There's mounting excitement in the 'Sanctus', the choir responding with energy and clarity to its the clipped phrase patterns and repeated 'Osannas'. Less convincing are the terse lines of the unaccompanied 'Benedictus' which search for a resolution that never quite materialises.
Hints of eternal peace inhabit the beautifully sung 'Pie Jesu', where a beguiling violin solo adds to its serenity and other worldliness. A quietly brooding 'Agnus Dei' finds emotional release in a sunlit 'Lux Aeterna' where harp, strings and glowing voices reprise earlier material. The declamatory opening to the 'Libera me, Domine' signals a suspense-filled movement, the last judgement intensely conveyed, while voices float seraphically for 'In Paradisum', the afterlife bringing reminiscences of the 'Introit' with haunting finger cymbals.
At times the singing needs to be more vividly focused, especially from lower voices who appear to be microphone-shy. That said, this Requiem is an attractive and directly communicative work, a most agreeable addition to the repertoire, providing a refreshing alternative to its better- known counterparts.
David Truslove
The Choir of Jesus College, Cambridge, Britten Sinfonia, Richard Pinel (conductor)
Grayston Ives – Requiem Signum SIGCD682 [42.48]
ABOVE: Grayston Ives