Located in one of Sheffield's oldest industrial districts, Kelham Island Museum stands on a man-made island, the result of 12th-century engineering when a goit, or mill race, was constructed diverting water from the River don to power a corn mill belonging to the Lord of the Manor. The island is thought to have been named after the Town Armourer, Kellam Homer, who owned a grinding workshop on the neighbouring mill race in 1637. In the city's Victorian heyday, the water fed the wheels powering the workshops and foundries of Sheffield's steel makers. Following post-war industrial decline, the island has been regenerated and today, nestled amid new apartments, the remains of the cutlery factories house shopping arcades, microbreweries and galleries.
Kelham Island Museum, with its iconic Bessemer Converter and Europe's largest working steam engine on display, is a proud emblem of Sheffield's industrial past. It might seem an unlikely location for opera, but, on a summer Sunday earlier this month, the Museum's Courtyard proved a blithe if blustery venue for Opera on Location's new adaptation of Debussy's 1884 Prix de Rome winner, L'enfant prodigue.
Strictly speaking L'enfant prodigue isn't an opera at all, but a cantata setting Édouard Guinand's rendering of the familiar biblical tale, though stagings of the 35-minute work are not uncommon. It was Debussy's third attempt to win the Prix de Rome competition. The composer completed the cantata in just three weeks, as the Prix rules required. He performed it at the piano for the jury at the Institut de France on 7th June 1884, and it received its first performance in Paris twenty days later, with soloists soprano Rose Caron (Lia), tenor Ernest Van Dyck (Azaël), and baritone Émile-Alexandre Taskin (Siméon). Though Debussy later disparaged the Prix de Rome as 'a game, or rather a national sport', he took the trouble to revise and orchestrate L'enfant prodigue in 1907-08, with the help of the composer-conductor André Caplet, and the score – then termed a scène lyrique – was published by Durand. Serendipitously, the premiere of this orchestrated version received its world premiere as part of the Sheffield Music Festival in 1908, conducted by Sir Henry Wood.
Opera on Location was formed in 2013 with a straightforward aim: 'to perform exciting site-specific opera'. Performances are sung in English and at the Kelham Island Museum director Ashley Pearson's modernised libretto for The Prodigal Son was presented in newly orchestrated version by the Sheffield-based arranger George Morton, which dispensed with the original large choral and orchestral forces in favour of a more pragmatic ten-piece ensemble. The production was made available to stream online from 23rd August.
I confess that I did wonder how Morton would translate Debussy's 'pseudo-exotic' colourings – which draw on the conventions established by Russian composers such as Rimsky-Korsakov and Balakirev, and which locate the action in the ancient Middle East – with just ten instrumentalists at his disposal, but the orchestral Prélude confirmed that the ambient modality and exotic arabesques would be beautifully conveyed by the instrumental ensemble. And, the Opera on Location technical team have done a sterling job. Moreover, the sensuous Romanticism redolent of Massenet and Delibes – deliberately more conservative than the style employed by Debussy in the two works which had not won the Prix – is captured by some very fine solo horn playing from Jenny Cox. And, conductor Juliane Gallant is deft at negotiating the fluctuating timbres and moods.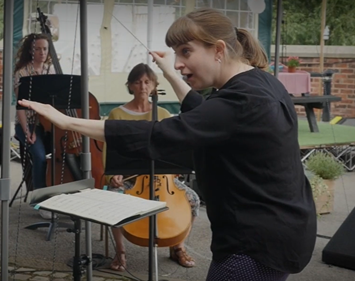 Less persuasive is Pearson's modernisation, not least as gold balloons, smoking barbecues and garden marquees don't fit comfortably with Debussy's perfumed luxuriance.  During the Prélude, Thomas D Hopkinson's Siméon cheerfully gets the garden ready for Lia's 50th party, festooning balloons as Pimms jug and flowerpot secure the gingham table-cloth against the assault of a stiff summer breeze.  The modernisation does not always respect the parabolic moral: there is little sense that Azaël has dishonoured his father by asking for, and then squandering, his inheritance while his father is still alive; nor, of the prodigal's guilt and repentance; or of Siméon's need to appeal to God to guide his response when his younger son returns.  The 'Cortège et Air de danse' is evocatively rendered by gentle flute and lush strings, as Siméon hunts for the burger buns and Lia half-heartedly shreds a lettuce: a rather mundane preparation for Azaël's tortured arrival at the family home.
The English text also lacks both a biblical timelessness and French fluidity. Phrases such as Lia's pained memory, "I used to watch him play with his crayons", don't seem suited to Debussy's lyrical flights; and, the returning Azaël's "Look at me … I'm not so far away" feels a long way from the words of the lost son, rendered unconscious by despair and guilt, when his mother lifts up his head: "Dans mon sein un rayon est entré! Un voile moins épais obscurcit ma paupière, Qui m'appelle?" (To my heart a ray of hope has come: Darkness and shades of death pass from my heavy eyelids. Someone called me!). That said, elsewhere there are some effective couplets, and the text generally doesn't draw too much attention to itself.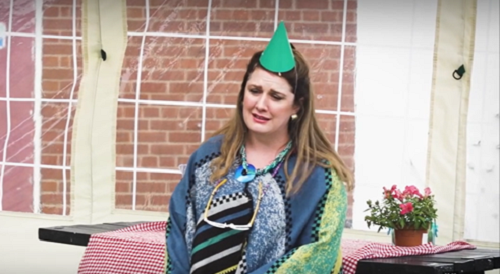 And, there are many musical compensations, not least the shining singing of soprano Andrea Tweedale, whose opening aria movingly conveys Lia's heartfelt sadness at Azaël's absence, and her role in his departure. Tweedale's voice is clear and true, the diction excellent, and frissons of both pain and rapture ripple through the vocal line at the expressive peaks. Her cries, "Azaël!", burn with a mother's grief; during her memories of her son's childhood, the present is pushed aside by the energy and brightness of the past.
Tenor Gareth Lloyd – a co-founder and Artistic Director of Opera on Location – struggles to find the vocal relaxation and nuance required if the vocal line is to complement the very French inflections of the instrumental accompaniment.  It may not be Lloyd's fault that at times the declamation feels a little flat-footed: "Ah, I can almost taste that perfect home-cooked meal" lacks a certain Gallic tint, and the vowels at climactic, rising phrase endings are not always sympathetic to the voice – "I know her silence was also to blame", "you can't pretend that you never meant".  But, Lloyd has good intonation, a pleasing tone, and can reliably reach the top, without undue effort.  Qualities not to be under-appreciated.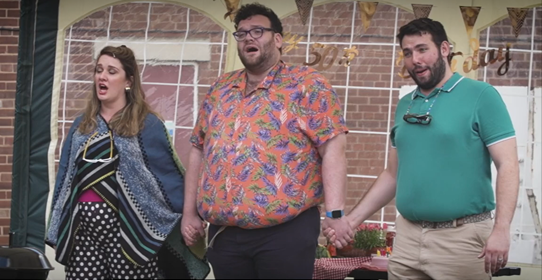 In the latter part of the cantata, the only familiar number, the 'Air de Lia', rears its head, and Tweedale sings with vibrancy and a reverential passion equal to the heroines of Gounod and Massenet. Debussy flags a bit at the close, but Hopkinson's focused, agile baritone does much to make the ending a convincing reunion. I'm not sure the candle-sparkler on the birthday cake adds much to the redemptive power of the closing trio, which is, nevertheless, sung with stirring strength.
Overall, Opera on Location's film of the company's 2021 production of Debussy's L'enfant prodigue offers an opportunity to enjoy an infrequently programmed work, sung with commitment and played with discernment.
Claire Seymour
Opera on Location: Debussy, The Prodigal Son
Lia – Andrea Tweedale, Azaël – Gareth Lloyd, Siméon – Thomas D Hopkinson; Director – Ashley Pearson, Conductor – Juliane Gallant.
Performed in Kelham Island Museum Courtyard, 15th August 2021; available to stream from 23rd August 2021.