'Being in love is a complicated matter; although anyone who is prepared to pretend that love is a simple, straightforward business is always in a strong position for making conquests'. So begins the third chapter of Anthony Powell's novel A Question of Upbringing. But there's nothing simple or straightforward in the powerful emotions that give Tchaikovsky's tragic masterpiece a special place in the operatic repertoire.
Based on Alexander Pushkin's 1833 novel-in-verse concerning the ill-fated love of Tatyana Larina and the eponymous antihero, Eugene Onegin is, oddly, a love story without seemingly much love. Yet it explores, amongst its various ideas, themes of duty and friendship, and the overwhelming force of love. Tchaikovsky, like Pushkin, might have named his opera after its title character, but this production overseen by veteran stage director by John Ramster makes clear that the psychodrama belongs as much to Onegin as its heroine. Indeed, the composer acknowledged the work's novel aspect when he declared 'let my opera be undramatic, let it have little action – but I am in love with the image of Tatyana'.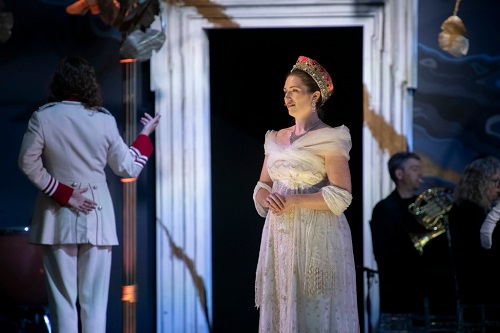 Onegin can be presented with the minimum of means and on the smallest of scales. This scaled down production with Richard Studer's economical designs – the stage occupied by half a dozen trees – and Adrian Linford's period costumes allows one to observe without distraction the personal dramas of the main characters and their various emotional crises. Of course, within the natural setting of West Green House with its stage perched on an island in the middle of the garden's lake, nothing could better convey Madame Larina's country estate where much of the action occurs. As a means of circumnavigating the safety issues caused by Covid 19, this staging is brilliantly conceived. No country house opera festival has yet to surpass the magic conjured at West Green. And the appearance of a solitary swan gliding around the lake brought a wonderful conjunction of nature and artifice.
Singing and playing across seventy odd yards of water to an audience positioned in four marquees might have presented problems to less experienced sound technicians. Here potential challenges were brilliantly overcome by Griff Hewis and Phil Wood who ensured voices were projected cleanly and without any musically ruinous glitches. If this caused a certain evenness of dynamic from orchestra and voices, that's a small price to pay for what was an enthralling evening.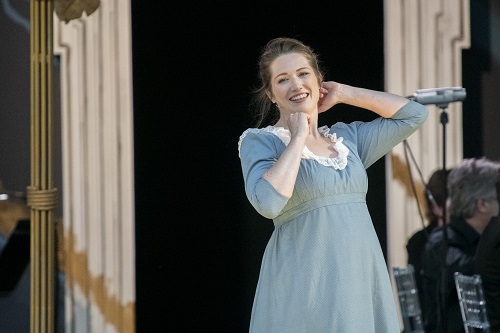 There was much to enjoy from a mostly young cast with its blend of promise and experience. In a powder-blue dress, Jenny Stafford's Tatyana was a credible traversal of self-absorbed bibliophile through to society beauty, dignity and duty amply realised. In between, came an arresting dream sequence at the close of Act One where there was no doubting her arousal as she imagined her first sexual encounter with Onegin. Hers is a clear and silvery soprano voice, and in time she will discover more expressive power and tonal variety for the celebrated letter aria. More compelling was the emotional charge she brought to the closing duet with Nicholas Lester's Onegin, now vocally unrestrained and glowing with suppressed ardour.
Lester was a model of restraint, drawing the eye as much as the ear for his smouldering good looks and velvet baritone. Suave rather than cold, polite to the point of amiability with little of the jaded aristocrat, his voice entranced across each act and, came into its own in the final scene as the impassioned lover.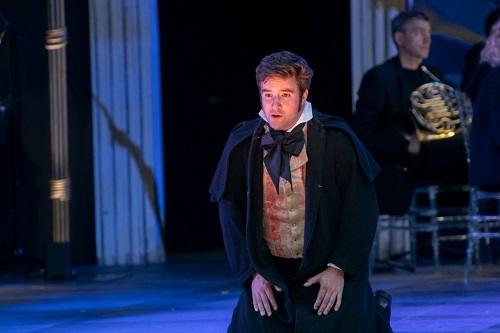 Thomas Elwin as Lensky, 'as different as fire and ice' from Onegin, brought clarion tones and no small degree of self-pity to his Act Two lament. Returning briefly as a ghost in Act 3 after his fatal shooting was a neat touch, although the duel scene itself failed to bring any dramatic spark. Lensky's childhood sweetheart Olga was sung by a rich voiced and suitably vivacious Angharad Lyddon, who found every opportunity to enhance her role.
There were fine performances in the smaller roles, particularly Rhonda Browne as a rich-toned Filipyevna, Jeffrey Lloyd Roberts as a foppishly comic Monsieur Triquet and Julian Close as a noble Prince Gremin. A chorus of six singers and two professional dancers did their best to bring life to the dances, but too often music and movement were poorly matched. It didn't help that Derek Clark's cut down score and reduced string numbers at times diminished any sense of orchestral pizzazz in the ball scenes. At the helm of the West Green House Orchestra Lada Valesova gave efficient, if uninvolving, direction. The real star of the evening was the stunning setting, nestling in its magically lit woodlands.
David Truslove
Madame Larina – Sarah Pring, Filipyevna – Rhonda Browne, Tatyana –Jenny Stafford, Olga – Angharad Lyddon, Lensky – Thomas Elwin, Onegin – Nicholas Lester, Monsieur Triquet –Jeffrey Lloyd Roberts, Prince Gremin – Julian Close; Director –John Ramster, Conductor – Lada Valesova, Designer – Richard Studer, Costumes – Adrian Linford, West Green House Orchestra.
West Green Opera, Sunday 1st August 2021.
ABOVE: Nicholas Lester (c) Jon Hobley