The last time I heard Michael Tippett's The Midsummer Marriage was when I reviewed Graham Vick's 1996 Covent Garden production. Visually spectacular – that vast Stockhausen-like globe, split open temple and its oversized perspective – it also courted with controversy, such as in the predatory hunting of Strephon which certainly struggled then to clarify the uneasy relationship between men and women. Today, the Vick production might seem out of sync with our more modern social values, something which this concert performance, by necessity, entirely avoided.
Edward Gardner had suggested in his opening remarks before the beginning of this performance that what had seemed an inspired idea for his inaugural piece with his new orchestra a couple of years ago now seemed lunacy. In the event, this proved to be entirely unfounded on several levels. One major revelation – or perhaps it wasn't a revelation at all – is a validation that The Midsummer Marriage never really convincingly worked as an opera in the first place. The tension in the work between Tippett's Jungian philosophy and his socialist idealism – the suburbanism of its cast is unusual by any standards – really doesn't make this a dramatic work. Often seen as an equivalent to Mozart's Magic Flute I have often found Tippett's opera to have more demotic elements than Mozart's work and to suffer more from abstract thinking.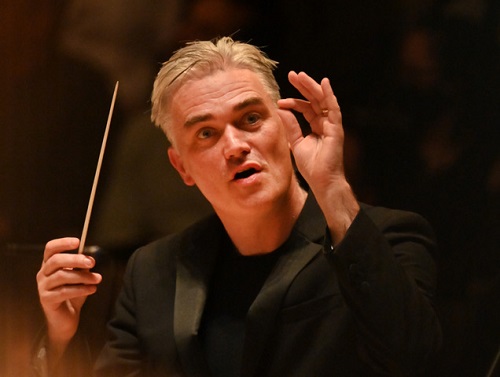 To be understandable – and, more importantly, accessible – opera is largely about the clarity of its libretto and the purity of the language. One didn't have surtitles when The Midsummer Marriage was premiered in 1955 – and yet this opera is amongst the most difficult to convey with any sense of linguistic definition. Joan Sutherland famously struggled with Tippett's libretto at the opera's premiere (you can hear this on the recording). And even the choral writing is extraordinarily complex: "… tremble when the heavy/womb is rent asunder ruthlessly". A quarter of a century makes a world of difference and if there wasn't always an immaculate clarity from all of the cast, the ENO chorus and London Philharmonic Choir were superb, not least because of careful balancing of the voices. For so much of this concert performance Mark and Jenifer's friends weren't lazing around under trees or celebrating after a party they were almost performing the function of a chorus in an oratorio. And it was magnificent.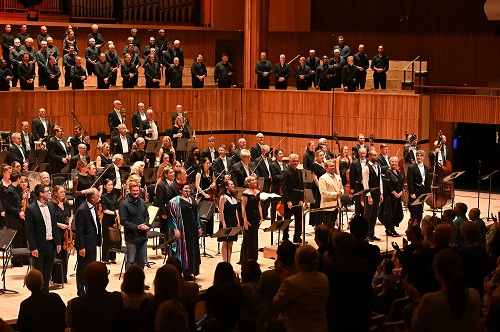 Quite why this performance fell so beautifully into place was almost entirely down to the conductor and the orchestra. My memory of Covent Garden from 1996 is of being distracted from the great revelation of this opera – its score. Away from the opera house, the London Philharmonic brought a sweeping Romanticism to the music which opened up the richness of its lyricism. Tippett doesn't write in long phrases; there is an almost staccato kind of brevity to much of what he composes and yet the glowing warmth of the London Philharmonic's sound, especially in the strings, so demandingly scored by Tippett, and the clarity of the texture that Edward Gardner was able to uncover from them, gave the impression we were hearing much larger vaults of counterpoint than has previously been the case in my experience with this opera. As with the LPO's magnificent concert performance of Tristan und Isolde at the Proms a few weeks ago, the great gift of this orchestra in opera is to bring an imaginative touch to instruments which is deeply inventive, even magical. Juliette Bauser's principal flute, for example, was so haunting, so captivating and full of character, it rather felt as if she was performing a kind of witchcraft on me. Tippett places three Ritual Dances into Act II and these were as virile and descriptive as one could wish for. Purged of any kind of dramatic symbolism or set within the foreground or background of a psychological and metaphysical drama these Ritual Dances became a virtuoso showcase, a ballet within the opera. The playing was incandescent, often bordering on the coruscating. The fourth Ritual Dance, 'Fire in Summer', which Tippett puts towards the end of Act III, can sometimes come off as flat – but that was not the case here.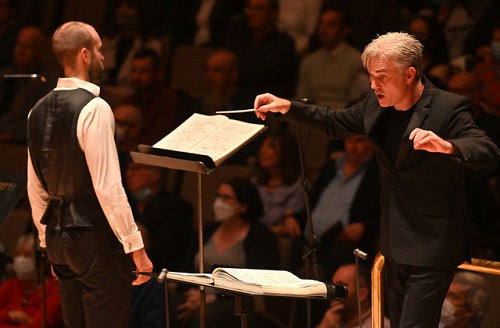 I think most singers probably suffer some sort of 'Sutherland' syndrome with this opera. Tippett had originally wanted T.S. Eliot to write the libretto but, after he declined, he chose to write it himself. As well as being heavy with allusion and having a considerable leaning towards consonance many singers struggle with it. The singing was certainly variable here, though Tippett hardly makes life easy for them. Neither Mark (Robert Murray) nor Jenifer (Rachel Nicholls) are eased into their roles since Tippett immediately pushes them to the top of their register; both Murray and Nicholls were a little uncomfortable but settled into their parts, although I think Bella (Jennifer France) and Jack (Toby Spence) found their roles both easier to manage and could see the Mozartian Papageno/Papagena parallel slightly more clearly than their pre-nuptial opposites. They found some decent humour in their singing, too, whereas I felt Murray and Nicholls often seemed like one of the most mis-matched couples heading for marriage imaginable.
Perhaps the most convincing singing of the evening came from Ashley Riches as King Fisher, a rich, profoundly expressive bass-baritone, with clear diction to match. He brought a sophisticated urbanity and a swagger that because of his debonair looks bordered on the charming. Claire Barnett-Jones' Sosostris was also superb. Her extended aria was a reminder how in a long opera a standout performance can be both a long-time coming and be a small but significant role. Her voice had considerable power, but was controlled and with velvet undertones.
This was an auspicious start to Edward Gardner's tenure as principal conductor of the London Philharmonic. Claudio Abbado once said that the greatest symphony orchestras were those that also play operas. Edward Gardner is an extremely fortunate conductor in that case.
Marc Bridle
Sir Michael Tippett: The Midsummer Marriage (concert performance)
Mark – Robert Murray, Jenifer – Rachel Nicholls, King Fisher – Ashley Riches, Bella – Jennifer France, Jack – Toby Spence, Sosostris – Claire Barnett-Jones, She-Ancient – Susan Bickley, He-Ancient – Joshua Bloom, Dancing Man – John Findon, Half-Tipsy Man – Paul Sheehan, A Man – Robert Winsdale Anderson, A Girl – Sophie Goldrick, Mark and Jennifer's Friends – London Philharmonic Choir & ENO Chorus, Edward Gardner (conductor), London Philharmonic Orchestra.
Royal Festival Hall, London; Saturday 25th September 2021.
ABOVE: Claire Barnett-Jones, Edward Gardner and Ashley Riches (c) Mark Allan