On a recent Sunday evening at Millennium Park Lyric Opera of Chicago presented its annual concert to introduce the new season.
During his initial remarks welcoming audience members to Sunday in the Park with Rising Stars,, General Director Anthony Freud spoke of the welcome return of official performances at Lyric Opera of Chicago. With this spirit of renewal comes also the first season during which Enrique Mazzola will preside at Lyric Opera as its Music Director. Mr. Mazzola will conduct the season's opening performances of Giuseppe Verdi's Macbeth in a new production by Sir David McVicar beginning on 17 September.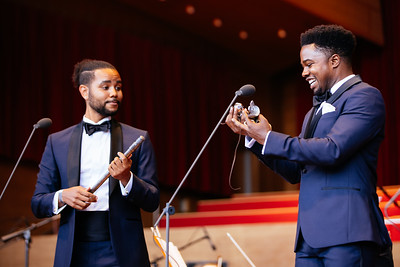 On this evening of performances by members of the Patrick G. and Shirley W. Ryan Opera Center and the Lyric Opera Orchestra Mazzola began the program with a lively performance of the overture to Gioachino Rossini's William Tell. Here the low strings and woodwinds were especially expressive, and transitions proceeded smoothly. At one of these transitions Mazzola yielded the podium to Donald Lee, III, a current member of the Ryan Opera Center. The overture continued with gradually increasing tempos to an exciting close.
In keeping with tradition, many of the scenes and arias in this concert prefigured the works in the Lyric Opera's repertoire for the coming season. The first four selections from Wolfgang Amadeus Mozart's Die Zauberflöte were a well-chosen traversal through vocal as well as dramatic characterization in this popular opera. The three ladies of the Queen of the Night, performed here by Mathilda Edge, Katherine DeYoung, and Kathleen Felty, sang as a committed trio while each maintained a distinct vocal line in individual contributions. During their initial scene with Tamino, sung by Martin Luther Clark, the ladies were balanced as a calming force to ease Tamino's anxious entrance. Mr. Clark's supple tone and yearning pitches make hm a fine choice for Tamino and similar lyrical roles. When joined in the next ensemble by Leroy Davis, Papageno of the evening, the ladies extended their vocal role to chastisement of the bird-catcher, here left unable to verbalize his boasts and fears. Once released from punishment Mr. Davis's resonant baritone shimmered admirably in his lines with Tamino. Likewise, in the following two scenes with Pamina and Papagena, both sung charmingly by Denis Vélez, Mr. Davis's diction and attention to textual nuance were outstanding.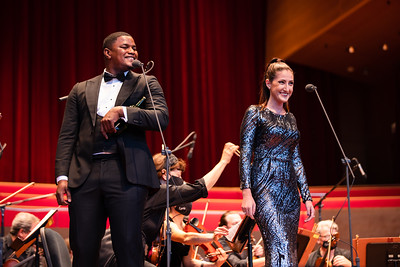 In the single scene from Verdi's Macbeth Anthony Reed performed Banco's solo "Come dal ciel precipita" ["(How the shades of night) descend from the sky"]. Mr. Reed excelled in characterizing Banco's sense of foreboding with deeply effective bass pitches. His innate sese for legato guided the aria forward while rising top notes were sung with a clear, natural approach. The final top pitch on "terror" was sung with chilling urgency as Banco is about to confront his assassins. Mr. Reed's talent will surely be a welcome addition to operatic stages.
With a dramatic duet from Daniel Catán's Florencia en el Amazonas Ms. Vélez and Mr. Clark returned to introduce a work that will be new to the Lyric Opera repertoire stage in the coming season. After a sassy and well-paced rendition by Katherine Beck and pianist Chris Reynolds of Irving Berlin's "I Love a Piano," Mr. Davis sang the moving aria "Peculiar Grace" from Terence Blanchard's Fire Shut up in My Bones, a work to be performed during the winter at Lyric Opera. Mr. Davis's subtle use of piano emphasized the conflicting emotions in the psyche of the protagonist.
In three scenes from Gaetano Donizetti's The Elixir of Love Maria Novella Malfatti and Lunga Eric Hallam performed highlights of the volatile relationship that will come to a happy conclusion in this bel canto masterpiece. The evening concluded with yet more Donizetti, the sextet from Lucia di Lammernoor, and the ensemble "Make Our Garden Grow" from Leonard Bernstein's Candide. Members of the Ryan Opera Center and the Lyric Opera Orchestra under Mr. Mazzola presented through both solo and ensemble performance an entertaining and exciting introduction to a new season.
Salvatore Calomino
All photos © Kyle Flubacker courtesy of the Lyric Opera of Chicago.