Emotionally charged songs by Richard Strauss interleaved with youthful offerings by Alban Berg and Arnold Schoenberg form the basis for Lucy Crowe's first disc with Linn under the title Longing. Renowned for her immersion in Baroque opera, particularly Handel, she is not the first soprano to make a century-crossing leap (think Sandrine Piau) into fin de siècle song repertoire. Judging by her discography this is no sudden shift of allegiance, more a gradual repositioning that has embraced Beethoven's Missa Solemnis, Mendelsohn's Lobgesang and even Martinů's The Epic of Gilgamesh (Supraphon, 2017).
In a disc where Strauss takes the lion's share, Crowe is throwing her hat into much recorded repertoire already featuring illustrious predecessors.  Amongst her choices here are a nimble 'Ständchen' (Anna Tilbrook splendidly agile) and a heart easing 'Morgen'.  She brings intelligent musicianship to five of Strauss's Op.10 settings of Hermann von Gilm, his Acht Gedichte aus Letzte Blätter of 1895.  In 'Nichts', she finds just the right vernal quality, and wonderful poise in 'Die Nacht', the song's intimacy mirrored by her bone china delicacy.  Her rendering of the closing phrase when she fears the night might have stolen her beloved is nothing less than exquisite.  But her controlled demeanour and doesn't sit so well with the rising emotions of 'Zueignung', its passion held in check and its climax just missing that waves-crashing-over-rocks effect.  There's something rather monochrome too about 'Die Georgine' and 'Allerseelen', despite Tilbrook's sensitive accompanying.  Overall, she fashions chaste, unsentimental performances that succeed when not pushing the voice into areas beyond her comfort zone.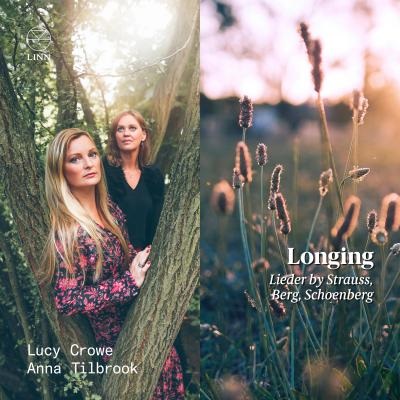 Strauss's Vier letzte Lieder (1948) were conceived for the great Wagnerian Kirsten Flagstad and have been recorded innumerable times in the composer's original orchestral version.  This rendition with piano, beautifully detailed and affectionately interpreted by Tilbrook, brings accumulating pleasure from Crowe's warm response to a work saturated with resignation and memory.   In 'Frühling' and 'September' she soars magnificently and convincingly probes searching lines, uncovering a rich lower register for 'Beim Schlafengehen'.  There's also nobility in 'Abendrot' where Tilbrook nicely captures its darkening mood as life slowly begins to ebb away.  Curiously, at the work's premiere in London in 1950 (Flagstad/Philharmonia/Furtwängler) The Times drew attention to 'some disproportion between the magnitude of the medium and the essential intimacy of lyrical utterance'.  This performance invalidates that claim resoundingly.
While song writing occupied Strauss over seventy years, the majority of Schoenberg's songs belong to the first fifteen years of his composing life, as he virtually abandoned the medium after The Book of the Hanging Gardens. Each of his Vier Lieder of Op.2 (1899/1900) are love songs, the first three setting lyric texts by Richard Dehmel, who later provided the inspiration for Verklärte Nacht. In the moonlit assignation that is 'Erwartung', Crowe fluently negotiates its tortured angularities and partially brings a sense of mystery and breathless anticipation. The Tristanesque languor of the song to Mary Magdalene ('Schenk mir deinen goldenen Kamm') is well served and finds Crowe fastidiously shaping its longer phrase patterns, caressing most persuasively the semitonal descent on 'Magdalena'. If, however, you want something more sensual then try Barbara Hannigan (Alpha, 2018). Less convincing is Crowe's vibrato heard in the upper reaches of 'Erhebung', but she regains her composure for the infectious lilt of 'Waldsonne', its summer reminiscences now expressed by the poet Johannes Schlaf.
By the time Berg wrote his Sieben frühe Lieder (completed in 1908) he had already assembled a substantial body of songs. Crowe is more consistently at home in these jewel-like settings (written under Schoenberg's tutelage), where her confiding tone finds a welcome and expressive outlet. She catches the ear with her veiled awe in 'Nacht', tenderness in the sighing phrases of 'Schliflied' and a heady sensuousness permeates the dream-like recollections of 'Traumgekrönt'. To the domestic cosiness of 'Im Zimmer' she brings a childlike delight, and ardour in the 'ecstatic dreams' of 'Liebesode'. There's little or no sense here of her being on the edge of her limits, and a more even tone throughout the group produces significant rewards: the 'Longing' of the disc's title is amply communicated.
David Truslove
Lucy Crowe (soprano), Anna Tilbrook (piano)
Strauss – Acht Gedichte aus Letzte Blätter (selection from Op.10), Ich schwebe (Op.48/2), Ständchen, (Op.17/2), Nachtgang (Op.29/3), Morgen!, (Op.29/4), Vier letzte Lieder; Berg – Sieben frühe Lieder; Schoenberg – Vier Lieder Op.2
LINN CKD 656 [75.05]