Mid Wales Opera is back! Celebrating its 30th anniversary, this enterprising touring company launched its autumn season with Puccini's one act tragedy Il tabarro. It was given at Brecon's Theatr Brycheiniog along with a mélange of song saluting the music of France as part of its 'Puccini in Paris' initiative. The opening night marked both the return to performances after a fallow eighteen months and the beginning of a month-long Small Stages tour across venues in (mostly) rural Wales and the Welsh borders.
The Brecon venue with its canal side location was more than a happy coincidence for the first of Puccini's operatic trilogy (premiered in 1918 with Suor Angelica and Gianni Schicchi) set on board a barge on the banks of the Seine. This is no cosy 'Tales of the Riverbank', but a bleak quayside exposé of Parisian love and misery, jealousy and revenge inspired by the grisly one-acters at Paris's Grand Guignol theatre in Montmartre. It charts the marital breakdown of ageing barge-owner Michele, his much younger wife Giorgetta and her lover, the stevedore Luigi. Its inevitable brutal conclusion is anticipated in the crepuscular setting and the ebb and flow of its brooding and passionate music.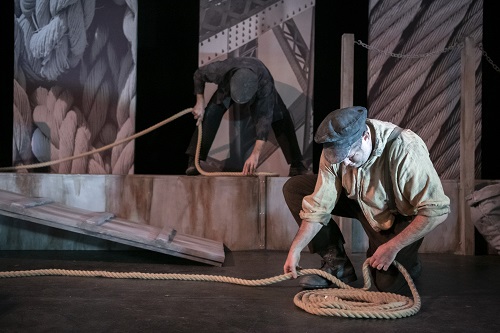 Since the pandemic we have become accustomed to slimmed down orchestral scores of operas; even Die Walküre at Longborough inspired a Covid reduction. But chamber versions are stock in trade for Musical Director Jonathan Lyness who has previously created pocket scores for Walton's The Bear and Ravel's L'heure espagnole, pared down offerings which are ideal for many of the community venues that form part of a typical MWO tour. His Il tabarro shrinks the orchestra to a quartet of piano, violin, harp and bassoon. It's an intimate sound foregrounding nostalgia over passion without forsaking the world-weary mood that dominates much of the score. It seems to chime, too, with the pace of life on a Rouen-bound barge inhabited here by a cast of six.
Don't expect to hear the songs of a ballad vendor or the brief scene with the two lovers, yet this filleted edition does not impair any of the work's dramatic or lyrical core. While retaining fundamental ingredients, MWO has a bare-essentials ethos, visible in Richard Studer's darkly lit and economical staging where the only sign of a barge is a single ventilation shaft beside a trio of flats evoking ropes and steel girders. Given we've been denied live performances for so long, more illumination would have been welcome especially for facial expressions. Anyone unfamiliar with this slice of verismo misery, sung here in period costume, might have felt the unrelenting semi-darkness a step too far. But as an emotionally charged work, perhaps it's an ideal fit.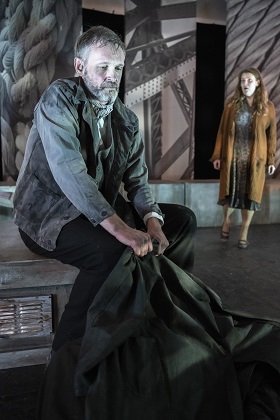 Body language is therefore a crucial requirement and on opening night characterisations were mostly well conveyed by a mainly Welsh cast. Philip Smith is every inch the morose cuckold Michele, stooped shoulders and sable baritone bringing a palpable sense of resignation looming over the stage with each appearance. Countering his sombre intensity is Elin Pritchard's finely sung Giorgetta, at her best when dreaming of a better life and bringing raw energy to her impassioned duet with tenor Robyn Lyn Evans. What his Luigi lacks in charisma, he more than compensates with vocal virility, his ringing tones gloriously ardent. Elsewhere, there's impressive support from mezzo Stephanie Windsor Lewis as the bag lady Frugola, who brings light relief when singing of her cat Ali Baba. Emyr Wyn Jones draws the ear and eye as Talpa with his merry drinking song, and Huw Ynyr's Tinca makes the most of his cameo role.
Occasional problems with diction and 'orchestral' balance aside, this Il tabarro is a fine achievement, its success owing much to assured playing from Laurence Kempton (violin), Alexandra Callanan (bassoon), Elfair Grug Dyer (harp) and Jonathan Lyness (piano).
Continuing the French theme, the evening continued after the interval with a medley of song recalling the days of Edith Piaf and Charles Trenet.  Part cabaret, part recital it's a lively fusion of Erik Satie, Claude Debussy et al with Cole Porter and Jerry Herman.  Polished performances served with a soupçon of Gallic nonchalance.
David Truslove
Puccini: ll tabarro
Michele – Philip Smith, Giorgetta – Elin Pritchard, Luigi – Robyn Lyn Evans, Frugola – Stephanie Windsor Lewis, Talpa – Emyr Wyn Jones, Tinca – Huw Ynyr; Direction, Design and English translation – Richard Studer, Musical Director – Jonathan Lyness.
Theatr Brycheiniog, Brecon; Friday 1st October 2021.
All images (c) Matthew Williams Ellis.