Between the years 1689 and 1694 Henry Purcell conceived six successive Birthday Odes for Queen Mary who, until her death in 1694, ruled jointly with her husband William of Orange. These cantatas honour the monarchy in suitably celebratory style, and reference current political issues, chiefly that of shoring up the Protestant succession in the wake of the 1688 revolution. Within the prosaic and obsequious texts, Purcell's contemporaries would surely have noted references to William III's military campaigns in Ireland (crushing Catholic supporters of James II) and thwarting the ambitions of Louis IV in France.
This latest disc from the King's Consort presents three more Birthday odes to those already recorded in 2020 (VIVAT 121) and released earlier this year. Now using just eight singers, Robert King supplements his instrumental forces (strings, pairs of oboes and trumpets) with two recorders. As one would expect, performances are mostly admirable but, despite Purcell's undisputed theatrical instincts and gift for making the most of poetic flummery, the level of inspiration in these Odes is somewhat uneven. Perhaps that's no surprise, given the composer was prodigiously busy with other commitments. According to King's excellent booklet notes, Purcell was occupied with incidental music for seven theatrical productions while writing his 1693 Celebrate this festival. Similarly, the hastily scored Arise, my Muse was written amid pressures to complete his semi-opera Dioclesian. By the same token, Love's goddess sure was blind, where Purcell's muse shines more brightly,competed with The Fairy Queen for compositional space.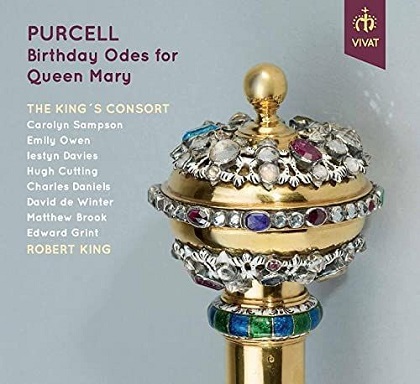 Most of the time King's musicians make a convincing case for these works, but despite best efforts Celebrate this festival, to words by Nahum Tate, suffers from an over reliance on florid writing.  Take, for example the opening passage of vocal decoration on the word 'celebrate' (where both sopranos wobble uncontrollably), or the long-winded duet for trumpet and bass, 'While, for a righteous cause he arms'.  Neil Brough and Matthew Brook can do little to alleviate the music's banality regardless of its dramatic evocation of far-off military triumphs belonging to William III.  The rather ordinary 'Return, fond Muse' improves considerably only after striking choral textures at the close, when the word 'repeat' is sung nearly 80 times over a sustained pedal.  Most persuasive are 'Crown the altar, deck the shrine', thanks to a very mellifluous Iestyn Davies, and 'Let sullen Discord smile', where Caroline Sampson creates pearls from Purcell's ornate contours, and its concluding chorus is wonderfully expressive.
Arise, my Muse (1690)to a text by Thomas D'Urfey is an equally seldom performed Ode, but its neglect is far less justified.  Purcell is ever resourceful in the deployment of his forces, varying mood, pace and weight, but here there's a tighter, more concise fit.  Amongst these performances there's peerless musicianship from Iestyn Davies and Hugh Cutting in 'Hail, gracious Gloriana, hail'.  If this duet doesn't quite compare with the celebrated 'Sound the trumpet', it has no less ingenuity in its craftmanship over a two bar ground bass.  Edward Grint is marvellously heroic in 'And since the time's distress', and an expressive David de Winter and two recorders add poignancy to 'But ah, I see Eusebia drown'd in tears'.  Its elegiac mood is twice interrupted by rousing declarations of support for William to conclude the Irish conflict where in a single trio movement the rebellious natives are coined 'savages'.  I wonder how long will it be before someone attempts to edit these texts? 
There's little to cause offence from Sir Charles Sedley in the more rewarding Love's goddess sure was blind of 1692. Queen Mary's virtues are revealed in a sequence of tuneful movements, gratifyingly so in two superb duets, 'Sweetness of nature' and 'Many such days as she behold', variously revealing exquisite playing from recorders and string ensemble. But it is the rollicking 'May her blest example chase' (courtesy of a rather nasal Charles Daniels) that would have got the royal feet tapping. Perhaps best of all is the unusually slow final chorus – a plea for Mary's eventual demise to be a far-off occurrence – where one is reminded of Purcell's ear for ravishing harmonies.
Altogether, this is a disc of mixed delights, but definitely one worth giving a spin if you're a dedicated Purcellian. With excellent sound, it includes full texts, impressive liner notes and recording session images.
David Truslove
Henry Purcell: Birthday Odes – Arise, my Muse, Love's goddess sure was blind, Celebrate this festival
Carolyn Sampson, Emily Owen (sopranos), Iestyn Davies, Hugh Cutting (countertenors), Charles Daniels, David de Winter (tenors), Matthew Brook, Edward Grint (basses), Robert King (director), The King's Consort.
VIVAT 122 [77.10]