Forbidden chambers, corpses dangling from wall-hooks, pools of clotted blood, stigmata of guilt: 'Bluebeard', which first appeared in literary form in Charles Perrault's seventeenth-century collection, Tales of Mother Goose, is the stuff of nightmares. It tells of transgressive desire and its dire consequences. A young girl's desire for luxury proves stronger than her distaste for blue beards. When she marries an affluent gentleman with whiskers of that hue, her desire for knowledge of what lies beyond the locked doors he forbids her to open proves stronger than her sense of wifely obedience. What she discovers has all the ingredients of chilling Gothic horror, and her husband is revealed as a psychotic serial killer worthy of Hitchcock. She uses her wits to survive just long enough for her brothers – or, the case of Angela Carter's retelling of the tale, 'The Bloody Chamber', her wise, intrepid mother – to come to the rescue.
Perrault presents his tale as a moral about the evils of female curiosity, which 'in spite of its many charms/ Can bring with it serious regrets'. His heroine's happy ending is brought about by marriage to a 'very worthy man who banished the memory of the miserable days she had spent with Bluebeard'. In any case, Perrault reassures the reader in his second moralité, the events of the tale took place long, long ago, and 'No longer are husbands so terrible': in his day, it's the women who hold the keys of power. Despite this, 'Bluebeard' challenges conventional beliefs in the transformative power of love. In contrast to tales such as 'Cinderella', 'Sleeping Beauty' and 'Snow White' – in which marriage is a means to escape hardship and suffering – in 'Bluebeard' it is associated not with romantic bliss but with murderous butchery.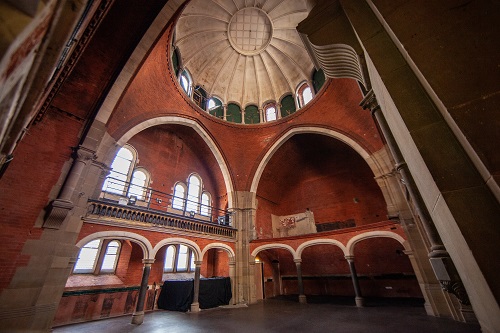 Next month, Theatre of Sound – a new partnership between long-time collaborators Daisy Evans and Stephen Higgins, who have a shared passion and vision for presenting opera in new ways to create intimate, inclusive, innovative experiences – will offer a 're-imagining' of the relationship between Bluebeard and his bride. Their inaugural production, fully staged at Stone Nest, a performance venue based in a former Welsh chapel in the heart of London's West End, is a radical retelling of Béla Bartók's Bluebeard's Castle which reimagines the piece as a love story between a long-married couple coming to terms with living with dementia. It will be performed by a stellar cast of star singers, with soprano Susan Bullock, bass-baritone Gerald Finley, baritone Michael Mayes and soprano Gweneth Ann Rand sharing the principal roles.
When I speak to Daisy Evans about the forthcoming production, I begin by confessing that I find the concept which she and Stephen Higgins have devised, and have brought to fruition with designer Adrian Linford and lighting designer Jack Wiltshire, not a little perplexing. Daisy immediately sets about explaining their reading of the opera, with obvious passion for Bartók's masterpiece, and with considerable persuasiveness. "It feels as if I've known the opera forever, and I've directed it in various forms – with the National Youth Orchestra and with Silent Opera [the company she founded to present explorations of staging and sound design in immersive productions of classic operas], and in 2019, again working with Stephen, in Castello di Potentino in the middle of Tuscany. And, every time there has seemed a mis-match between the Gothic elements of the story, such as the blood-stained keys, and Bartók's music. The music is just too beautiful – it expresses the psychologies of the protagonists, it's about love and loss and emotion. Bartók's score is different to other representations of the tale. It's more symbolic. So many productions present Bluebeard simply as a murderer of young women, but I can't reconcile the music to this characterisation."
Daisy has written a new English translation for the production and is clearly as immersed in Béla Balázs' libretto as she is in Bartók's score. "At the end of the opera, when Bluebeard is explaining to Judith, he says of the previous brides, this wife was my morning, the next my noon, the one after that my evening. You are my midnight. This spoke to me: we talk of 'life' in this way – of middle-life and our twilight years. What if the wives are different versions of one woman, who can't recognise her own past self? She and her husband have been through marriage, the birth of children, loss, and now this terrible disease is blighting them. The tragedy is taking place all over again. Many people experience this. It makes the tale more universal, in the way that fairy-tales are universal."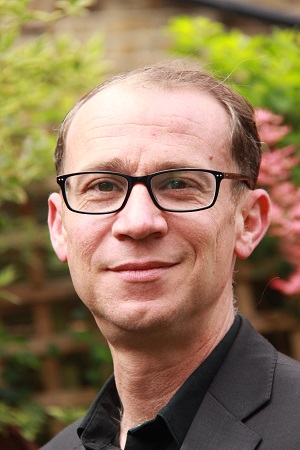 Speaking of her new translation, Daisy explains that she has "destroyed none of the original … it's true to the original Hungarian, which is beautiful, abstract and ambiguous. The libretto doesn't excavate Bluebeard's character deeply. It's a desperately sad experience for both of them, a terrible process. The 'locked doors' suggest a 'terror mentality'. In reinventing, we've kept that familiar mystique but have taken the really precise specificity of the rooms in Bluebeard's castle – the torture chamber, the armoury, the treasury – and applied them to moments in one's life: the raising of a child, a marriage day, an argument. Often productions of the opera make Bluebeard seem rather passive but when the doors are opened, he is proud of his dominions. And, at the close three times, in a blank and monotonous tone, she says, "no more": it is Judith who doesn't want any more doors – in our reimagining, portals to memory – to be opened. And, we haven't been literal: Judith doesn't enter the chambers – each door is an atmosphere."
It strikes me that there is a comparable psychological element inherent in the original tale, in that the girl's desire to open the doors to the forbidden chambers is also a desire to find the key to understanding her husband – something which is developed in later fiction, such as Jane Eyre, which draws on the Bluebeard story and in which a female character seeks to penetrate the mysteries, often sinister and threatening, of a man's behaviour by entering a forbidden chamber. And, more than this, that Balázs' libretto presents the relationship of Bluebeard and Judith as one in which true communication and love is not possible, however deeply Judith longs for experience and knowledge, and however deeply she delves in this quest. One might see the castle as metaphoric: it is the chambers of the human heart, mind and soul that remain forever locked.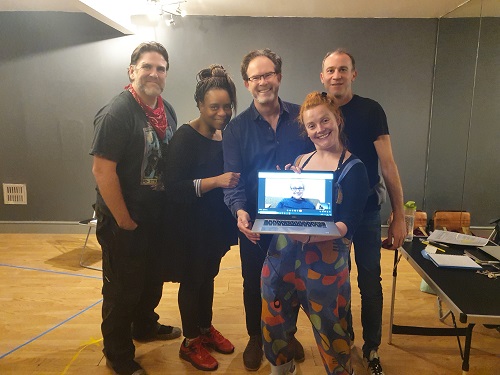 The nature of Stone Nest means that the audience are never more than three metres away from the protagonists. "So, the singers don't have to articulate the characters' emotions over an orchestra. Bartók's scoring requires such huge forces – there are just two characters, no chorus, but there are 150 musicians in the pit. We will have just six members of the London Sinfonietta, though the keyboard player does play lots of different keyboards, and this reduction marries with the experience of dementia, when life does become small. So, it's a dramatic orchestration. It was important that we didn't just have a 'pocket version' but actually created something new that was cohesively built into the production. This is an important aspect of Theatre of Sound: that there is no division between the stage and pit. And, the music is really exposed in the new score that Stephen has arranged and which he will conduct. I keep hearing things that I've previously missed, as there's a spaciousness, but also beautiful colours."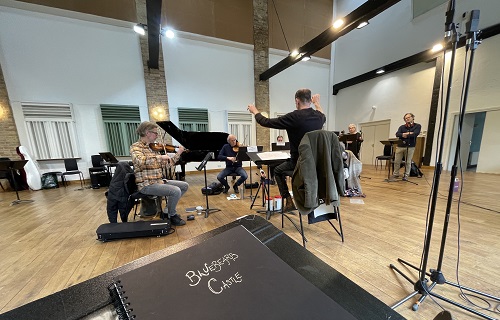 One of Theatre of Sound's missions is to show that opera is inclusive, for people of all backgrounds.  To this end, they have formed an extended partnership with Live Music Now and London Sinfonietta to facilitate a creative participation programme, and a new work by composer Electra Perivolaris will be premiered on the set of the opera production at Stone Nest, featuring musicians from Live Music Now and the London Sinfonietta.  Developing the theme of this reimagined Bluebeard,in Judith's Castle the door will be a symbol of memory.  Electra has explained that her former experience of working with Wigmore Hall's Learning department and Glyndebourne Opera on projects for people living with dementia, has made her committed to challenging perceptions of dementia through music.  Through a partnership with Rare Dementia Support, she will be working with families living with dementia to create new pieces of music, of five to ten minutes in length, drawn from their stories, experiences and musical memories.  The performances of Judith's Castle will be relaxed and informal, lasting about 45 minutes, and will also include reflections and insights from Julian West – a leading expert in the field of dementia and music research – alongside poetry readings by actor and Alzheimer's Society ambassador Kevin Whately.
"When words are inaccessible, music can open up doorways," says Daisy.
Theatre of Sound will present Bluebeard's Castle at Stone Nest on 4-14 November. Judith's Castle will be performed at 2pm on Saturday 6 November and Saturday 13 November with tickets available free of charge. Judith's Castle will also be filmed for broadcast on the London Sinfonietta's website at a later date.
Claire Seymour