British-Australian soprano Samantha Crawford and American pianist Lana Bode describe dream.risk.sing as a 'love letter to women of all ages … a programme for women and for those who love women'. It's an eclectic programme, comprising traditional and modern art song, a new commission and musical theatre, and aims to tell the stories that are not traditionally related in song – stories which reflect moments spanning a woman's life, from growing up, through love and lust, motherhood, career and ending with legacy.
The title evidently alludes to Judith Weir woman.life.song – itself a wry pun on Schumann's settings of Chamisso in Frauenliebe und -leben – which was conceived and commissioned for Jessye Norman and first performed in New York in March 2001. Weir sets texts by three American poets, Maya Angelou, Clarissa Pinkola Estés and Toni Morrison, which similarly relate to the different stages of a woman's life, from youth to old age. Here we heard two of Weir's songs exploring contrasting experiences of youth, starting with Estés' 'Breasts!! Song of the Innocent Wild-Child', which excitedly anticipates the onset of puberty.
Estés' wordy, adolescent stream-of-consciousness doesn't readily lend itself to lyricism, but the text has a palpable pulsing energy which was neatly captured by Lana Bode's jittery staccatos. Above the piano's irregular, impatient habanera, Samantha Crawford enunciated the text pristinely and expressively, persuasively communicating the characteristically erratic shifts of the solipsistic teenage mind. The eager questions – "Oh when shall I receive my breasts? Will they be like the tiny hearts of birds beating?" – came in a breathless rush; the non-sequiturs were innocent and charming – no, oceans and butterflies don't have breasts; and the humour was light and breezy. Crawford's glossy soprano captured the self-indulgence of the rhapsodic ego, "Come! O Lady of my body, for I am blessed amongst women", and, in the final, urgent exclamatory appeal, "Breasts for be, be alive! Now!!", conveyed the visceral vitality of one on the cusp of womanhood – an experience both individual and universal.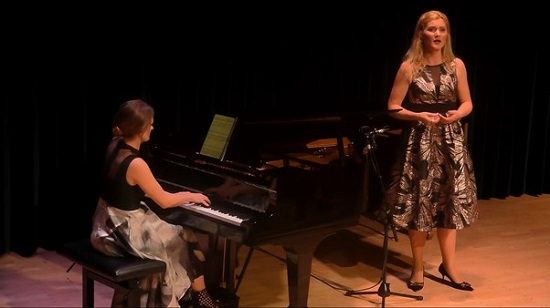 Morrison's 'Edge' seems to have inspired Weir to find music which gets 'inside' the poem's experiences rather than observe them from the outside, and Bode's high, skittish circling piano colours and swirls vividly evoked the sparkling stars and steaming shadows of sexual awakening which Morrison's simple, beautiful metaphors potently evoke. Again, Crawford created a convincing voice and at the close the poet-speaker's reflection, "For he was a boy, just a boy/ And I was a very young girl", suggested not wistfulness or regret, but acceptance and inner wholeness.
Charlotte Bray has explained that during her preparatory research for the newly commissioned song-cycle, Crossing Faultlines, she struggled to find appropriate poetic texts – or, indeed, many poems at all – about women's working lives or working-women's lives. So, for this song-cycle, thought to be the first to address the topic of women in the workplace, Bray collaborated with poet Nicki Jackowska who provided new texts which explore three particular aspects of women's professional lives: mentorship, discrimination and ambition. The first song, 'In the Margins', begins with a sparse iciness – not dissimilar to the sort of landscape Bray conjured with an orchestral palette in Where Icebergs Dance Away which was premiered at the BBC Proms this summer – which contrasts with a deep darkness, representative of the vast expanse that a woman must traverse to realise her goals. "It is a long, long way to the top of the mountain" sang Crawford, her soprano pushed almost uncomfortably high as if to convey the pain of the struggle ahead. The 'faultlines' of the title are revealed to be the chasms between women at different stages of the journey, the connections between them made frail by loneliness and self-doubt. Jackowska's poem uses realism – the bouquet of coffee, a ring of blue ink on a note-strewn page – to evoke the immediacy of the lived experience. Bray alternates between a recitative-like declamation and angular vocal surges which push the voice to high and low extremes. This made enunciating the text, as well as negotiating the tessitura, a challenge for Crawford, but perhaps a not inapt one considering the experiences evoked. However, there was tentative hopefulness in the soaring freedom of the closing image, "There's a crowd in the margins, waiting for you …", and in the concluding song, 'And Now Her Song', the nerve-twanging cracks of splintering ice gradually softened to release arabesques and flourishes in the piano part, the stillness giving way to rhythmic life and warmth as the glass ceiling begins to thaw. And, as the gaps opened, with powerful lyricism Crawford urged, "risk, dream, sing/ where angels fear to".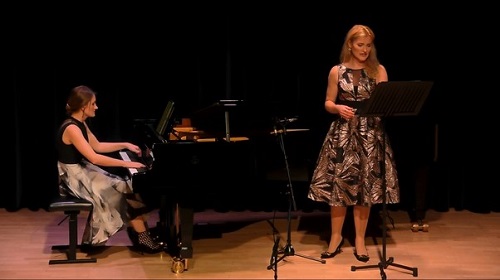 These frozen realms framed a similarly hostile but even more threatening terrain. 'Like a Drum' is driven by the piano's wince-inducing low, sharp thud, a drumbeat of masculine aggression and presumption which makes the experience of sexual harassment depicted in Jackowska's biting, raw poem feel uncomfortably near and present. Here, Bray effectively contrasts, and shows the relationship between, the lived experience and its emotional effects, Jackowska's terse imagery inspiring tight rhythms and well-defined gestures. Crawford's strong full-bodied soprano conveyed the sneer of he who, "Fat and fatuous … sniffs his way through roses", and the searing pain of the figurative roses that "burn and scatter" – and, then, with softer, understated poignancy observed, "no-one knows/ what is the matter/ when her typing slows/ or how that bruise/ branding her neck glows rosy-red."
The remainder of the recital comprised five 'snapshots' – diverse in situation and in musical style – into aspects of women's lives, depicting, as Bode noted, experiences some of which are not often talked about in public spaces, let along given artistic form and expression. In her eloquent introduction, Bode explained that the first song in the sequence, Carson P. Cooman's 'Ballad', from his 2007 song-cycle Gold in Diamonds, had a particular resonance for her, telling as it does the story of a woman who grows up in a Christian fundamentalist community and loses her sense of identity, an experience close to Bode's own. And, as she observed, the happy, barn-dance style music "doesn't give anything away, but the words tell a very different story about what happens behind closed doors". The text uses the imagery of dancing – a dance stopped too soon – to convey the stifling of a natural life-soul by controlling external forces, and Cooman's piano part similarly juxtaposes kinetic vibrancy with dull motionlessness, Bode's bright, assertive vigour quietening into a gently repeating tone. Crawford was an engaging narrator, singing of her grandmother's joys and pains, the unaccompanied image of her mother's birth – "My grandfather deep in religion/ My grandmother bleeding alone." – especially affecting.
'My Mother is a Singer' from Ricky Ian Gordon's largely autobiographical 'memory musical', Sycamore Trees, is a son's tender, moving address to his mother, who has "burned your whole career for a fling" and given her life to her children. Crawford – who prefaced her performance with a reading of Gordon's tribute to his mother – used her gleaming soprano to convey all of the son's love and admiration for his mother's courage, forbearance and generosity, her voice shimmering with the unspoken tragedy of the sacrifices made.
Helen Grime's Bright Travellers sets poems by Fiona Benson about the joys and pains of motherhood, from antenatal scans to the registration of a child's birth, and the two songs performed here were highlights of the recital. 'Milk Fever' presents a mother's account of her body's responsibilities and reactions to her child's needs, and the visceral imagery was shaped with lyrical intensity by Crawford, the vocal leaps weaving through Bode's swirling, crystalline arpeggios. Ultimately, the experience is physically and emotionally satisfying, and the duo conveyed the confidence of fulfilment, in a sparkling release which united mother and child. In 'Council Offices', registering a birth triggers memories of death, a loss captured by the image of a "small, grey face no breath,/ something you cannot help but love". Here, the sparse lucidity of the piano's textures created a still contemplative mood, and Crawford's poignant diminuendo slipped into lullaby, "habibi akushla/ I go home alone/ but carry you, carry you,/ little slipped thing to the ends of the earth" – unaccompanied, hushed, profound.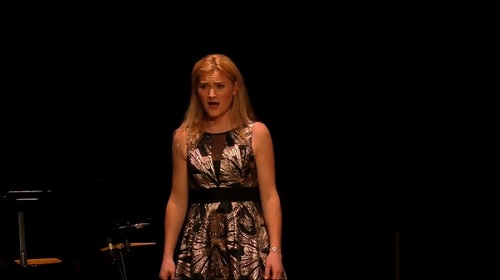 Despite the obstacles of systemic discrimination, the African American composer Florence Price (1887-1953) built an impressive career, becoming the first Black female composer to have a symphony performed by a major US orchestra when, in 1933, the Chicago Symphony Orchestra premiered her Symphony No.1 in E minor. After her death, her music was largely unheard, until an archive of her manuscripts was discovered in 2009 initiating a renewal of interest in her compositions, which blend a late-Romantic voice with musical idioms drawing on spirituals and folk melodies and harmonies imbued with tints of jazz and blues. 'The Heart of a Woman' (1941) sets a poem by Georgia Douglas Johnson, comparing a woman to a caged bird whose heart "goes forth with the dawn" and then "falls back with the night and enters some alien cage in its plight." Crawford and Bode captured the hope in the music that belies the pessimism of the text, soaring to a rich, almost fierce, conclusion.
And, such positivity continued in the final song, Michele Brourman's 'My Daughters' in which poet Hillary Rollins' recurring vision of a richly imagined future, 'My daughters will …', brings peace to the poet-speaker and a spirit of certainty and conviction that embraces both her literal and all her metaphorical daughters. It formed an uplifting counterpoint to the song with which the recital had begun, Antonin Dvořák's 'Když mne stará matka', suggesting that the songs that mothers teach us are indeed a powerful legacy.
This concert was live-streamed via the Oxford Lieder Festival website and is available until 30 November 2021.
Claire Seymour
dream.risk.sing: Samantha Crawford (soprano), Lana Bode (pianist)
Antonin Dvořák – 'Když mne stará matka' (from Cigánské melodie Op.55); Judith Weir – 'Breasts!! Song of the Innocent Wild-Child', 'Edge' (from woman.life.song:); Charlotte Bray – Crossing Faultlines (world premiere); Carson P. Cooman – 'Ballad' (from Gold into Diamonds); Ricky Ian Gordon – 'My Mother is a Singer' (from Sycamore Trees); Helen Grime – 'Milk Fever', 'Council Offices' (from Bright Travellers); Florence Price – 'The Heart of a Woman'; Michele Brourman – 'My Daughters'
Jacqueline du Pré Music Hall, St Hilda's College, Oxford; Wednesday 20 October 2021 (live stream).