For those who like a physical recording of a world-renowned Christmas broadcast, this recent disc from the Choir of King's College, Cambridge will provide a timely reminder of exceptional circumstances. And how refreshing to hear a programme that looks beyond John Rutter in its choice of composers. Due to the global pandemic, the carols presented here, with the exception of four tracks (6, 7, 13 and 15), were transmitted as part of A Festival of Nine Lessons and Carols on Christmas Eve, December 2020. Because of uncertain times, the recordings were made, Daniel Hyde explains, "as a backup for the service of Nine Lessons and Carols, with other specially recorded seasonal music". This CD is therefore a unique document since never has this iconic service been broadcast as a pre-recorded event.
It's a pity the absence of a congregation makes the hymn singing rather plain listening and in 'Of the father's heart begotten', its six verses are given to upper and lower voices in alternation. Never have the words 'Ere the world from chaos rose' sounded more apposite. While I missed the sound of multiple voices raising the emotional temperature in final verses, the diction from the choir is faultless. Indeed, the first two lines, for example, of 'Hark the herald' are an object lesson in perfectly enunciated vowels. That may not quite compensate for the atmosphere a packed chapel creates, but this recording is by no means a cheerless experience. Far from it, though there is a sense of restraint, almost a chaste intimacy, about the choice of music and the knowledge that this is a choir singing amidst adversity. That there are two settings of 'In the bleak midwinter' provides a clue to the overall tone of the disc, and this is amplified by the words 'O fount of light, shine brightly Upon my darken'd heart' from John Troutbeck's translation of J.S. Bach's 'How shall I fitly meet thee?', extracted from the Christmas Oratorio. Here, I love the way the choir linger over the closing chords.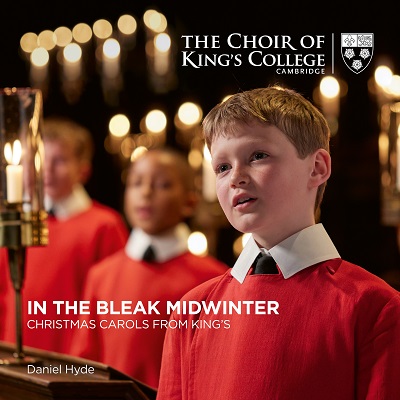 Elsewhere, the singing is remarkably good, with much to enjoy from largely familiar fare. Only the popular 'Sussex Carol' and 'As I sat on a sunny bank' sound rather joyless and suffer from being too polite and just shy of having a rollicking tempo. If you don't recognise the text to 'Thou who wast rich beyound all splendour', its tune will be known to those conversant with 'Quelle est cette odeur agréable' ('Whence is that goodly fragrance') and is sung with much affection in this version by Daniel Hyde and C.H. Kitson. Sung with equal warmth, although marred by the trebles' first interval, is Bob Chilcott's 2006 version of 'Still, Still, Still', an otherwise poised account mirroring this arrangement's reverent tranquillity. Among other well-known carols there are pleasing accounts of 'Angels from the realms of glory' (Reginald Jacques) and 'In dulci jubilo' (Robert Lucas de Pearsall and Hyde).
A more theatrical turn is taken with Philip Moore's 2019 commission 'The angel Gabriel' – a startlingly modern setting that opts for vigorous treatment of the Annunciation, and stylistically some considerable distance removed from Edgar Pettman's commonly sung version from 1892. There's a feverish excitement here, and the choir, treble soloist and organist Matthew Martin make light of its complexities, and where choral fanfares build towards a shattering climax. The disc closes in dramatic fashion with a fine rendition of Francis Pott's monumental 'Improvisation on Adeste, fideles', a piece that dissects the familiar tune into thematic fragments before treating each as the raw material for a work of striking contrapuntal ingenuity.
The English pastoral manner can be heard in Roger Quilter's beautiful 'An old carol' (I sing of a maiden) where trebles respond to its gentle contours and subtle harmonic tints within the organ part with wonderfully confiding tone. It's a little gem. Much the same can be said of Mack Wilberg's setting of 'In the bleak midwinter' where this performance gets right to the heart of Christina Rossetti's text. That's as much to do with the expressive harmonies (arguably overused) as Hyde's brilliantly judged stately tempo. Those qualities alone don't create the special atmosphere present here; it's perhaps also due to the layers of memory accumulated from Holst's original setting, on to which the choir shapes every phrase with loving detail and unimpeachable ensemble and legato. There's also great choral unanimity in Harold Darke's setting of the same text, with much tenderness in the final verse where its pauses highlight the glorious King's acoustic.
In summary, this is a significant release – one which comes with an impressive and sumptuously illustrated booklet – not least for being produced in difficult times, but also for being the first recording with the choir for Daniel Hyde who took over from Stephen Cleobury in October 2019.
David Truslove
The Choir of King's College, Cambridge; Matthew Martin (organ); Daniel Hyde (Director of Music).
Otto Goldschmidt – 'A tender shoot'; J.S. Bach – 'How shall I fitly meet thee?'; Harold Darke – 'In the bleak midwinter'; French trad., arr Jacques – 'Angels, from the realms of glory'; Quilter – 'An Old Carol'; German trad., arr. Robert Lucas de Pearsall & Daniel Hyde – 'In dulci jubilo'; Philip Moore – 'The angel Gabriel'; Vaughan Williams – 'Sussex Carol'; French trad. – 'Thou who wast rich beyound all splendour'; Karl Leuner, arr. MacPherson – 'The Shepherd's Cradle Song'; Holst, arr. Mack Wilberg – 'In the bleak midwinter'; Trad., arr. Poston & Hyde – 'As I sat on a sunny bank'; German trad., arr. Bob Chilcott – 'Still, still, still'; Matthew Martin – 'Prelude to 'Hark! the herald angels sing'', Francis Pott – 'Improvisation on 'Adeste, fideles''; Hymns – 'Once in royal David's city'; 'Of the Father's heart begotten'; 'O come, all ye faithful', 'While shepherds watched their flocks by night', 'Hark! the herald angels sing'.
KGS0060 [74.32]