Dara McAnulty's Diary of a Young Naturalist, the winner of the 2020 Wainwright Prize, chronicles the turning of the seasons from the spring equinox of 2018, when McAnulty was fourteen, to the same moment a year later. Diagnosed with autism and Asperger's as a child, McAnulty offers a piercingly intimate perspective, intensely aware of his own thoughts, feelings and state of mind as he reflects upon his interaction with the world, both human and natural: being bullied at school, family events, his work as a conservationist and environmental activist and, most powerfully, his encounters with the wild.
From McAnulty's Diary, the late Amanda Holden has fashioned 26 poems which Cheryl Frances-Hoad has set as a song-cycle for tenor and orchestra, Scenes from the Wild. It was premiered at Southwark Cathedral last week by the City of London Sinfonia, who commissioned the work in celebration of their 50th year, and tenor William Morgan. I saw the third of three performances.
McAnulty's narrative is in some ways two parallel tales, that of his external experience in nature and of the inner life of his mind and spirit. In Frances-Hoad's evocative song-cycle, by turns tender, threatening and traumatic, these two worlds are fused. Alongside rhapsodic lyricism, there is fiercely honest – sometimes uncomfortably so – self-scrutiny, and prosaic directness. It must have been a challenge to find a musical voice that could encompass all three in a single vocal line and make them cohere. Indeed, there were a few places where the plain straightforwardness of McAnulty's declarations seemed to be an awkward fit for melodic utterance. But, the vocal line modulates effectively from parlando through arioso to lyrical outbursts of searing intensity.
There are a few spoken passages, too. When, as the opening recording of a blackbird's song insouciantly receeds, Dara introduces himself and blithely invites us to "hear the turning of the world with me", before segueing instantly into a characteristically incisive dissection of his own identity: "I have the heart of a naturalist, the head of a would-be scientist, and the bones of someone wearied by the destruction us humans wield against nature." It's clear that our journey alongside Dara, as he makes his way in the world, will challenge, question and demand of us too. Later, in 'Afterthought', he encounters Greta Thunberg's activism on Twitter, and Frances-Hoad eschews melody for unadorned statements such as "She's demanding action on climate change", saving the music for the interlude which follows and which reflects the courage and excitement that now energises Dara.
The truly remarkable aspect of Frances-Hoad's score is its integration of inner and outer. It's not so much that the music paints the words' images in a literal sense, though it does do that with delicate suggestion and gentle humour, rather that she somehow finds just the right musical colour, weight, timbre, movement and shape to evoke not just 'things' but 'phenomena' and 'abstractions' too. And, in so doing, as she recreates Dara's close communion with trees, insects and birds, Frances-Hoad not only communicates his total immersion in nature – the sounds seem fused with Morgan's own 'self' – but her music also makes us feel the joy and pain of his experience.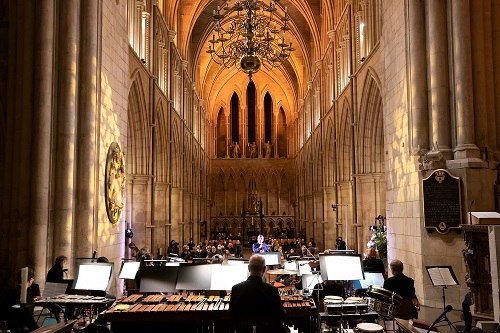 A low, long-held tone, as Dara sees "the blackbird in my mind/ and the whirring of my brain begins", drew the listener into the images within the teenager's visual and psychological frame. The violins' arcs made us feel the rock and tilt of the waves in 'Seabirds and Seals', and the vividness of the musical kinaesthesia mounted as explosive verbs – "delve and wheel", "flash", "spiral and ascend", "drift", "rush" – conjured a sky-ballet of bird-life, as the seals resided in the turning waves. In 'Bats', piccolo flickers summoned ultrasonic echolocation and wing-clicks, the precious aural jewels closing with characteristically bathetic truthfulness from Dara: "you'd be bitten to bits without bats".
A beautiful high cello solo sculpted the chirp of the grasshopper's hind-leg against its wing. Nudging violin up-bows both etched the "tight and tangled" root ball of a stormed-felled oak, "confined in asphalt under the slabs", and caught the snatch in Dara's throat as he processed nature's indifferent destructiveness. Cello harmonics pulsed eerily in 'Fungi', capturing the unstoppable insistence of the fruits' gentle growth with a masterful musical economy equal to Plath's formal pithiness in her poem, 'Mushrooms'. Horns and trumpet evoked a little boy's playful wonder upon discovering a conker inside its "spiked casing": "russet warmth" was in his hands and in his heart, and in our ears too. The frantic scurries of the solo cor anglais were the ear-wig's busy battle to tidy, clean and restore the earth. The racing buzz of the strings' tiny scalic circling was a stunning murmuration.
Such imaginative musical imagery suffused through the scenes in which McAnulty's family, as "close as otters", visit the shore; take a walk in the woods; or move house move from County Fermanagh to a new life in County Down, in the shadow of the Mourne Mountains.  On one such walk, the "raucous" ramble was energised by a percussive jangle, as the cello's flying ricochets conjured the "spirally leaf,/ the flash of a feather, or a trundling beetle".  In an August garden, as Dara feels the "trickle" of woodlice in his hands and a "spider spins a thread of silk", the swelling fullness of strings and horn squeezed every drop of love from his mother's hug.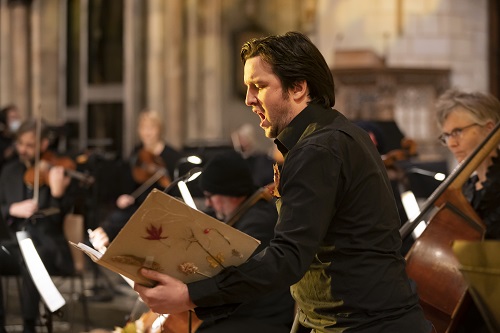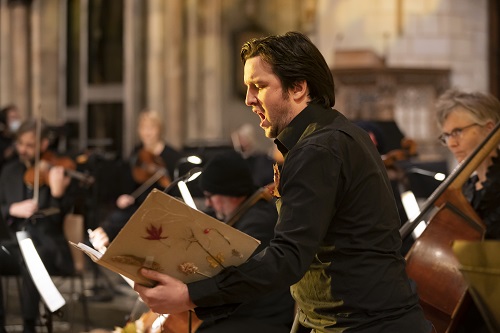 Despite the unhelpful acoustic of Southwark Cathedral, William Morgan gave an astonishingly committed and compelling performance. In his Diary, McAnulty confesses that he doesn't have a 'joy filter' and to that one might add that he doesn't have a darkness desensitiser either. Morgan vocally scaled emotional peaks – ecstatic, angry, awed – and ploughed troughs of pain, despair and emptiness. The vocal line is at times unkindly high, especially as the cathedral magnified the resounding orchestral fortissimo, but if occasionally there was a sense of strain then that was absolutely fitting. It captured McAnulty's self-assertive defiance, "I don't want to hide my excitement,/ Why should I? Why should I?"; his desperate frustration, "Those in power nod their heads … while species crash to extinction"; and, his fighting anger, "I stood up to those who take and do not give,/ those who steal the hopes of children."
But, stillness can evoke pain, too. Reflecting, in 'Autism and Bullying', on the smirks and sniggers of his classmates, and the humiliation endured, Dara asks, "How can anyone be so cruel?", and the quiet pathos of Morgan's unaccompanied comparison of his sadness to Oz's Scarecrow, "with his straw-insides hollowed out", was a distillation of human loneliness. But, if there are moments of psychological crisis, then there is peace too. In 'The Oak', as Morgan's unaccompanied pianissimo tells us, "I rest my cheek against the oak … I hear it breathe", the soft, warm horn and the strings' finger-flutter pizzicatos embrace the voice in consoling exhalation. Such moments reassuringly confirmed McAulty's avowal in his Diary that 'nature became so much more than an escape; it became a life-support system'.
Scenes from the Wild had started life as a plan for an opera, and the work was lightly choreographed (by Sarah Dowling, with lighting by Richard Owen), Morgan moving to the side to lean against a column, or sitting down, or climbing the stairs to the pulpit. The CLS musicians, too, brought their solos into the middle or to the front of the ensemble, and picked up and played with nature's props – leaves, conkers, jay feathers – as they breezed from the turning year carried them through the narrative. The result was not entirely persuasive, some gestures seeming only half-formed or lacking sure purpose: I felt that either more, or less, would have been preferable. Perhaps the 'staging' of the work will grow in future performances. Conductor Geoffrey Paterson was an unassuming but perceptive guide through this turning world.
At the close of the Epilogue, 'Saint Kevin and the Blackbird', Dara accepts that "[t]ere are choices to make, roads to travel. Singing from the centre of the orchestra, within nature's embrace, Morgan welcomed the challenge, a long, firm fermata, "My heart is opening", confirming his conviction and hope. "I'm ready," he avowed, and the final simple upwards step of the unaccompanied vocal line ensured that we shared his optimism and belief. Scenes from the Wild is a raw work, painfully so at times, but richly rewarding and ultimately restorative.
Claire Seymour
William Morgan (tenor), Geoffrey Paterson (conductor), City of London Sinfonia
Southwark Cathedral, London; Saturday 27th November 2021.
ABOVE: Scenes from the Wild performed by tenor, William Morgan, and City of London Sinfonia © Nick Rutter for Apple and Biscuit Recordings