There was pungent, post-explosion smoke in the Marlowe Theatre during the performance of Glyndebourne's touring production of Don Pasquale, and it wasn't all the result of the pyrotechnics with which the good city-folk of Canterbury were celebrating Guy Fawkes' demise, and which were being sucked into the auditorium by the theatre's vigorous ventilation system. For, Mariame Clément's 2011 production of Donizetti's pomposity-puncturing comedy, which I first saw at the Sussex house in 2017, has an acerbic bite that is a good deal sharper than the sly social comment of the commedia dell'arte upon which Giovanni Ruffini based his buffo scenario.
Clément's Pasquale is not so much a miserly old dotard whose lustful designs are frustrated by his own decrepitude and tamed by his dupers' affectionate cunning, as a patriarchal punch-bag pitilessly pierced by his merciless tormenters. When he finds that he's married not a sweet, shy Sofronia, fresh from the convent, but a solipsistic spendthrift not averse to swinging a stinging slap, he briefly puts up an indignant fight but quickly lapses into inert, humiliated despair. No wonder he's happy to let his nephew Ernesto walk off with his 'bride' at the close: he's had a lucky escape, indeed.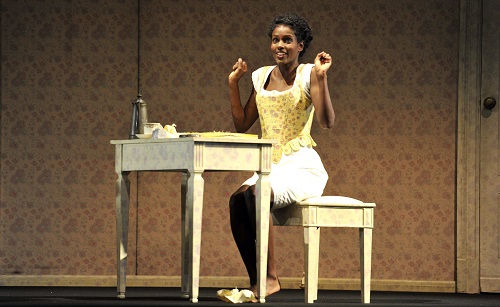 My impression of this production's Malatesta in 2017 was that he was an 'ingenious intriguer', an impression confirmed here during the overture by his agile progress – via 'painting-windows', wardrobes and mirrors – through the revolving rooms of Pasquale's house and Norina's boudoir, where those who will become his puppets lie sleeping. But, in Paul Higgins' revival he seemed even more sinister – sure of his domination, anticipating success and its lascivious rewards: more Vicomte de Valmont than Don Alfonso. Perhaps it was the tour-necessitated compression of Julia Hansen's set – still revolving neatly, and aptly conveying Pasquale's parsimonious attitude towards interior décor and housekeeping – that made for the more threatening ambience?
Prone on his couch-cum-bed, in the opening scene this coughing, spluttering Pasquale cuts a pitiful figure – self-absorbed, bossy and petulant. But, when we finally meet Ernesto – the nephew who refuses to wed-as-he's-told, at the cost of his inheritance – our pity shifts. This adolescent idealist immerses himself in poetic tomes and plucks yearning melodies from his guitar but can't be bothered to pick up his clothes from the floor where they lie rumpled, and nurtures a sense of entitlement more inflated than Pasquale's amorous delusions. By coincidence, the week's news stories included the legal defeat of a 40-something Oxford graduate who had attempted to sue his wealthy parents – who have allowed him to live rent-free in a £1 million flat near Hyde Park for 20 years, plus 'extras' – for 'freezing' his allowance. Ernesto's kindred spirit, perhaps.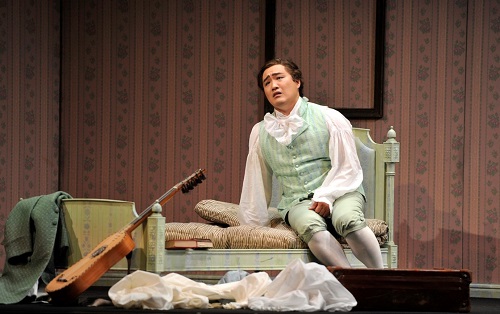 If one feels that Clemént pushes Donizetti a little too far into 'the dark side', then the production has lost none of its pace and panache in the ten years since it was first seen. Conductor Jonathan Bloxham keeps things flowing nimbly but gives the singers space when and as required. There's a lovely lightness about the musical proceedings, contrasting with the clouds and shadows onstage, and some fine playing from horn, trumpet and cello when the instruments are in the spotlight.
The Chilean bass-baritone Ricardo Sequel is our self-deluding Don, whose late-life crisis and ailments are initially 'cured' by the promise of nuptial bliss and a brood of six, then re-triggered by his new bride's shopping frenzies. The petrification caused by 'heart ache' is alarmingly authentic. Ludicrously pepped up by romance, painfully disillusioned by reality, this Pasquale is a pitiful figure indeed. And, our sympathies are further roused by Sequel's appealing, plush tone, which loses none of its warmth in the rapid patter of the Act 3 duet with Malatesta, but which, in 'E finite Don Pasquale', seemed on this occasion to draw no sentiment or self-reflection from the steely Norina.
Konstantin Suchkov's Malatesta really is a nasty piece of work, though it's hard not to admire the Doctor's self-assured command. There's barely a character who doesn't have a door slammed in their face as Malatesta pulls the strings – even Norina is tamed by his charisma, as he jumps into her foam-filled bath and stirs up the sexual chemistry. Suchkov's baritone is firm and true, and his legato line and suave stage demeanour enhances the aura of effortless invincibility.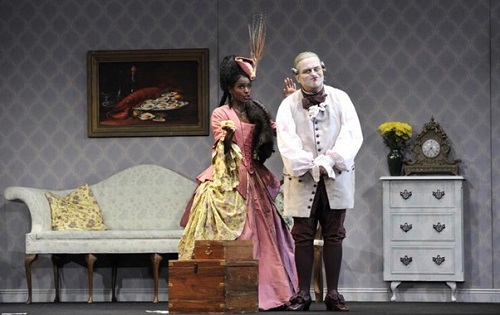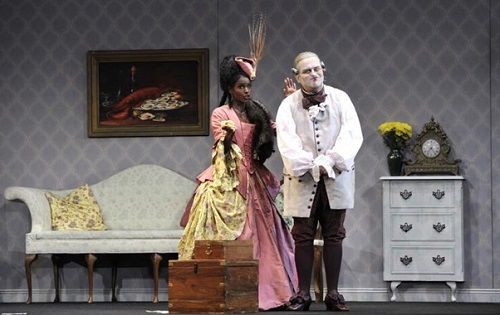 Mariam Battistelli's Norina seems hell-bent not only on marrying the man of her choice but on ensuring that the fulfilment of no desire – sexual, material, dictatorial – is denied her. The Ethiopian-born Italian soprano was gamine and fidgety in her first scene – all pouting, posing and hands-on-hip swivelling – as she abandoned romantic idealism for no-nonsense ambition. Dashing ahead of Malatesta into Pasquale's living-room, this super-charged Sofronio looked likely to give the game away, and there was a theatrical burst of joyous release when, freed from her hooded cloak and veil, Norina stormed about the room, imperiously flinging orders as if to the manor born. It might be hard to love, or even like, this merciless madam, spurred on as she is by Malatesta's Machiavellian encouragement to ever greater extravagance and cruelty. But, Battistelli's shining soprano, dextrous, lustrous and resolute, has a winning charm: who could resist a smile when Norina fires off a tirade of glorious coloratura, crowned with a glistening fortissimo peak – a sort of operatic, 'Howzat!', delivered with daring and dash.
Her Ernesto matched her for self-absorption and self-assurance. Konu Kim's bright, ringing tenor conveyed the thwarted young lover's self-pity – the rocking-horse in his bedroom a sign that this naval-gazing nephew hasn't outgrown the nursery – while the vigour of his singing perfectly captured Ernesto's Tigger-ish ebullience. If Kim's tenor was a little tight at the top in the earlier Acts, by Act 3's serenade it was surging sweetly, tapered with some lovely diminuendos and subtle phrasing. Tom Mole showed his stage nous as the Notary, though the star prize for comic timing went to Anna-Marie Sullivan's Servant – a brilliant study in the comic virtues of precision and understatement.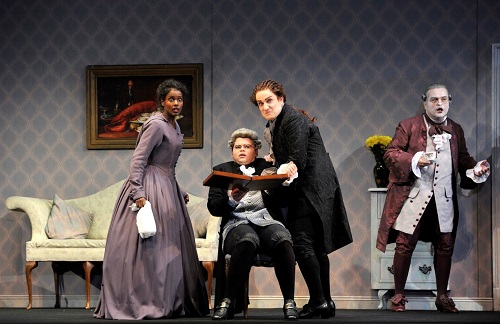 Hansen's revolving designs are curtained in crimson velvet, and the Chorus – in warm and hearty voice here – serve to enhance the theatrical artifice, forming a white-clad audience of powdered wigs and flapping fans who assemble to observe Pasquale's woes – and perhaps ironically foreshadow the opera's moral that nothing good comes of the romantic yearnings of our twilight years.
Clément's production balances the humour on a knife-edge, and the piquancy makes the audience sit up and take note. However, although at the close the pardoning Don Pasquale has well and truly learned his lesson, we might take the moralising a little less seriously since the final moments confirm that those preaching the sermon are not quite as salubrious as they might seem …
The 2021 Glyndebourne Tour continues until 10th December, visiting Milton Keynes, Norwich and Liverpool.
Claire Seymour
Don Pasquale – Ricardo Sequel, Dr Malatesta – Konstantin Suchkov, Ernesto – Konu Kim, Norina – Mariam Battistelli, Notary – Tom Mole, Servant – Anna-Marie Sullivan; Director – Mariame Clément, Conductor – Jonathan Bloxham, Revival director – Paul Higgins, Designer – Julia Hansen, Lighting designer – Bernd Purkrabek, Glyndebourne Chorus (Chorus director, Aiden Oliver), Glyndebourne Tour Orchestra.
Glyndebourne Tour, The Marlowe Theatre, Canterbury; Friday 5th July 2021.
ABOVE: Mariam Battistelli, Konu Kim, Konstantin Suchkov, Ricardo Seguel and Anna-Marie Sullivan © Glyndebourne Productions Ltd, .Photo: Robbie Jack