Macbeth is the first great fusion of music and drama in Verdi's operas. It needs a great production, however, to bring those elements together and this is largely what Phyllida Lloyd's does. First seen at Covent Garden in 2002, this production (impressively revived by Daniel Dooner) has sometimes been seen as modest in its ambition and scale; in fact, it seemed strikingly the opposite to me.
The production can seem tight to look at because Verdi writes for quite large forces. Shakespeare's coven of three witches becomes a chorus of them; when Banquo is murdered it is with an entire army. The stage compresses this, even to having a gilded cage; centre stage it can make the crowds around it look as if they are going to be crushed to death. It doesn't help that panelled walls give a sense of claustrophobia. Even costumes give almost no room for freedom. It is not necessarily of its time but what it most recalls is a very distinct impression you get from looking inwards on a Rembrandt picture. The dark brush strokes, the carefully drawn figures and their poses. The bedroom scene in Act IV, Scene 2 could almost have been framed in still-life – the lantern so frozen in time for a moment, two figures motionless against the wall.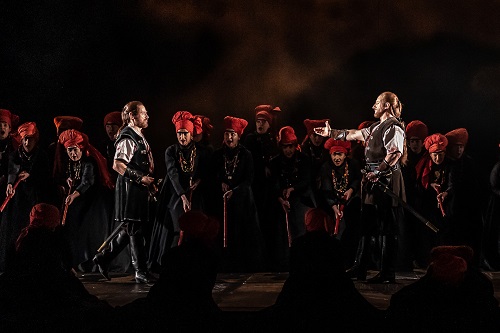 What this particular opera – and most productions – can never really get to grips with is the spectral and supernatural that thread through the opera, and the psychological malevolence of its two central characters. Lloyd has managed to do something with the first, although insofar as the witches are an immoral call to Macbeth to claim the throne from Duncan isn't always clear in the production. The mass coven of witches are almost baying like hounds, terrifying from as soon as the curtain opens during a thunderstorm. Lloyd can never really determine what happens between Macbeth and his wife; relying entirely on casting and the chemistry of the singers Verdi's opera is one of the most prone to sink or swim because of this.
In many ways, the magic of Macbeth is that it is entirely the opposite of what most operas from the period were. These are not ardent lovers; they are Machiavellian manipulators steeped in blood, and there is enough of that soaked into their clothes rather than perfume. The role reversal is striking. Lady Macbeth comes from a long line of operatic anti-heroines tortured by guilt and hallucinations with a thoroughly corrupt immorality. Macbeth is her supplicant, his destiny entwined entirely with hers.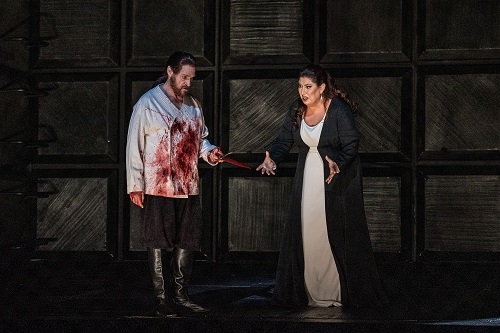 And the casting here was remarkably fine. From the outset, Anna Pirozzi was ferocious. The one thing Lady Macbeth should never be is understated and Pirozzi has enormous stage presence – her voice isn't subtle, it's clarion in its power as the thrilling B-flat in her opening aria, 'Nell di della vittoria io le incontrai …' demonstrated. 'La luce langue', which Verdi later inserted, was a tour de force; her sleepwalking aria, 'Una macchia è qui tuttora', chilling, full of both delirium but hints of guilt. This is never going to be a role for a lyric soprano, but for a great dramatic one it is a gift. And Anna Pirozzi is indisputably a great dramatic soprano.
Simon Keenlyside's Macbeth is by now a fully carved-out figure. Years of experience singing this role have given it an almost unique authority. He still needs a great foil to play against, and Pirozzi's Lady Macbeth gave him that. Always the most subtle of baritones, Keenlyside edges into his roles with uneasy reserve, and a power of detail which can be a little unsettling. His Macbeth is all the more capricious because his decline into mania is so nuanced. This is a psychopath who stands in stark contrast to his deranged wife – the cleverness being one is never quite sure who is the more dangerous. Keenlyside's voice remains a wonderfully dark and magisterial instrument – his aria, 'Mi si affaccia un pugnal?', during his long Act I duet with Lady Macbeth being magnificent. This is an unapologetic Macbeth who at the end is just as drenched in the blood of his enemies as his wife. Pirozzi and Keenlyside make for a truly chilling couple.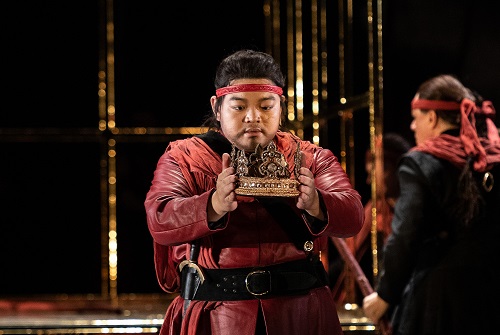 Verdi's opera is so dominated by these two characters – and in this particular performance, so overwhelmingly so – it is hard for other singers to stand out. Günther Groissböck's Banquo was rich of tone, and David Junghoon Kim sang movingly during his tenor solo.
The young Italian conductor Daniele Rustioni proved himself a dynamic and exciting interpreter of the score. One sensed this might be the case early on given his electrifying opening which had both mood and drama. Rarely did this music drag – although it is a difficult opera to make that happen so tight is Verdi's composition of it (but it happens). The playing of the orchestra was magnificent.
With few, if any, weak links this is one Covent Garden revival that is worth seeing.
Marc Bridle
Giuseppe Verdi: Macbeth
Macbeth – Simon Keenlyside, Lady Macbeth – Anna Pirozzi, Banquo – Günther Groissböck, Macduff – David Junghoon Kim, Duncan – John Gorick, Malcolm – Egor Zhuravskii, Fleance – Malakai Bayou, Lady-in-waiting – April Kopyejo-Audiger – Lady-in-waiting, Servant to Macbeth – John Bernays, Assassin – Olle Zetterström, First Apparition – John Morrisey, Second Apparition – Jimmy Frow, Third Apparition – Jonathan Fisher, Doctor – Blaise Malaba; Director – Phyllida Lloyd, Revival Director – Daniel Dooner, Conductor – Daniele Rustioni, Designer – Anthony Ward, Lighting Designer – Paule Constable, Choreographer – Michael Keegan-Dolan, Revival Choreographer – Angelo Shimmo, Fight Director – Terry King, Royal Opera House Chorus, William Spaulding (Chorus Director), Orchestra of The Royal Opera House.
Royal Opera House, London; Tuesday 16th November 2021.
ABOVE: Anna Pirozzi (Lady Macbeth), Simon Keenlyside (Macbeth), ROH Chorus (c) ROH 2021/Clive Barda