This disc of concert recordings made during the 2018 Göttingen International Handel Festival comprises a pair of late choral works from the German-born composer. One secular, the other sacred, each celebrates a victory: the triumph of the Goddess Virtue over Pleasure and the defeat of the French by the combined British and Austrian armies in 1743 at Dettingen during the Austrian War of Succession. Neither work is well represented on disc by British choirs, so this double CD is most welcome. Both feature Christ Church Cathedral Choir who, some forty years ago (with Florilegium) made several acclaimed recordings of Handel's works with the Academy of Ancient Music under Simon Preston.
The Choice of Hercules (1750) is a secular oratorio derived from a text by Robert Lowth based on the allegorical fable of the youthful Hercules who, after much persuasion, elects to choose duty over desire.  Its uneven distribution of arias and choruses, mundane text and contrived efforts to recycle music originally written for Alceste does little to encourage performances outside the recording studio. Yet within this 50-minute drama there's a freshness of invention that's utterly engaging.  By cloaking the final chorus in G minor and relinquishing earlier use of festive trumpets and timpani, one wonders if the composer himself questions the work's morally righteous outcome.  Whatever those imponderables, these are glowing accounts with some wonderfully responsive singing and playing under Laurence Cummings' invigorating direction.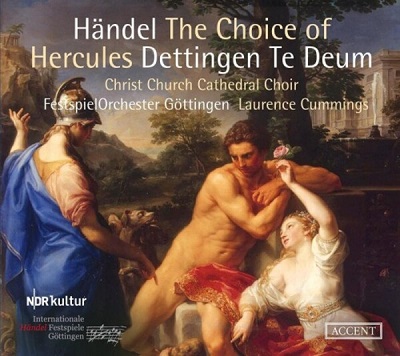 Take for example the penultimate chorus 'Arise, arise' where the choir urge Hercules to fulfil his noble obligations. Promises of immortal glory are rhythmically alert in their rigorous exhortation to Hercules, and if one might wish for more choral heft, the bracing tempo brings ample dividends, as the choristers are clearly enjoying themselves.  It's a shade faster than Robert King's account with the King's Consort (Hyperion, 2001) and considerably swifter than Philip Ledger's leisurely rendition with the Choir of King's College, Cambridge (EMI, 1975).  There's no shortage of enthusiasm either in the closing chorus that anticipates the deification of Hercules, a role here sung by Baroque specialist Diana Moore.
She's in lustrous voice and in the exquisite creation that is 'Yet, can I hear that dulcet lay' she evokes dignity and disappointment, clearly not wishing to relinquish the charms outlined by Fflur Wyn asPleasure but knowing she's honour bound to do so. While I missed the flowing tempo that James Bowman delivers, his sumptuous account (EMI 1975) brings far less sense of regret, and one has no illusion where his sympathies reside. Rachel Kelly is a determined advocate as Virtue, reminding Hercules in her opening Air of 'his manly youth' despite her repeated pleas for him to 'listen to my awful voice'. Those unfortunate words aside, it's a lovely passage and nicely decorated by solo flute and violin. There's plenty of resolve in her 'Mount, mount the steep ascent', a brief Air crowned by an operatic closing flourish. But it is the glowing voice of Fflur Wyn who brings a special vibrancy to 'Come blooming boy' and her florid aria 'There the sparkling nectar drain'. Nathan Haller's bright tenor convinces too as her Attendant. A final sung Trio 'Where shall I go?' perfectly expresses Hercules' predicament and the increasing desperation of Virtue and Pleasure to entice him into their sphere of influence.
As with The Choice of Hercules, drama is sustained in the Dettingen Te Deum in purely musical terms.  No movements are exactly alike, with bellicose passages offset by moments of graceful lyricism and plenty of contrast in terms of colour, metre, tonality and weight.  Handel is not above humour as in the repeated cries of 'continually' in 'To thee Cherubim and Seraphim'.  Canadian bass-baritone Cody Quattlebaum is an authoritative soloist for 'Thou art the King of Glory', his rich tones imbued with gravitas for 'When thou tookest upon thee' and dark-hued when pleading for mercy in 'Vouchsafe O Lord'.  The choir are variously incisive, prayerful and noble, with unnamed ATB soloists delivering an assured trio, and a mellifluous alto heard to impressive effect in the glowing final chorus. The boys make a well-nourished sound and are suitably cherubic for 'To thee all angels cry aloud'.  Tempos are well served throughout, and Laurence Cummings draws stylish playing from the FestspielOrchester Göttingen.  All in all, it's a highly enjoyable disc and one well worth investigating.
David Truslove
Handel: The Choice of Hercules, (HWV69), Dettingen Te Deum, (HWV283)
Hercules – Diana Moore, Pleasure – Fflur Wyn, Virtue – Rachel Kelly, Attendant of Pleasure – Nathan Haller, Cody Quattlebaum (bass-baritone), Christ Church Cathedral Choir, FestspielOrchester Göttingen, Laurence Cummings (director)
Accent ACC 26415 [1:27:00]