It's not often that I review a concert back to front, but this Philharmonia pairing of Strauss and Wagner is in part better understood that way. Both composers used huge orchestras – indeed, this concert may well give us the largest orchestra we are going to see on a London platform this season. But they managed their orchestras in quite different ways and achieved something close to the same results.
Richard Strauss, often criticised by Thomas Beecham for the scale of his orchestrations, could micro-manage them in beautifully compact ways. The Vier letze Lieder is a good example of this – a work which is hardly modest in its instrumentation but which has a clarity which is almost chamber-like. Wagner's Der Ring des Nibelungen, on the other hand, is often as monumental and complex as the story it tells. The individual operas from the Ring certainly work in different ways – Die Walküre, for example, is more often concerned with the singers than the orchestra because it is often seen as a narrative opera. Götterdämmerung, on the other hand, abounds with orchestral scenes, some of astonishing power you simply do not hear elsewhere in the Ring. It's precisely these reasons why versions of these wordless Ring symphonies (of which there are at least three) tend to ignore Die Walküre – to differing degrees – and focus more on Götterdämmerung.
The Philharmonia and Santtu-Matias Rouvali decided on Lorin Maazel's 1987 version of Wagner's Ring Without Words (perhaps a nice touch given his half-a-century association with this orchestra). It is, as it happens, considerably better done than Henk de Vlieger's 1991 attempt although these are not mere chunks of Wagner; it's a whole mountain of it unified into something that, however controversial, simply sounds overwhelming. The experience is in a sense unforgettable. Two more things also become apparent when listening to this 70-minutes of music. Firstly, it requires an orchestra of considerable virtuosity. Secondly, it also requires one of maximum finesse with an ability to dramatize the music. The wind and brass sections, in particular, are vulnerable to a level of expression and improvisation which is hugely challenging.
Rouvali's balletic style of conducting might not seem ideal for Wagner; and his baton is sometimes vague rather than incisive – although this worked perfectly well for Furtwängler. But you would be very hard pressed indeed to find Wagner that sounded as opulent as this did. Rouvali would flex his knees into the orchestra and coax out of them a string sound that was as rich as the golden ring itself. The Philharmonia's violins would shimmer like the Rhine and this is a conductor who knows precisely what he is doing with the timpani. None of it was muffled; it was sharp, and wielded with the power of the forged sword to an executioner's degree. Wagner horns, never the most secure of instruments in performances of Wagner operas, made for a well-honed quartet. But, the opening horns during 'The Twilight of the Rhine' had been magnificent – magically atmospheric. 'Wotan's Rage', from Die Walküre, stood out as just one moment of the Philharmonia's tight, flawless playing; it was as thrilling as any moment during the entire 70-minutes of the work (and one where Maazel re-worked the score by adding the end of Act II to it to give it that final dramatic flourish).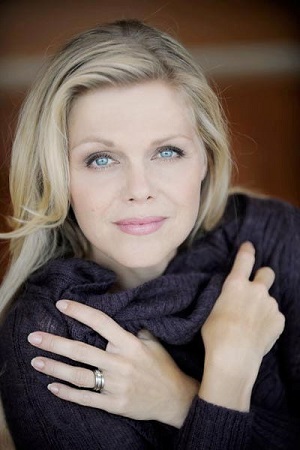 I have reviewed several performances of Strauss's Vier letze Lieder for these pages over the past few years but I don't think any of them have been finer than this one. The Swedish soprano Miah Persson has a voice which sounds quite close to the second interpreter of these songs – Sena Jurinac. The great Bosnian singer, although often seen as a lyric soprano at the time of her recording of these songs was more in between the mezzo-soprano range and this is exactly where Persson sounded.
What was notable about this performance was the sheer cleanness of it. The breath control was effortless, the way she moved from one note to the next so beautifully done it was as seamless as silk thread; it was almost as if these songs had just been sewn together into a single, unbreakable strand. 'Früling' poses a notable challenge because of its range – its soaring lines, and long upper harmonies can unsettle some sopranos who feel a need to sing forte because of the sumptuous, expressive string writing for the orchestra. Persson was under no pressure whatsoever, the voice never stretched – though I think she was helped by Rouvali's careful attention to balancing the Philharmonia's strings. She understood the playful, effervescent joyfulness of 'September' but as the mood of the music passes from summer into the autumn Persson darkened just enough to highlight the seasonal shift.
Although 'September' may pose perhaps the most technical challenges in this cycle, it is 'Beim Schlafengehen' that, in my view, sets the greatest difficulties for the soprano to understand her place within the orchestra. The solo violin here was enormously sweet toned, the horn in the second half so subtle in its range of colour. Persson managed a middle ground that was both radiant and honeyed and an A flat that was floated rather than simply hit. Taken at a broader tempo this song felt like a thing of simple beauty. 'Im Abendrot' was as luminous and glowing as it was the inevitable sense of resignation – Persson's voice fading into the shadow of mortality with an imperceptible glow that foreshadowed that of the orchestra. It felt so much more moving than usually happens in these songs; like the final valediction of a metaphysical sonnet.
This had been a concert of wild extremes. Of the very private; and the very dramatic. There were common themes – of nature (if you looked hard enough), and of the power of love, mortality and transfiguration. The quality of the concert was breath-taking in its scale – a performance of Strauss's Vier letze Lieder that had the rare quality of being both deeply considered and magnificently sung and the Philharmonia Orchestra playing with unrivalled virtuosity and brilliance. This concert will stay long in the memory.
Marc Bridle
Miah Persson (soprano), Philharmonia Orchestra, Santtu-Matias Rouvali (conductor)
Richard Strauss – Vier letze Lieder, Richard Wagner – The Ring Without Words (arr. Lorin Maazel, 1987)
Royal Festival Hall, London; Thursday 4th November 2021.