Given the cult following Arvo Pärt has attracted over the last thirty years, it is interesting to note how seldom the chaste landscape of Passio – with its relatively modest forces of singers and instrumentalists – has secured the attention of record companies. This is music of the utmost economy, divested of ornament, with pitch, note values and much else dictated by words drawn from St John's Gospel. The evangelist's narrative is shared by four singers supported intermittently by a quartet of instruments, while Jesus, assigned to a bass, is always underpinned by an organ and a tenor assumes the role of Pilate. Periodic appearances from a chorus introduce glowing sonorities. The intimacy of the work with its limited dramatic scope may not be ideal for concert performance, but on CD it can be an intense experience where, in what amounts to an exploration of artistic self-denial, it can be fully appreciated.
This new account, from the Helsinki Chamber Choir, released in October 2021 is, therefore, a most welcome addition to the existing slim discography. Indeed, it is only the fourth recording since the Hilliard Ensemble gave its acclaimed outing with ECM in 1988. Some thirteen years later Finlandia Records issued their 'Johannes Passion', and in 2003 Naxos and the ensemble Tonus Peregrinus added another account. A wait of some eighteen years for this new reading recalls words from the composer's programme note for the UK premiere of Passio at the Almeida Festival in 1986 where he encouraged the audience to observe 'infinite patience'.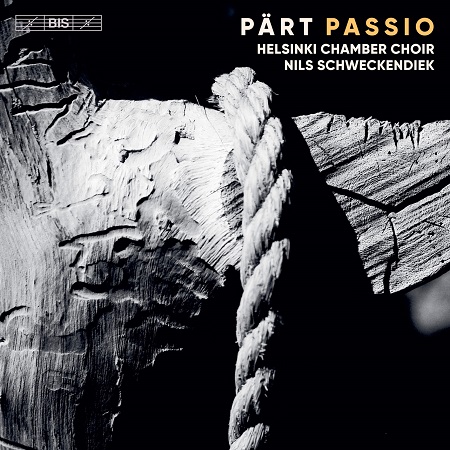 So, will Pärt devotees hungry for a new recording be satisfied? The short answer is a yes, but with some minor reservations. At just over 71 minutes conductor Nils Schweckendiek delivers plenty of gravitas. His leisurely tempo allows the text to unfold with great solemnity and does much to lend expressive weight to the blocks of recitative and terse instrumental lines, enhancing the work's emotional power. Whilst there's a similar duration to the Hilliard's recording, there are a number of silent bars in this version where the surrounding energy drains away, and dramatic intensity is temporarily lost. It's not a problem for the faster tempo adopted by Tonus Peregrinus under Anthony Pitts whose Passio is reduced to an hour. That said, I prefer the stately approach from Schweckendiek, where the delivery of words is more measured.
Among the soloists, Sampo Haapaniemi is compelling in the role of Jesus. He possesses a wonderfully rich baritone, dark hued with a rock-solid core and oceanic depths – captivating throughout. With the plangent tones of his first entry – just four notes – he immediately establishes another vocal dimension, one that sits apart from the other singers and the chorus. He is well supported by Martti Anttila's gleaming tenor as Pilate – bright-toned and with an unerring ability to ennoble a handful of notes in what is sometimes a most unpromising phrase, yet consistently holding the ear with his musical intelligence.
Of the quartet of singers given to the role of Evangelist the bass is an initial disappointment with a distracting unfocused tone until he's integrated into the other voices. Overall, the quartet is impressive, with tight ensemble and perfectly blended, pure sounding upper voices – tailor-made for Pärt's tintinnabulation where clashes result from interlocking pitches. The uncompromising angularity of soprano and tenor lines (based on an A minor triad throughout) are sung with commendable smoothness. Input from violin, oboe, cello and bassoon bring their own distinctive timbre (so different from the organ's woody tone) and charm the ear in various combinations. How bewitching these players can be, even when just inserting a pair of notes, all of which adds to the work's sense of ritual and cool detachment.
In their varied crowd scene passages, the sixteen voices of the Helsinki Chamber Choir are all technically secure, but their bright major chords, polished as they are, don't quite startle or raise the emotional temperature. However, there's no denying the sense of release with the arrival of those glorious D major chords, the sense of liberation and, by extension, resurrection is overwhelming. Caveats aside, BIS and Nils Schweckendiek have created an atmospheric performance fully equal to the British contenders in the field.
David Truslove
Arvo Pärt: Passio
Sampo Haapaniemi (Jesus), Martti Anttila tenor (Pilate), Linnéa Sundfær Casserly (soprano), Sirkku Rintamäki (mezzo-soprano), Mats Lillhannus (tenor), Jussi Linnanmäki (bass-baritone), Jan Lehtola (organ), Laura Vikman (violin), Anni Haapaniemi (oboe), Marko Ylönen (cello) Mikko-Pekka Svala (bassoon), Helsinki Chamber Choir, Nils Schweckendiek (conductor)
BIS 2612 [71.33]