Dedicated to the memory of Bernard Haitink, this Barbican concert with the London Symphony Orchestra could have been stymied by cancellations of conductor and soloist. But Ukrainian-born Kirill Karabits (more often associated with the Bournemouth Symphony Orchestra) took over baton duties from a self-isolating Simon Rattle, while Australian soprano Siobhán Stagg covered for Lucy Crowe who had lost her voice. Meanwhile, Mark-Anthony Turnage, who was due to attend his premiere, was recovering from Covid. Mixed fortunes produced mixed results in an oddly proportioned programme in which the first half occupied 18-minute's worth of music. Little wonder the LSO's Manager Director Kathryn McDowell stepped onto the platform at the start to pay tribute to Haitink's six decades of music making and remind us of the great affection in which he was held by the players, and why Debussy and Mahler – his two great loves – featured in the evening.
Yet, I couldn't help wondering if he would ever have got excited over Debussy's Fanfare and Le sommeil de Lear which opened this concert – written as incidental music for a Parisian production of Shakespeare's King Lear in 1906 which never got beyond the two passages performed here. There was little to offer in the anonymity of its preliminary pageantry, but Lear's restless dreams subsequently generated more interest in the darker colours of muted strings and horns and two low flutes, its floating final chord deliciously unresolved.
If the power-crazed king didn't inspire Debussy to great heights, Berlioz drew on his own inner turmoil following his fiancée's rejection to fashion a cinematic response to Shakespeare's tragedy which in Le Roi Lear burns with passion. From the glowering opening narrative, through the Allegro disperato (molten strings impressing) and the hysteria of the closing pages (brass not holding back), Karabits coaxed playing of superb vitality in a detailed and involving account. Only a gentle oboe, over a 'strumming' pizzicato, associated with Cordelia, and the warmth from four horns brought soothing balm to a work of operatic fervour and masterly orchestration.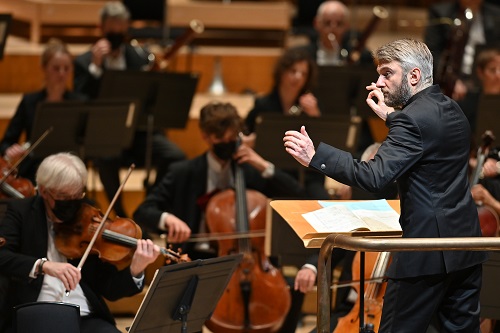 Mark Anthony Turnage is another composer who is recognised for his imaginatively scored works and renowned for his integration of jazz, funk and soul. The world premiere of his new work, A Cortège for Bernard Haitink, brought an appropriate mellowing of his style, but no less resourceful use of his forces. Its title is not one you would have expected from someone hawking catchy names like Blood on the Floor, Drowned Out, or Barrie's Deviant Fantasy. Gone too is the abrasive manner found in his football-inspired Hammered Out. His Cortège pursues a single idea and explores it as far as it will go across its colourful 10-minute span. In a score of haunting beauty, we encountered vivid sonorities framing its sinuous melodic contours – the whole played with great affection.
Mahler's Fourth Symphony on the other hand felt harried. It's a work of extremes juxtaposing sophistication and naivety. Karabits found a point midway, downplaying charm and tenderness for garish colours (largely turning a blind eye to the work's chamber qualities) and favouring brisk tempi. Orchestral balance privileged horns and woodwind, and while there was some vernal promise in the first movement, it was an efficient, intense account, the composer's childlike visions faintly outlined.
Problems with balance undermined the Scherzo, where one had to strain at times to hear the solo violin against competing forces. Mahler's devilry, however, was well served. Strings purred in the idealised Eden of the slow movement – intimate if not heart-easing – while the climax was blistering. It was left to the light silvery tone of Siobhán Stagg to bring dignity and childlike innocence to the finale, its heavenly vision eloquently expressed in an angelic and aptly young voice that reconciled earlier tensions: paradise eventually gained.
David Truslove
Siobhán Stagg (soprano) Kirill Karabits (conductor), London Symphony Orchestra.
Debussy – Fanfare and Le sommeil de Lear, Berlioz – Overture: Le Roi Lear, Turnage – A Cortège for Bernard Haitink, Mahler – Symphony No.4.
Barbican Hall, London; Thursday 16th December 2021.
ABOVE: Siobhán Stagg (soprano) and the LSO conducted by Kirill Karabits (c) Mark Allan.