Jonathan Kent's production of Tosca has been running at the Royal Opera House since 2006; this is its ninth revival. It is no surprise it is still there in repertoire. It is visually lush and impressive, with fine use of perspective in the final act. Paul Brown's designs show buildings imposingly; but maybe it is Mark Henderson's atmospheric lighting that allows us to fully enter into Puccini and Giacosa/Illica's dark world; his illumination of Floria Tosca at the moment of her demise, otherworldly, startling and disturbing, was magical.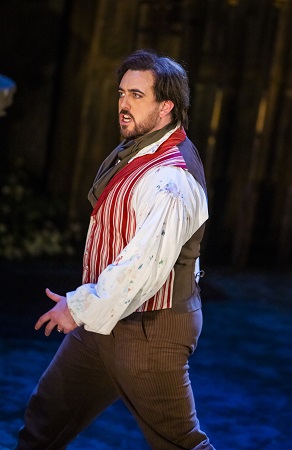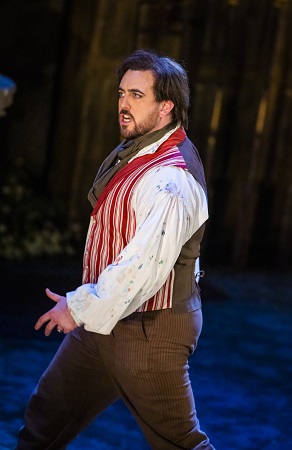 Earlier this week, young singer Freddie De Tommaso made the headlines for saving the evening when his co-Cavaradossi, Bryan Hymel, could not continue due to a cold. The present performance, Saturday 11th December , was scheduled to be De Tommaso's first in the run. As fate would have it, then, he had a run-up; and, when it came to the big day, launched himself fully into the role from the very start. His was one of two truly satisfying contributions to this matinée Tosca; and the other was not a singer. It was, rather, the conductor, Oksana Lyniv, who is clearly destined for great things. There is no doubt the orchestra were on fire for her; but more, the level of detail was staggering. She fully understands Puccini's processes, from layering to dramatic momentum. The latter was clearly important to her. Speeds which initially might have seemed rapid actually moved the drama on perfectly. A glimpse at her schedule shows wide repertoire (Bortnyansky's Le Faucon in Lvin, a Walküre in Bologna) but with an emphasis on the verismo repertoire: Suor Angelica coupled with Giordano's Mese Mariano in Liège followed by a Turandot in Rome. If she brings this level of intelligence and musicality to those readings, they will be special indeed. It was primarily Lyniv's doing that enabled the final act to hold its power. One only needed to listen to the excellence of the solo strings or the long clarinet solos to appreciate how Lyniv can inspire the musicians she works with.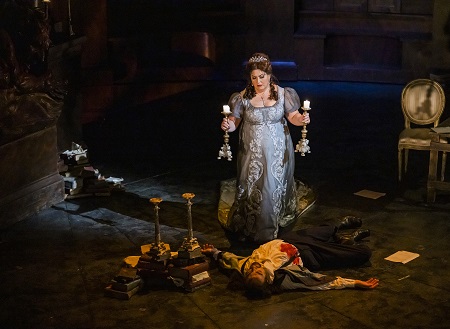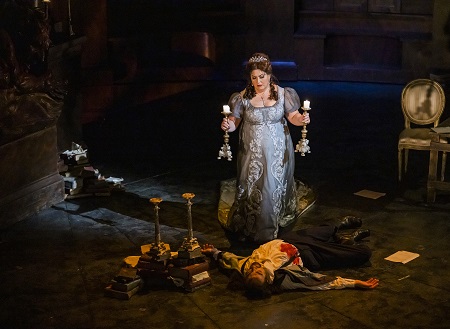 The youngest ever Cavaradossi at Covent Garden, and the first British singer to take on Cavaradossi at Covent Garden since 1963, Freddie De Tommaso positively lives the role. His voice is strong, lyrical, his delivery ardent. He has the power and the dramatic awareness – and presence – to connect directly with his audience. His 'Dammi i colori … Recondita armonia' gave us the first real exposure to this. Right through the torture of the second act and the firing squad of the last, De Tommaso is the real deal – his Pinkerton next summer is clearly something to look forward to. While I enjoyed his Cassio in Otello at Covent Garden (December 2019), the present run catapults him into different territory. His final act 'E lucevan le stelle' and 'O dolci mani' crowned the performance brilliantly, with the latter particularly tender.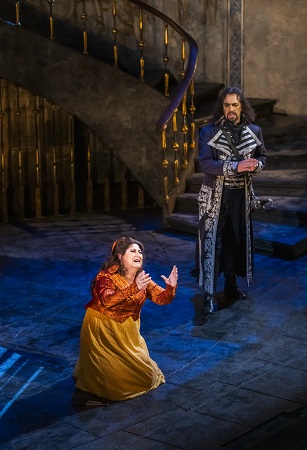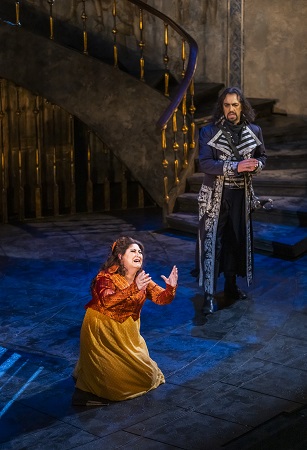 A fine Mario Cavaradossi requires an equally fine Floria Tosca, and in Anna Pirozzi that was not quite the case, sadly. Some of Puccini's middle register writing in the second act got lost; lines that so often hold heart-wrenching impact went for little, including a spectacularly meaningless 'Assassino'. There was some lazy movement during melodic lines in the first act, too; rough edges which were ironed out as the performance progressed. The passage in the final act which finds Tosca and Cavaradossi in octaves, unaccompanied, was, for once, nicely in tune.
The other male roles (the rest of them, basically) held a superb Angelotti from the wonderfully full-voiced Yuriy Yurchuk. He has a stage presence that makes it easy to believe that Don Pizarro Fidelio is in his repertoire; he also clearly listens closely to the orchestral contributions (some fabulously placed woodwinds in this case, early on in the opera). Claudio Sgura brought his Scarpia straight from Prague, where he sang it at the National Theatre. And yet this sounded less than convincing; this Scarpia, however well sung from a vocal standpoint (good but slightly lacking even there in heft), lacked its evil edge. Authority, too, was rather low on the agenda.
The Spoletta of tenor Hubert Francis, though, was a triumph, not only vocally strong but capable of superb diction at speed in the second act. Jeremy White occupied the role of Sacristan like a well-worm pair of comfortable slippers, while Juhoon Kim similarly inhabited Sciarrone.
A mixed performance, then, but one in which De Tommaso and Lyniv excelled.
Colin Clarke
Floria Tosca – Anna Pirozzi, Mario Cavaradossi – Freddie De Tommaso, Baron Scarpia –Claudio Sgura, Spoletta – Hubert Francis, Cesare Angelotti – Yuriy Yurchuk, Sacristan – Jeremy White, Sciarrone – Jihoon Kim, Shepherd Boy – Alfie Davis, Gaoler – John Morrissey; Director – Jonathan Kent, Revival Director – Amy Lane, Conductor – Oksana Lyniv, Designer – Paul Brown, Lighting designer – Mark Henderson, Chorus and Orchestra of the Royal Opera House.
Royal Opera House, Covent Garden, London; Saturday 11th December 2021.
ABOVE: Anna Pirozzi (Floria Tosca) and Freddie De Tommaso (Mario Cavaradossi) ©Tristram Kenton