For the second year running, the Kathleen Ferrier Awards were delayed until the autumn and the participants had only a panel of illustrious judges and a small private audience before whom to perform their recital programmes, with the 66th Kathleen Ferrier Awards being held in November behind the closed doors of the Grade II listed Henry Wood Hall in South London, and subsequently streamed online for free on the Kathleen Ferrier Awards website, hosted by BBC Radio 3 Presenter, Martin Handley.
A glance down the roster of the Award's past prize winners would suggest that we are going to be hearing a lot from these young singers in the near future, but in fact several of this year's competitors have already made a considerable mark in the capital's concert halls and opera houses, and beyond. I don't think, however, that I have previously heard baritone Michael Lafferty perform, though Lafferty – currently studying on the Opera Studies programme at Guildhall School of Music and Drama – did catch the eye, or rather ear, of one my Opera Today colleagues in a Hurn Court Opera song recital in 2019.
Lafferty and his accompanist Ashley Beauchamp began their programme with Schubert's tempestuous horse-ride, 'Auf der Bruck', in which the baritone displayed an engaging tone and musical directness, though a wider range of colour would have captured the gamut of emotions which afflict the rider who, as he flies at speed across the bridge, seeks hope and fulfilment on the opposing bank but fears and finds only disappointment and struggle. Beauchamp was pressing and impetuous in the pounding repetitions and driving canonic motions, perhaps a bit too much so at times, but the song was boldly executed. Samuel Barber's 'A Green Lowland of Pianos' lilted along more playfully, though here and in Finzi's 'It was a love and his lass' a little more flexibility to complement the fulsomeness would have enabled Lafferty to convey the songs' freedom and light-heartedness – the vision of 'herds of black pianos', on vacation from concert hall life, lying in fresh pastures and relishing the rapturous gurgling of frogs, surely reveals Barber's unpretentious humour at its best.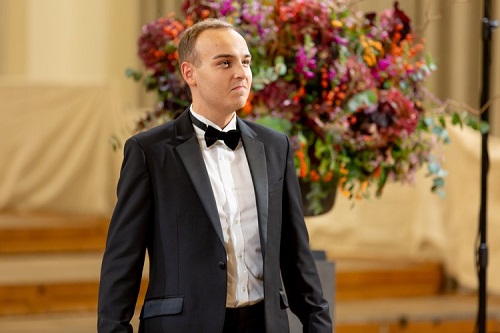 Beauchamp was a sensitive accompanist in 'Mein Sehnen, mein Wähnen' (from Die Tote Stadt), Fritz's tale of a clown dancing with his beloved in the moonlight, enhancing the sincerity of the Pierrot's poignant happiness. Lafferty was at his best in 'Vi mne pisali … Kogda bi zhizn domashnim krugom', Eugene Onegin's condescending dismissal of Tatiana's love – another warhorse and another brave choice – injecting drama and character into the rich melodiousness of Tchaikovsky's vocal line.
An interesting programme from countertenor Hugh Cutting, a member of the Royal College of Music International Opera Studio, followed.  The vivid communicativeness of Cutting's voice impressed in Tom Guthrie's imaginative staging of the St John Passion with Oxford Bach Soloists earlier this year, and this quality – as well as the 'peerless musicianship' of his duet with Iestyn Davies in The King's Consort's recent recording of Purcell's Odes – were immediately evident in 'L'ultima del gioir … Lusinghiera mia speranza' (Agrippina), in which Cutting fully convinced this listener of Ottone's integrity and temperament.  Pianist George Ireland (who accompanied last year's Award winner, Jessica Cale) made the counterpoint lucid, punctuated the harmonic twists neatly, and tucked some lovely flourishes into the texture.  Vincent d'Indy's 'Madrigal' Op.4, on a poem by R. de Bonnières, had a fine sureness of line, and Ireland's stanza after-commentaries were eloquent.  The relaxation of the third stanza was complemented by Cutting's silky legato and with expert and expressive nuance he subtly coloured the final phrase, capturing the lover's blissful awe at the beauty of his beloved's eyes, the sweetness underlined by Ireland's shapely tierce de Picardie.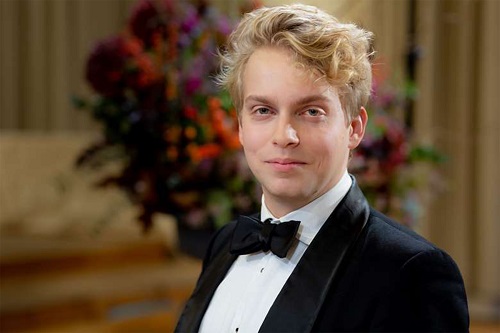 Two songs from Dvorák's final cycle, the Biblical Songs (1892), balanced intensity with simplicity, and Cutting showed a welcome appreciation of the Czech accentuation.  In 'Hospodin jest můj pastýř' (Oh, my shepherd is the Lord) Ireland's delicately ornamented commentary on the declamatory vocal line was authentically 'folky' and the piano's closing phrase was wistfully tender.  Bright, buoyant positivity rang through the last song of the cycle, 'Zpívejte Hospodinu píseň novou ('Oh sing unto the Lord a joyful song').  The dramatic impact of Cutting's performance of 'This, says the Angel' brought memories of hearing George Benjamin's Written on Skin at the ROH in 2017 flooding back vividly.  This was daring, committed singing.  Cutting displayed a rich chest voice which was 'human' and engaging, searing dramatic power, and insightful responsiveness to the dexterously delivered details of Ireland's accompaniment.  An arrangement of Thomas Campion's 'Faire, if you expect admiring' closed a persuasive programme, the harmonic detours adding a sophistication which was borne lightly here.
Mezzo soprano Helen Charlston performed alongside Cutting in the afore-mentioned St John Passion and also impressed recently when she joined Dame Emma Kirkby in a programme entitled Abiding Love¸ during the spring Live from London series. She and Natalie Burch opened their programme with a beautiful rendition of Brahms' 'Immer Leise wird mein Schlummer', Charlston's mezzo generous and flowing. She demonstrated an instinctive feeling for the phrasing, heightening the text convincingly, and using vocal colour to communicate the harmonic and expressive journey of the song – dreaminess evolving into melancholy dissonance and, then, an almost despairing longing. The dreams were of a gentler kind in Gerald Finzi's 'As I lay in the Early Sun' in which Burch's beautiful harmonies, sustained hushed dynamic and nature-inflected imagery supported the flowing vocal line whose joy at times blossomed into blissfulness. The flexibility of the dance-like lilt and Charltston's control of the expressive and dynamic range were notable.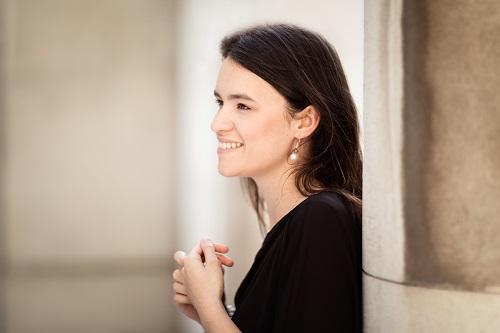 The mezzo soprano won First Prize in the 2018 Handel Singing Competition and in 'Hence, hence, Iris hence away' from the composer's Semele she transported us instantly to the mythological pastoral where Juno urges Iris to join her in the dark realm of Somnus, god of sleep, to enlist his help in her vengeful scheme against her straying husband, Jupiter.  Burch's accompaniment was airy and light, the perfect complement to Charlston's agility and vigour as she embraced the challenging runs, trills, and vocal leaps with relish.  After an expressively nuanced B section, the da capo ornaments were persuasively passionate.  In 'Moi stikhi' (To my verses), the first song of Shostakovich's late song-cycle, Six Poems of Marina Tsvetayeva, the poet-speaker looks back at her early poems and wonders at her former innocence before the years of persecution and repression.  No wonder Shostakovich felt a bond with Tsvetayeva, a fellow-feeling which swells through this song and which Charlston's opulence communicated potently.  'Mon coeur s'ouvre à ta voix' from Saint-Saëns' Samson et Dalilah had a softer warmth, but there was no less beguiling sumptuousness – the seduction of Samson would have been a dead cert.
When I heard baritone James Atkinson sing the role of Sam in Bernstein's Trouble in Tahiti at the Royal College of Music in 2019, I admired his 'wide vocal and dramatic range' and that expansiveness and expressiveness was certainly evident in the stirring performance of Finzi's 'The Clock of the Years' which opened his programme with pianist Ana Manastireanu.  Atkinson has a big voice, but he knows how to use it judiciously.  The rhetoric weight of the opening (the baritone preceded the piano's opening pictorial flourish with the unattributed quotation that prefaces Thomas Hardy's poem and Finzi's song, "A spirit passed before my face; the hair of my flesh stood up.") was tempered by a wistful head voice when the Spirit urges "Peace", and turns back time, summoning a lost lover from the mists of memory.  This truly was a mini-cantata, and if the intonation was sometimes less than secure in the central section of the song, as the years continue to roll back until the past dissipates into 'before Time', then the utter despair of the bereft poet-speaker and the Spirit's final thunderous rebuke were equally affecting.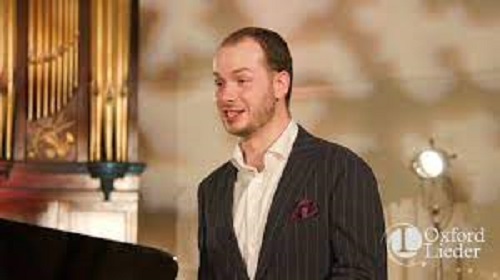 The baritone's stage instincts came to the fore, too, in Ravel's 'La Pintade' (from Histoires naturelles), bringing the humorous bluster of the bird's bullying chivvying to the fore, while Manastireanu had fun with the guinea hen's infernal pecking.  Schubert's 'Wandrers Nachtlied II' was less successful.  These 14-bars of musical magic need to be sung with a smooth mezza voce and the light flutter of Atkinson's pianissimo marred both the tuning and the stillness of the moment.  The piano's sound was sombre but didn't offer the voice much cushioning.  Two arias from Don Carlo found the baritone back on happier ground.  Whether soft-grained or stentorian, in 'Son io mio Carlo … Per me giunto', in which Roderigo bids a brave farewell to the eponymous monarch, and 'O Carlo, ascolta … Io morro, ma lieto in core', in which he gladly gives his life in order to save that of his friend and his country, Atkinson's baritone swelled amply through Verdi's phrases, and these arias also offered the opportunity to enjoy Manastireanu's sensitive, detailed scene-painting.
The aforesaid Trouble in Tahiti was one half of a RCM Opera Studio double bill, the other half comprising an 'upstairs-downstairs' production of Lennox Berkeley's A Dinner Engagement directed by Stephen Unwin, in which bass baritone Edward Jowle's performance as Earl Dunmow prompted me to note that his 'diction and gesture were equally captivating'.  The same could be said about his opening item here, Purcell's 'Ye twice ten hundred deities' from The Indian Queen).  What lovely colour and flexibility Jowle displayed in the magician Ismeron's recitative reflecting on the meaning of the Queen's tortured dream – musical musings described by Charles Burney as 'the best piece of recitative in our language'.  Burney would surely have delighted in Jowle's and pianist Lucy Colquhoun's shapely crafting of the diverse sections into a coherent whole too.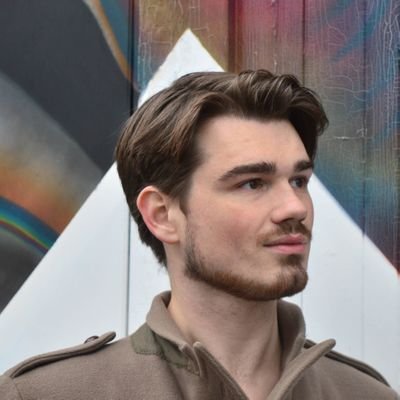 No less well-structured was Wolf's 'Der Feuerreiter', one of the 53 lieder songs that he wrote in 1888 setting poems from Eduard Mörike's Maler Nolter.  Colquhoun's text-painting – wildly circling triple octaves and chordal hoof-hammering, as the eponymous horseman frantically sought to reach the burning mill – climaxed in a quasi-apocalyptic tumult.  This song is a very challenging sing and Jowle was impressively poised and accurate, despite the wide range, angularity and unpredictability of the vocal line.  There was just one slight misjudgement: when the piano's dying embers had flickered and spluttered out, there was too much haste into the ensuing gothic vision of the skeleton on horseback – a longer pause is needed to take in the horror that has happened and to anticipate the eerie grotesqueness to come.  Jowle's baritone was wonderfully dark though, while Colquhoun's ivories rattled like dry bones. 
Mozart's 'Tutto è disposto … Aprite un po' quegli occhi' followed almost segue. Again, more measure might have been preferable, but Figaro's misogynist moaning had an easy grace: Jowle didn't overdo the anger, while Colquhoun's fingers ran lightly over the swirling scales, the epitome of feminine inconstancy.  Stanford's 'To the Soul' (one of two Whitman settings which form Songs of Faith) felt a little too rushed to me – a breezy stroll rather than sombre look toward the afterlife.  The song needs a bit more majesty; Stanford later made an orchestral arrangement, but the piano version has its own architectural breadth and grandeur.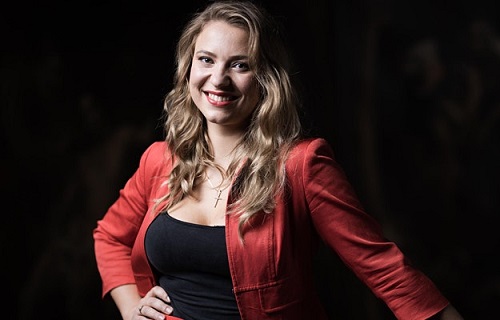 After the fire-riding, some fire-spitting, in the form of Armida's entrance aria from Handel's Rinaldo, 'Furie terribili'.  During the past two years I've enjoyed (often, by necessity, online) several performances by Latvian soprano Laura Lolita Perešivana in GSMD productions, and most recently she impressed as the feisty Berenice in British Youth Opera's summer production of Rossini's L'occasione fa il ladro at Holland Park.  Here, the vocal flames of fury made some scorching excursions upwards above pianist Joseph Beesley's bubbling brew of impassioned anger. Delius' 'Indian Song' (the first of the Three Shelley Songs) lowered the temperature, a little at least, Beesley's pedal pulsings and ostinato ripples creating a febrile languidness above which the soprano's arching phrases soared with luxuriant fervour, as the poet-speaker begs her lover to press her heart so close, "Where it will break at last".
Perešivana then travelled to her homeland, and into a child's mind, with Jāzeps Vītols' 'Zaķu māte' (Mother of the Rabbits), the charm and chutzpah of which she pulled off with flair.  Both piano and voice lie high in Rachmaninov's 'Dreams' Op.38 No.5.  Beesley's transparent delicacy was pure and precious at the start, while the later impressionistic cascades were comfortingly ample and serene. and Perešivana's soprano shone as it swirled through the expansive cantabile phrases, floating or arching coolly to the top.  Then, to conclude the soprano flashed her dramatic coloratura credentials in Rossini's fiendish 'Bel raggio lusinghier', in which Semiramide expresses her elation that her general Arsace has returned to her side, not realising that the man she loves is actually her son.  In the Andante, Perešivana interpolated a few elaborations venturing higher than Rossini indicates, but largely stuck to the notation, but in the cabaletta, 'Dolce pensiero', she playfully pulled and tugged at the pulse at times, and played games with Rossini's pyrotechnics, dazzling with the cleanness of her coloratura, the shine and strength of her tone, and some crystalline top Es thrown in for good measure.  Beesley more than had the stamina to keep up!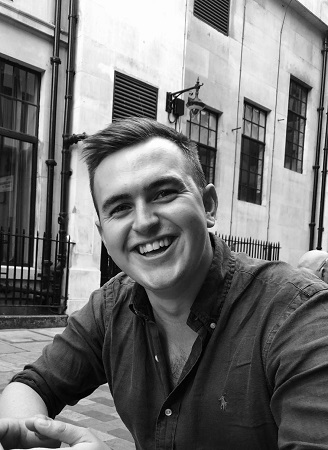 The last competitor was baritone Jack Lee, who is currently a member of Royal Academy Opera. In 'Largo al factotum', Figaro's swaggering sales-pitch had a winning charm, enlivened by Chad Vindin's frisky accompaniment, though Lee could have taken a little more time at some of the aria's 'corners', which might also have kept the intonation more centred. But, once the patter was in full flow, there was no holding back the barber's pristinely enunciated self-praise. Of his The Compleat Virtuoso (Op.366) Stanford said, 'This plagiarism is almost too obvious; "it ceases to be plagiarism and becomes quotation". A very little investigation revealed the fact that this work is really a composition by the famous Max van Beetelssohn'. Dedicated to Joseph Joachim whom Stanford had conducted in performances of the concertos of Mendelssohn, Beethoven, and Bruch, the song weaves short snippets from those works into its fabric. Lee appreciated that the best jokes are those delivered with earnestness and elegance.
The three songs which form Ravel's cycle Don Quichotte à Dulcinée followed, in which the chivalric madman is depicted as a seducer, a soldier and a sot.  The simplicity of the melodic line in 'Chanson Romanesque', which was appealingly set against the swinging ease of Vindin's quajira sways, allowed Lee to show off the warmth and depth of his tone, and, at the close, its sweetness.  'Chanson épique' was beautifully solemn and heartfelt; 'Chanson à boire' whipped itself up into an extravagance of inebriated ebullience.  Mahler's reflections on the comfort that the poet may find upon retreating from the world's turmoils to absorb himself in heaven, his life and song, 'Ich bin der Welt abhanden gekommen' from the Rückert-Lieder, was Lee's closing item.  If it didn't quite capture Mahler's fragile transcendence, then it was still a beautiful balancing of passion and peace.
The jury, comprising chair Sir Thomas Allen, soprano Valerie Masterson, mezzo soprano Alice Coote, tenor Ian Partridge and pianist James Baillieu awarded the First Prize of £12,500 to Hugh Cutting with Laura Peresivana taking the £6,000 Second Prize. The Ferrier Loveday Song Prize of £5,000 went to Helen Charlston, for her performance in the semi-finals of Joshua Borin's 'Nature is Returning' (2020), and Ilan Kurster won the £5,000 Accompanist's Prize for his performance in the semi-finals of the competition.
The semi-finals and final of the 66th Katherine Ferrier Awards are available to watch, for free, for one month after the broadcast at https://ferrierawards.org.uk/2021-competition/.
Claire Seymour
ABOVE: Helen Charlston, Hugh Cutting and Laura Peresivana (Emma Brown Photography)