Here's a disc of outstanding solo performances from the Dunedin Consort of three of J.S. Bach's finest cantatas. John Butt's musicians have already garnered considerable critical acclaim, and two of the three accounts here are so ravishing I was left wondering if I ever needed to hear another version of Ich habe genug or, for that matter, the dialogue cantata Liebster Jesu, mein Verlangen ever again. He has assembled two Leipzig cantatas from the 1720s relating to gospel readings from St Luke, associated with Christ's early years, and closes with the funeral cantata (Actus Tragicus) probably written around 1708 whilst Bach was organist at Mühlhausen.
Ich habe genug belongs to February 1827 and was first performed at the Feast of the Purification of the Virgin Mary. Its anonymous text (drawn obliquely from St Luke's Gospel) relates to Mary's presentation of the infant Jesus to Simeon in the temple and the old man's ecstatic vision of imminent death and salvation. Bach's response to this death-permeated reading inspired music of extraordinary poetic contemplation, with any morbid thoughts abandoned in the uplifting closing jig.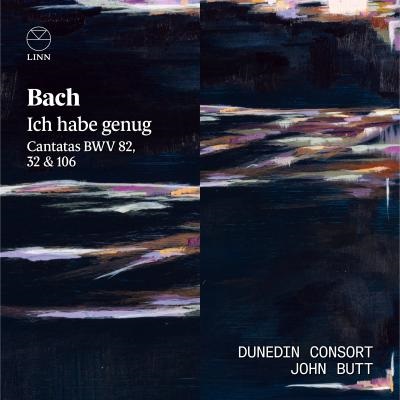 Charged with an intense expressivity, Ich habe genug requires a very special vocal talent which in this performance is more than fulfilled with Matthew Brook's heart-warming rendition. Of course, there's strong CD representation with soprano and counter-tenor voices competing for attention, but here Brook and Bach go hand in glove. From his first phrase you know you're in safe hands. In the opening aria Butt's tempo feels just right and the balance between the players and Alexandra Bellamy's doleful oboe is impeccably judged. Brook's reassuringly oak-aged tone conveys nostalgic reflection and grateful acceptance. No railing against the inevitable here, more a serene anticipation of the afterlife, underlining the title's common translation, 'I am content'. Phrases are pliant, with a natural arc to their trajectory and whilst there's a certain grainy quality in his lowest notes, this adds another layer to Brook's rich, yet mellow timbre. No less communicative is the central lullaby, where Brook draws in the voice to generate rapt consolation (vulnerability too), and at the work's close he brings a sense of breathless excitement. Reaching the core of the text, nobody could ask for a better roadmap to paradise!
Soprano Joanna Lunn joins Brook for the searching dialogue of Jesus and the Soul that is the moving cantata Liebster Jesu, mein Verlangen. This had first seen the light of day on the first Sunday after Epiphany in 1726 when the gospel reading from St Luke related to the 'missing' twelve-year-old Jesus who was eventually found conversing with the elders discussing 'his father's business'. As the allegorical Soul in search of Jesus, Lunn is another ideal choice. Yearning and sensuousness are well caught in the poised opening exchanges between voice and oboe, Lunn's sobbing phrases never over-egged, but the sense of distress palpable. Solo violin elaboration (courtesy of Huw Daniel) in the bass arioso brings a celestial dimension to Brook's words of comfort. But what really caught my ear was Lunn's heartfelt encounter with Jesus, 'Ach! Heiliger und Grosser Gott', where the Soul's adoration of the Almighty is expressed with surpassing beauty. Everything comes together for the duet 'Nun verschwinden', where players and singers respond to one another in music-making of unalloyed joy. It gets as close to perfection as you could wish for.
Bach's cantata Gottes Zeit ist die allerbeste Zeit BWV106, is scored for four voices and, unusually, an ensemble of viols, organ and recorders.  This performance, however, prompts just a couple of reservations. While rigorous scholarly endeavour is to be admired, I'm not convinced that this performance at Chorton pitch (corresponding to organ tuning near the beginning of the 18th century and a semitone above modern pitch) makes for a totally rewarding experience.  In the latter section of the Air and chorale 'In deine Hände', an already cruelly high baritone line results in no small degree of strain for Robert Davies. The higher pitch admirably suits the alto Katie Bray, although in 'Es ist der alte Bund' her articulation is more operatic than her colleagues, Lunn excelling here with a tone of pure spring water.  Two mellifluous recorders beguile in the opening Sonatina and in the arioso for Hugo Hymas whose ringing tenor is a joy. Reservations aside, this is an exceptional disc with memorable performances that command attention in their persuasive musicality.
David Truslove
Dunedin Consort: John Butt (director, organ and harpsichord), Joanne Lunn (soprano), Katie Bray (alto), Hugo Hymas (tenor), Matthew Brook (BWV82 & BWV32) & Robert Davies (BWV 106) (bass-baritone).
Ich habe genug BWV82, Liebster Jesu, mein Verlangen BWV32, Gottes Zeit ist die allerbeste Zeit BWV106.
Linn CKD 672 [66.27]
ABOVE: John Butt (centre) and the Dunedin Consort (c) Jen Owens