This celebrated choir occupies the lion's share of an album shared with Yale Schola Cantorum and former members and friends of the college. It comprises live performances drawn from chapel services during the years 2011 to 2019 which, together, form a tribute to mark the birthdays of two former directors: Christopher Robinson (85) and David Hill (65) who also conduct six of the tracks.
Present director Andrew Nethsingha likens the disc's title, The Tree, to the idea of new growth (with the implicit urge to rebuild after the pandemic) and comments, in the booklet, that the music 'develops from the seed of a single treble line, gradually adding organ then lower voices, a second choir Yale Scola Cantorum and eventually combining nearly 500 voices … who took part in a special service in July 2019 to celebrate the 150th anniversary of the College Chapel'.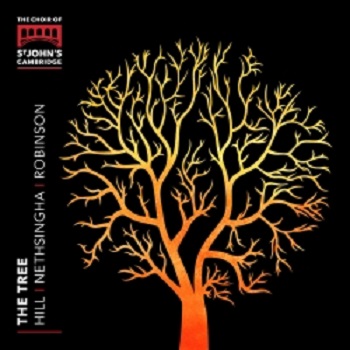 Three former Johnians are represented. From Christopher Robinson there's the harmonically rich Jesu grant me this I pray (1985), a heartfelt setting of Henry W. Baker's translation of a Latin hymn, 'Dignare me, O Jesu rogo te', written in memory of John Porter – Assistant Organist of St George's Chapel, Windsor. If its tortured chromaticism, evoking Christ's 'wounded side', is at times too self-regarding and distracts from the intimacy of the text and the poignancy of its commemoration, the intonation from the choir is faultless.
No less expressive is the more austere title track, The Tree, (1981) by Jonathan Harvey – formerly a student at St John's having begun his musical training at St Michael's College, Tenbury, where he was a chorister alongside Christopher Robinson. Scored for trebles and organ to a text drawn from Job about regeneration, the anthem follows a darkness-to-light trajectory, unfolding from its initial semitonal movement for unison voices to four-part textures mirroring the hopes that a healthy tree will put 'forth branches like a young plant'.
The responses of Herbert Howells (who served as acting organist during the Second World War) inhabit a certain theatrical element but are not without moments of intimacy or mystery. The combined forces of St John's and the Yale Schola Cantorum perform these with scrupulously blended tone and the closing 'Amen' is agonisingly expressive. There's plenty of mystery too at the start of Elgar's 'The Spirit of the Lord' – its Prologue frequently extracted from The Apostles. There's much to enjoy from the larger choral forces used here, with a superbly blended top line and full-bodied unisons where one can imagine each of the Christ's followers spreading the gospel. Clearly apparent is singing of tremendous commitment and sensitivity; so, too, in Howell's A Hymn for St Cecilia.
Amongst Howell's teachers at the Royal College of Music was Charles Villiers Stanford whose 'A Song of Wisdom', one of his six Bible Songs,is given one of those performances to which you want to keep returning. It's not just Andrew Nethsingha's controlled shaping of musical paragraphs that attract the ear, it is the eager and exultant tone from the boys. They so obviously relish Stanford's soaring lines and climaxes, none more thrilling than at 'Come unto me', the top B-flat resounding gloriously. For me, it's the highlight of the disc.
By far the longest item is Parry's symphony style anthem, Hear my words, ye people. Conceived for the 1892 Salisbury Diocesan Choral Association, the work's choral fabric (including a semi-chorus) is interrupted by two extensive solos for bass and treble (both sung here with dramatic assurance) and ends with the uplifting hymn, 'O Praise ye the Lord'. Organist Giles Dempsey rises to the occasion splendidly, although with such a large chorus the original scoring for brass, organ and timpani would have been truly inspirational.
It is a solo trumpet and organ that adds invigoration to James Long's sicut aquilae –commissioned by The Master and Fellows of St John's College, Cambridge for performance in 2011. It's a sinewy work (also including tenor and bass soloists), sung and played with powerful conviction, fully conveying a biblical text concerning inner strength powered by faith. The choir here are better blended than in Stainer's God so loved the world where, in what is otherwise a very beautiful account, one alto seems to have his own microphone.
The disc opens with Hildegard of Bingen's O pastor animarum where a cappella boys beseech the Almighty 'to free us from our miseries', and the compilation closes with a fervently sung Welsh hymn (to Blaenwern) with the choir gloriously affirming Christ's 'Pure unbounded love'. Full texts and translations, comprehensive notes and colour images are included in the accompanying booklet. Highly recommended!
David Truslove
The Choir of St John's College, Cambridge, Yale Schola Cantorum, former members and friends of St John's College Choir; David Hill, Andrew Nethsingha, Christopher Robinson (directors); John Challenger, Joseph Wicks & Glen Dempsey (organ); Jack Ross (trumpet).
Bingen – Obpastor animarum, Harvey – The Tree, Long – sicut aquilae, Howells – Preces and responses, Elgar – 'The Spirit of the Lord', Howells – A Hymn for St Cecilia, Stanford – 'A Song of Wisdom', Robinson – Jesu, grant met this, I pray, Parry – Hear my words, ye people, Stainer – God so loved the world, Rowlands – 'Love Divine, all love's excelling'.
Signum SIGCD691 [65.33]