English Touring Opera's ETO at Home project has seen the company produce a series of films of operas, large scale vocal works, chamber music and song which can be viewed free of charge on the ETO website. Some of the films are drawn from the English Touring Opera archive, such as Gesualdo: I will not speak, a dress rehearsal recording of a staging by James Conway. Others are newly devised stagings, such as Josquin: Mille Regretz in which Liam Steel and Jonathan Peter Kenny create a striking presentation of the composer's work by fives singers and five musicians, filmed in Stone Nest, the former Welsh Chapel in central London, to mark the 500th anniversary of Josquin's death.
These films have been characteristically inventive and ambitious, and have also enabled ETO to continue to develop their educational programme. Aidan, a new opera for 8 to 12-year-olds, is a fresh take on Handel's Amadigi, with music arranged and composed by Noah Mosley and a new libretto by soprano Paula Sides. There's an accompanying teachers' pack dedicated to using the opera as a tool in English Literature and Language teaching, and Aidan has been recorded in a British Sign Language version. It's even been possible to learn to Sing with ETO via a series of digital singing lessons led by ETO singers Jenny Stafford, Fizz Buckland, Thomas Elwin and Edward Hawkins, and designed to help choir members get their voices back after the hiatuses caused by lockdown.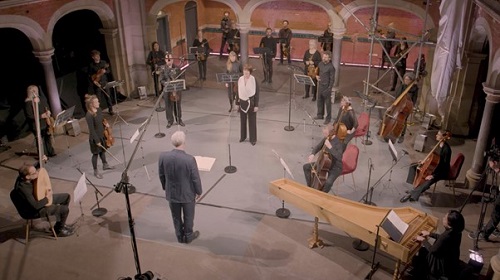 During an online presentation about ETO's latest addition to the ETO at Home series, Artistic Director James Conway remarked that a primary aim of the project was to find a way to produce a film which is an artwork in its own right, rather than simply a record of a performance. That brief has certainly been fulfilled in Ferrandini's Il pianto di Maria which will be released on ETO at Home on Friday 28th January.
As the film's designer Rebecca van Beeck explained, the brief poem that Ferrandini sets in this cantata is a sort of Stabat Mater, one which petitions that there be no more earthquakes to destroy the world such as occurred when Christ was crucified and resurrected. Van Beeck's film juxtaposes a performance of Ferrandini's cantata with cinematic imagery of mothers and sons, with a particular emphasis on maternal loss. This in turn is overlaid with footage of tumultuous natural forces. For Van Beeck the seismic disorder thus serves as a metaphor for losing a child, conveying both the emotional and physical impact – the inability to stand, for example. This in turn creates a strange counterpoint to the security of the mother-child bond.
The decision to film Ferrandini's cantata was also informed by Conway's personal experience, as an uncle, and his subsequent reflections on the mother-son relationship, particularly the way the death of child disturbs the 'natural' sequence, causing an almost intolerable grief which is expressed "eloquently and with sincerity" in the cantata.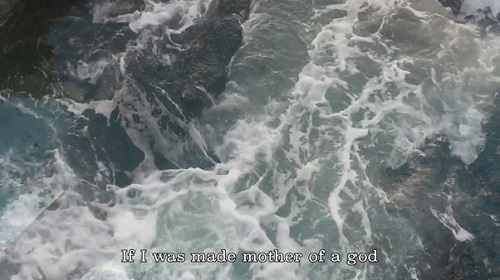 Though he was highly regarded in his day as an opera composer in Munich, one wonders if the name of the Venetian-born Giovanni Battista (née Zaneto) Ferrandini (1710-91) would have been known today were it not for the fact that his devotional cantata for solo voice, strings and basso continuo, Il pianto di Maria, was for many years ascribed to one Georg Friedrich Händel (as HWV 234) on the basis of an anonymous manuscript dating from the early 18th century. It was not until 1989, when the Italian scholar Paolo Cattelan discovered a copy of the work in the private archive of Padre Giovanni Battista Martini in Bologna, pre-dating all other known manuscripts and bearing the name of Giovanni Ferrandini, that the erroneous attribution was corrected.
Ferrandini's father, Stefano, an oboist in Venetian theatres, took his thirteen-year-old son to Munich in 1722, and the latter found a position as oboist with Duke Ferdinand in Bavaria. Shortly afterwards he was appointed to the Elector's court musicians, though he remained in the duke's service until 1726. In April 1732, Ferrandini became chamber composer to Elector Karl Albrecht, and five years later was made director of chamber music. He later served under Karl VII and his son Maximilian III, and it was the latter who commissioned François de Cuvilliés to build the Residenz Theatre in Munich, which opened on 12th October 1753 with Ferrandini's opera Cantone in Utica. The reasons for his subsequent sudden return to Italy, where he settled with his family in Padua, remain unknown, but what is known is that he met the young Mozart when he visited the city in 1771 – a reminder that Ferrandini's long life spanned both the Baroque and Classical periods. He was 41 years old when Bach died; he himself died in the same year as Mozart. One of his pupils was the tenor Anton Raff who sang the title role in Mozart's Idomeneo when it premiered in Cuvilliés' theatre in Munich in 1781.
Alongside his oeuvre of almost 20 operas, Ferrandini composed numerous sacred cantatas for solo voice and instruments – cantatas 'sacra da cantarsi dinanzi al Santo Sepolcro', for performance in the Holy Sepulchre which was reproduced in the Munich electoral chapel. Three of these are extant. Il pianto di Maria is sombre but richly expressive, and presents Mary as a mother, weeping at the foot of the Cross, and in her role as an intercessor between earth and heaven, bringing peace and protecting mankind.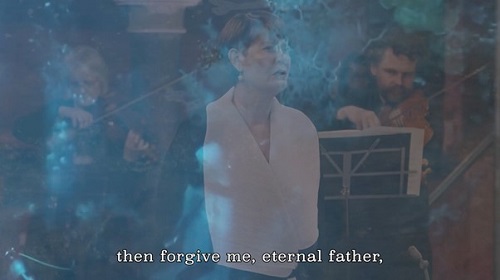 Van Beeck explained that the lockdown which came shortly after she'd arrived at the Royal Central School of Speech and Drama in 2019 forced her to extend her existing skills as an artist, architect and film maker and develop a digital media 'toolkit', venturing into a specialist field that she had not originally intended to pursue. She worked with sound footage mainly accessed through YouTube and was aware that in seeking out certain types of footage she had a responsibility to ensure that the imagery was presented with sensitivity and integrity. Questions such as how much time should be devoted to a particular clip, how to transition between the excerpts, and how many to 'layer' at any one moment were central to maintaining the emotional integrity of the images. The sea and water are recurring settings in the film, which Van Beeck feels creates an intimacy, and also reflects the many references to water in the text.
Just as Ferrandini juxtaposed secco and accompagnato recitatives with aria and arioso numbers, so Van Beeck places the hard, dry tears of an old woman lamenting alongside the gushing torrents of rain and rivers; or counterpoises a mother playing with a small child in a swimming pool kissed by sunlight with an ocean-drifting boat over-laden with refugees beaten by a scorching glare. Love, joy and security clash with pain, grief and destruction. The visual layerings are complex: music and image; image upon and within image; Marian against domestic; monochrome countered with colour; historic against contemporary; light and darkness in dialogue.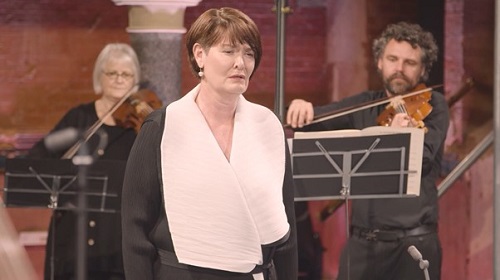 The cantata is sung by mezzo-soprano Catherine Carby, accompanied by the Old Street Band and conducted by Jonathan Peter Kenny.  Carby's mezzo is powerfully focused, lustrously coloured, rich and warm.  The melodic material is restrained but somehow intensely and innately expressive, and Carby is both dignified and dramatic. The emotions are not suppressed, but often only fully released in the instrumental accompaniments, whether that is through the strings' theatricality in the dramatic accompanied recitatives or by lutenist Toby Carr's subtle nuances. 
The first cavatina, 'Se d'un Dio fui fatta Madre', begins with the noble warmth of the strings enveloping the low, dark vocal line which moves steadfastly by step with wonderful evenness and lyricism: "If I were made Mother of a God to see a God die, forgive me, Eternal Father, your grace is a great torment". It is the blossoming of the strings at the close which releases the inner grief that cannot be voiced. After a recitative, 'Ah me infelice', in which the verbal imagery of violent betrayal – nails, whips and scourges, thieves and thorns – is accompanied by a stirring, thumping bass and Vivaldian headlong scalic descents – the cavatina da capo seems assuaged by the theorbo's softening caresses.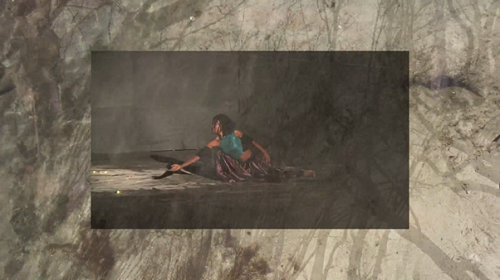 The recitative 'Ahimè ch'egli già esclama ad alta voce' (Alas! How he cries out aloud!) ends with a terribly affecting harmonic twisting, as Carby flattens and deadens the final appoggiatura and the theorbo's cadential resolution is agonising delayed: "hasten to succour this divine brow … which pale and lifeless, sinks upon his breast, sighs and dies." And, the subsequent aria is restless. Here, Van Beeck uses kinaesthetic imagery to complement the musical anxiety and convey the agony of a heart which is denied the peace which dissolution in tears would allow, as the voice roves and climbs more freely. A striking accompanied recitative which conjures a rhythmic and timbral 'earthquake' follows, illustrated by a troubling literal and figurative visual narrative, and after the final noble aria a brief accompanied recitative leaves the listener with an assertive admonishment to consider their own perilous sinfulness. Carby's voice seems to embody not simply all maternal yearning, but all human yearning.
Ferrandini's Il pianto di Maria is released on ETO at Home on Friday 28th January.
Claire Seymour