The cultural influence of Ovid's Metamorphoses is immeasurable. A source of inspiration for artists, sculptors, novelists, poets and composers for centuries, its myths have furnished countless composers and librettists with the material for their musical stories. Handel's Semele may be the best-known operatic account of the spat between Juno and Jove over the latter's impregnation of Semele, and the subsequent birth of Bacchus, but there are many other operas and dramatic musical works in which Jove's courtship of the mortal Semele is propelled to a tragic conclusion by jealous Juno's malicious meddling, which sees her fuel Semele's desire to witness Jove's full glory – a desire which, when he unwillingly acquiesces, results in her own death.
One such is Johann Adolf Hasse's eponymous serenata – La Semele, o sia la richiesta fatale, to give it its full title – which Hasse composed in Naples in 1726.  The serenata was a similar form to that other occasional genre, the festa teatrale – a sort of dramatic cantata, which was usually performed out of doors but which in the case of the serenata was not acted in costume.  Length, numbers of performers and instrumentation varied greatly.  Hasse's La Semele was advertised at Wigmore Hall as lasting approximately 80 minutes but in the event the anticipated two-hour evening extended into not far off three.  Did Hasse's music sustain one's attention through the recitative-aria marathon?  Not quite – though having had access to the libretto text would have helped, Wigmore Hall having run out of programme sheets half an hour before the performance.  (I have rarely been more grateful for having done some homework in advance.)  But, there were some beguiling illustrations of Hasse's undoubtedly adept musical characterisation and inventiveness, and the three superb vocal soloists delighted in the wryness of the musical mischief.
We have no information about the precise 'occasion' which prompted the commission and performance of the then 27-year-old Hasse's La Semele in Naples in 1726 – nor that for which Enea in Caonia was composed the following year. But, we do know that in 1725 his serenata Marc' Antonio e Cleopatra – which, like La Semele has a libretto by the poet and impresario Francesco Riccardi – was performed in the palace of the Neapolitan financier, Carlo Carmignano, by the castrato Carlo Broschi ('Farinelli') and contralto Vittoria Tesi, and it earned him a commission at the S. Bartolomeo opera house.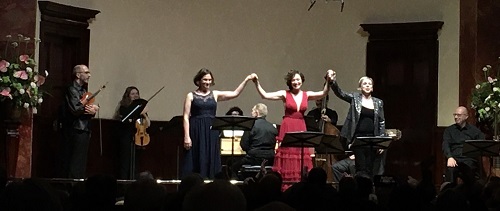 In terms of 'plot', as with most serenatas, not much happens, and La Semele's chain of recitatives and arias – which are capped by episode-closing duets and trios – serves essentially to characterise and contrast the three protagonists and provide opportunities for vocal virtuosity.   Roberta Invernizzi was a sassy Juno, conveying the smarting pain and bitterness in the Queen's heart in the opening recitative with a cool, disdainful grace; and, Juno's exultant fury and vengefulness, when confronted with Jove's nonchalant dismissal of her resentful torment, was spitfire-spiteful.  The godess's deception-duet with Arianna Vendittelli's Semele – when the former disguises herself as Semele's former nurse, Climene, and advises her to insist that her lover-god reveals himself to her as he does to Juno – could have gone with more of a swing, though the duo made the most of Hasse's descending chains of suspended dissonances, their voices blending with paradoxical but captivating beauty as they sang of the 'ice-cold fear that unsettles the pleasure of love' ("Un gelido timore/ Turba il piacer d'amore") and injects pangs of death into love's contentment.
Vendittelli's soprano was sweet and warm, fittingly conveying Semele's naivety and confidence, but the text too often disappeared and Vendittelli was more score-bound than her fellow singers. The aria in which she expresses her fear of Jove's betrayal had nobility and sincerity, but the tuning was insecure, vocal leaps to the upper register landing imprecisely and the tone occasionally tending towards harshness. Vendittelli displayed a strong lower register though and, following her confrontation with Jove, Semele's pastoral reflections were enhanced by some dulcet Vivaldian violin string-stroking, the gracious melody of the ensuing aria expanding warmly in the B section.
The Italian contralto Sonia Prina threw herself into Jove's posturing and power-play with characteristic verve and vocal courage, surely matching the uninhibited boldness of her baroque contralto predecessors, such as Guadagni or Tesi herself. Jove's first aria had a certain stylish sophistication of character, though, the line lyrical and legato, richly bronzed and glowing, responsive to the harmonic twists and turns. But, when decrying the inevitable demise of Semele when confronted with Jove's full and radiant majesty, the musical histrionics were despatched with virtuosity and vitality. Prina's vocal agility was, as always, spell-binding.
Compagnia de Violini – five strings, two harpsichords and theorbo, led by violinist Alessandro Ciccolini, whom the other musicians watched and followed with unwavering attentiveness and engagement – played with a lovely elegance and soft warmth, and very secure intonation (they took their time tuning at the start of each half of the recital, and the harpsichords had a thorough going-over during the interval).  There were some effective dynamic juxtapositions and a prevailing gracefulness.  The secco recitatives were crisply and unfussily accompanied by the harpsichord while theorbist Franco Pavan brought some unassuming magic to the more elaborate musings of Jove, capturing the deity's self-regard and presumption.  Things need to keep moving along, though, if La Semele's slight narrative is not to drown in its own whimsey, and here the somewhat easy-going tempi did drag the drama downwards at times – the leisureliness being exacerbated by the insistence on observing each da capo reprise and inserting some rather deliberate ornamentation.
One imagines that Hasse didn't expend too much time and energy on La Semele. We were undoubtedly lucky that Invernizzi, Vendittelli, Prina and Compagnia de Violini had, but La Semele didn't quite merit the commitment and care they lavished on Hasse's charming but slight serenata.
Claire Seymour
Johann Adolf Hasse (1699-1783): La Semele, o sia la richiesta fatale (1726)
Arianna Vendittelli (soprano), Roberta Invernizzi (soprano), Sonia Prina (contralto), Compagnia de Violini: Alessandro Ciccolini (violin, conductor), Domenico Scicchitano (violin), Géraldine Roux (viola), Marco Frezzato (cello), Francisco Montero (double bass), Franco Pavan (theorbo), Francesco Baroni (harpsichord), Francesco Monica (harpsichord)
Wigmore Hall, London; Thursday 6th January 2022.
ABOVE: Sonia Prina (image courtesty of Allegorica opera management)